Jim Rissmiller, promoter who helped the Stones, Queen and Elton John go big in L.A., dies at 76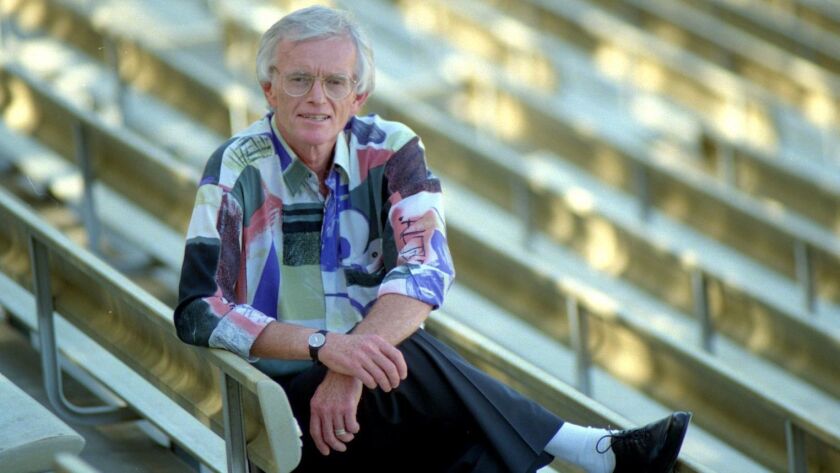 For a generation of Southern California music fans, the phrase "Wolf & Rissmiller Presents" was synonymous with live performances by the cream of the crop of rock and pop music superstars, from the Rolling Stones to Elton John.
As one of the region's premier concert promoters, the team of Steve Wolf and Jim Rissmiller helped usher in the era of "arena rock" as pop music blossomed and moved of the clubs, theaters and concert halls into sports arenas and stadiums, establishing practices and traditions that continue to play out in the concert business decades later.
Rissmiller died Wednesday in Cleveland of a stroke at the age of 76, said now-retired veteran promoter Larry Vallon, who worked as a junior partner at Wolf & Rissmiller before eventually launching his own companies.
"He was really one of the founding fathers of live music presentation in the Los Angeles area," Vallon said.
Rissmiller partnered with Wolf in 1967 and Los Angeles radio personality Bob Eubanks to begin promoting concerts in and around Los Angeles under the name Concert Associates.
Within their first year, they pulled off the first sold-out concert at the Inglewood Forum — an Aug. 16, 1968, show with Diana Ross & the Supremes. Wolf and Rissmiller were 26 at the time. The Forum and Madison Square Garden in New York quickly became the west-east cornerstones of the nascent arena-rock concert business.
They sold Concert Associates to Filmways Corp. in 1969, when Eubanks wanted out to focus on his burgeoning career in television, but continued promoting under the Concert Associates banner, until their contract with Filmways expired in 1975. During that time, they booked the Who into Anaheim Stadium in 1971, the first of many blowout rock concerts at that venue.
That's when they created Wolf & Rissmiller, putting on many historic and some of the most lucrative concerts of the era, including record-setting extended runs at the Forum in Inglewood with Jethro Tull and Elton John, as well as milestone shows with the Who, Pink Floyd, Queen and numerous others. While their primary focus was Southern California, Wolf and Rissmiller also put on shows occasionally across the southwest including Oakland, Tucson, Phoenix and Albuquerque.
But at home in L.A., Wolf & Rissmiller was considered virtually "the only game in town" for most of the 1970s, concert promoter Brian Murphy, who subsequently formed Avalon Attractions, told The Times in 1984.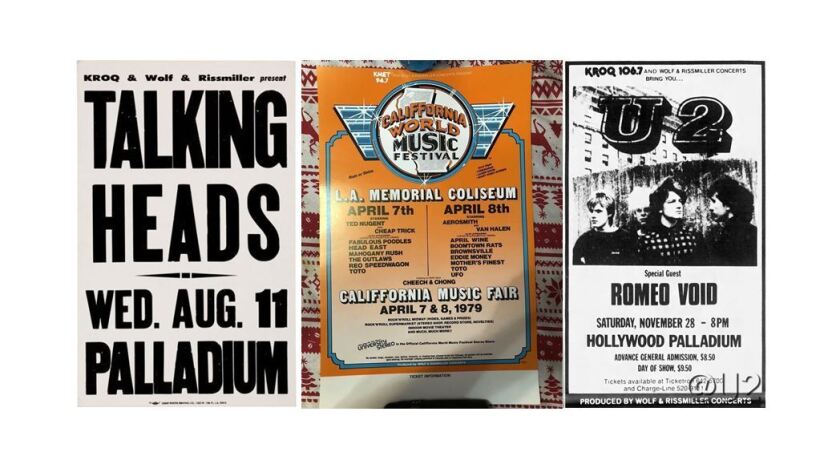 "We had a ball," Rissmiller recalled, "because we never knew what we'd gotten into. Our business got bigger and bigger, but we just sat across from each other in the same little office, laughing about everything."
Their partnership, however, came to an abrupt end on Nov. 20, 1977, when Wolf was killed after apparently surprising burglars at his home. A 19-year-old man was later convicted of second-degree murder in his death.
"That day is as clear as a bell to me," Rissmiller said years later. "It's the most painful thing I've ever been through. Not a week goes by that I don't think about it, and for a long time the only thing that got me through was laughing at all the fun we had."
Along with the established stars Wolf & Rissmiller presented, they also handled smaller shows by emerging acts, recognizing the need to help develop the stars of tomorrow.
When Tom Petty & the Heartbreakers played Cleveland in 2017 on the group's 40th anniversary tour, Vallon said that Petty asked to see Rissmiller. He and Wolf were instrumental in helping the Heartbreakers make the jump from local clubs to bigger venues by booking the group to headline the 3,000-seat Santa Monica Civic Auditorium in 1978, barely a year after the group had been an opening act at the Whisky a Go Go.
"Jim went in to see Tom, and Tom told him how grateful he was," Vallon said. "Tom told him, 'Thank you for believing in us; that was a really important show you did for us.'"
Jim Rissmiller was born July 25, 1942, and graduated in 1963 from Ohio University, where he studied theology. He joined the Army and was stationed at Ft. Ord from 1963 to 1965, attaining the rank of lieutenant, his daughter, Trisha, said.
Upon discharge, he took a job as a booking agent for the William Morris Agency, where he was once dispatched to deliver a script to actor Robert Mitchum's house.
"When I rang the bell, Mitchum answered the door," he recalled. "It was pouring rain outside, so he asked me in for coffee. I told him I couldn't, that I had to go. He insisted, and I said, 'No, no, I can't have a cup of coffee with you because it's raining outside.' I got back to my car and thought, 'My God, Robert Mitchum just invited me in for coffee and I told him I couldn't because it's raining.' How dumb!"
He soon met Wolf, who had started his entertainment career working in the Universal Studios mailroom. Wolf also worked with Eubanks in bringing the Beatles to Los Angeles for shows at the Hollywood Bowl and then Dodger Stadium.
For a few years after Wolf's death, Rissmiller continued in concert promotion, putting on the massive two-day California World Music Festival at the L.A. Coliseum with headliners Aerosmith, Ted Nugent and Van Halen, but the turnout of about 80,000 for the weekend fell far short of the 160,000 expected.
Rissmiller quit the business after an unsuccessful attempt to operate the Country Club in Reseda as a full-time music venue.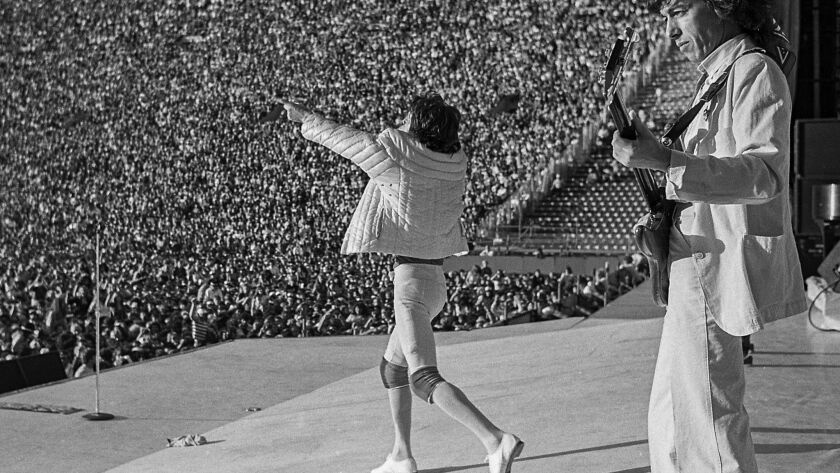 "After Steve was gone it was just a business to me," he said in 1993. "I was just an administrator…. 1979 was actually the first year I made a million dollars, but I was miserable, felt suicidal. Then in 1981 at the Coliseum with the Rolling Stones, I stood there and said, 'What the hell am I doing here?'"
He transitioned to teaching music and concert-business classes at UCLA as well as assisting the university athletic department's marketing, promotion and fundraising efforts.
Years later when he put on an all-star folk concert at UCLA, Rissmiller reflected on what seemed to be a bygone era, lamenting the absence of showmanship among impresarios.
"Don King ... George Steinbrenner ... those are promoters," he told The Times in 1993, citing figures from sports rather than the music industry. "I think the concert biz is pretty boring. There are really no master showmen anymore. Today concert promoters are administrators. They're too busy making a living.
"With Bill Graham gone," he added, "I guess I'm about the last so-called entrepreneur from that era."
He returned briefly to concert promotion that year, with a new iteration of the Concert Associates name, producing the "Troubadours of Folk" weekend festival at UCLA featuring a who's who of folk pop, including Joni Mitchell, Roger McGuinn, Judy Collins, Jefferson Airplane, John Prine, Janis Ian, Mary Chapin Carpenter, Beausoleil, Richie Havens, Richard Thompson and Peter, Paul & Mary.
"I thought the time was right," he said, "and as long as we could do it at UCLA as a benefit for the community I wanted to be involved."
In addition to his daughter Trisha, Rissmiller is survived by daughters Glynnis and Neile, and two grandchildren.
Follow @RandyLewis2 on Twitter.com
For Classic Rock coverage, join us on Facebook
---
The complete guide to home viewing
Get Screen Gab for weekly recommendations, analysis, interviews and irreverent discussion of the TV and streaming movies everyone's talking about.
You may occasionally receive promotional content from the Los Angeles Times.