Radio ratings: KIIS-FM is having a hot summer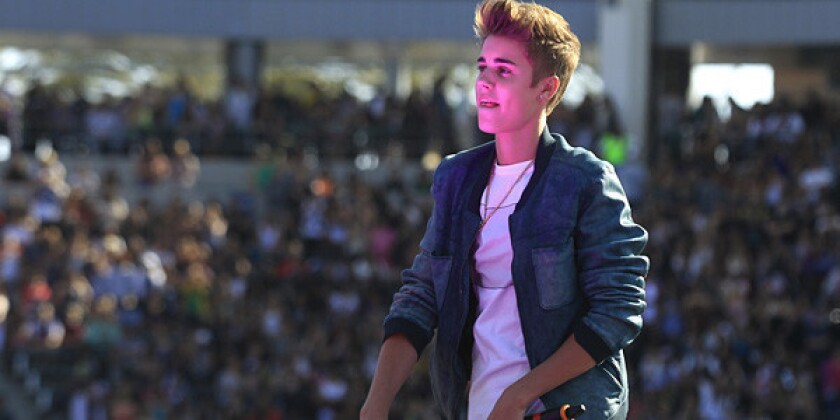 Radio ratings for July remained much the same as the previous month, with pop-music station KIIS-FM (102.7) once again having a strong summer, and closing in on 4 million weekly listeners — a milestone it hasn't reached since July 2011.
KIIS, whose Top 40 playlist features Rihanna, Katy Perry, Justin Bieber and other pop stars, led all stations among Los Angeles and Orange County listeners age 6 and older, according to figures released Monday by the Arbitron ratings service.
KBIG-FM (104.3), the adult-contemporary station known as "MYfm," continued its strong year with its third-straight second-place finish, closing the gap on KIIS slightly since June. And talk station KFI-AM (640) increased its audience share, but remained in third place in the July ratings period, which surveyed listeners from June 21 to July 18.
KIIS program director John Ivey said summer is usually good for the station — "a lot of available listeners, people taking time off to do things, vacation, out at the beach."
He added that because kids are out of school, and sleeping in, the station's midday numbers swell while the morning audience skews older.
Sure enough, KIIS was No. 1 in July from 10 a.m. to 3 p.m., claiming 5.1% of the audience. It had been third in June, and jumped past KBIG and oldies station KRTH-FM (101.1), which had been first and second.
He noted that the Los Angeles Unified School District starts classes on Aug. 14. "I'm interested to see what that does to the patterns," he said.
"The music right now is a lot poppier than it has been," Ivey said, contrasting the emergence of boy bands such as Big Time Rush and One Direction with harder-edged artists that populated the charts last year, such as Kanye West and Jay-Z.
"Music just goes in cycles sometimes," he said, adding that the shift has helped propel KBIG this year. The mainstream acts gaining popularity fit right in on KBIG's playlist, which already featured artists such as No Doubt, Coldplay and Adele, he said, and brought additional listeners to the station, which is owned by the same parent company as KIIS, the national chain Clear Channel Radio.
"If anybody is going to come close to us, I'd just as soon it be somebody in the family," joked Ivey, who in addition to programming KIIS is also senior vice president of programming for Clear Channel.
In July, KIIS tallied 3.93 million in cumulative audience — the number of listeners who tune in for at least five minutes per week. It was the station's highest total since it reached 3.95 million in September 2011. Its highest total before that was 4.03 million in July 2011.
The only other station in the market to surpass 4 million in the last four years has been adult-contemporary station KOST-FM (103.5), which leaps past that mark during the holidays, when it annually changes its playlist to exclusively Christmas-themed music.
The July survey was the last one to include Rick Dees as morning man on KHHT-FM (92.3). He left the station July 6 after little more than a year, saying in a statement that his tenure there was "a one-year marketing campaign with my friends at Clear Channel to increase the awareness and revenue of Hot 92.3."
Ivey said, "We had a year agreement with him, and he just had a desire to do things on a more national front." Dees still hosts his syndicated "Weekly Top 40" countdown show, among other ventures.
Ivey said early ratings have been good for Dees' replacement, Jimmy Reyes, whom he said has been playing more music during the morning show. "Initial indications are people are digging it," Ivey said.
Among other morning shows, KFI once more led the way. In the 6-10 a.m. weekday slot, when broadcasters hope to snag listeners for the rest of the day, the talk station features Bill Handel and then the first hour of Rush Limbaugh's nationally syndicated program. That pairing claimed 7.7% of the morning audience in July — a big boost from its already-dominant showing of 6.8% in June.
Ryan Seacrest on KIIS repeated his second-place showing, dipping slightly from 4.9% to 4.6%. The team of Kevin Ryder and Gene "Bean" Baxter on alternative rock station KROQ-FM (106.7) jumped from fifth to third place in July, increasing their share from 4% to 4.3%.
At classic-rock station KLOS-FM (95.5), morning co-host Mark Thompson announced that he's retiring Aug. 17, after nearly 25 years there with partner Brian Phelps. The pair edged lower in the July ratings, going from ninth place and 3.2% in June to 11th and 3% in the latest survey.
ALSO:
5 choice video game soundtracks
The Collective helps YouTube stars go mainstream
Sharon Osbourne-NBC spat comes amid talent-show upheavals
PHOTOS AND MORE:
PHOTOS: Celebrity portraits by The Times
INTERACTIVE: TVs highest paid stars
PHOTOS: The Hollywood baby boom
---
Inside the business of entertainment
The Wide Shot brings you news, analysis and insights on everything from streaming wars to production — and what it all means for the future.
You may occasionally receive promotional content from the Los Angeles Times.