KBIG catches up to KIIS to share top radio spot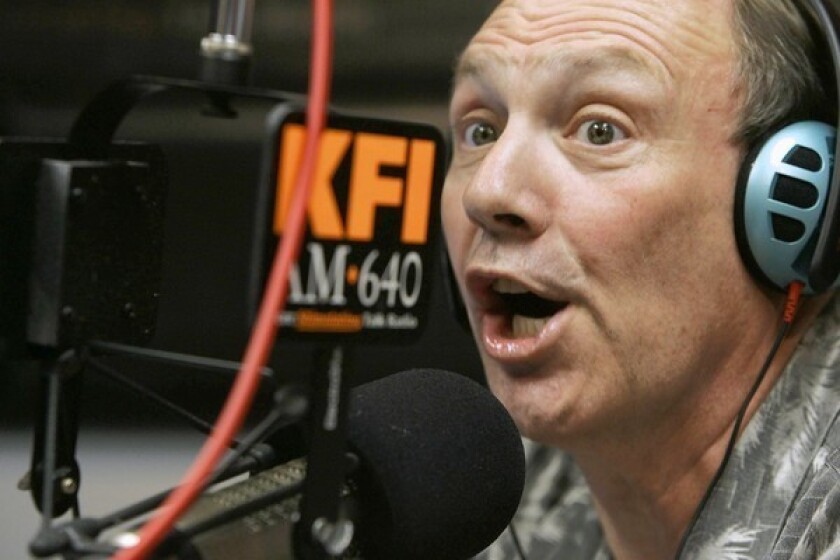 For most of 2012, KBIG-FM (104.3) has been hot on the heels of its sister station, Top 40 outlet KIIS-FM (102.7), the pop powerhouse that has led Los Angeles-Orange County radio ratings for most of the last three years.
In September, the sibling finally caught up, according to figures released Monday by the Arbitron ratings service.
KBIG, the adult-contemporary station that features a varied playlist ranging from Aerosmith to Usher, tied KIIS for the top spot, with each attracting 5.2% of the audience in the survey of listeners 6 and older from Aug. 16 to Sept. 12.
In the previous month, KIIS had taken first with a 5.5% share, while KBIG had come in second at 4.9%. Both are owned by Clear Channel, the nation's largest radio chain, which also operates six other stations in Los Angeles.
A year ago, KBIG — known as "MYfm" — was in 11th place, and sat there as recently as November 2011. But the station jumped to fourth in January, and was in second place by May, where it remained until grabbing a share of the pinnacle in the September survey.
"It's quite a monumental day," said KBIG program director Andrew Jeffries, who credited improvements the station made to its lineup of DJs and fine-tuning of its music offerings. For example, the pop and light rock topping the charts nowadays is more in line with KBIG than were the edgier, more rap-oriented hits of a year ago.
"The stars have aligned nicely, and we've just hit at the right time," he said.
The eclectic offerings on KBIG, which includes pop stars found on KIIS such as Katy Perry and Pink, can also encompass everything from U2 to Eminem to AC/DC to New Order, a wide net that has the potential to scoop up listeners from rival stations across many genres up and down the dial.
Talk station KFI-AM (640) placed third in September at 4.8%, followed by adult-contemporary station KOST-FM (103.5) at 4.6% — each holding its position from the previous month. Next came oldies station KRTH-FM (101.1) in fifth and hip-hop outlet KPWR-FM (105.9) in sixth, as they swapped places from August.
In weekday morning programming, KFI slipped considerably from the commanding audience share it held in August, yet still maintained a comfortable lead over second-place KROQ-FM (106.7). KFI, which has long filled the morning drive slot with local host Bill Handel and the first hour of Rush Limbaugh's nationally syndicated show, captured a 7.2% audience share in September, down from its gaudy 7.9% figure in August — which had been its highest rating in more than three years.
The alternative music station known as K-Rock finished with a 5% audience share in the morning, down from its 5.1% share in August. Hosts Kevin Ryder and Gene "Bean" Baxter now own the market's longest-running morning show at 22 years, thanks to the retirement of Mark Thompson and Brian Phelps from KLOS-FM (95.5) after nearly a quarter-century on Aug. 17. Their replacements, Heidi Hamilton and Frank Kramer, debuted on KLOS Sept. 4.
Placing third in the morning was Ryan Seacrest on KIIS, whose 4.6% share slightly improved on his August numbers.
PHOTOS AND MORE:
PHOTOS: Iconic rock guitars and their owners
PHOTOS: The Rolling Stones at 50
PHOTOS: Unfortunately timed pop meltdowns
---
The complete guide to home viewing
Get Screen Gab for weekly recommendations, analysis, interviews and irreverent discussion of the TV and streaming movies everyone's talking about.
You may occasionally receive promotional content from the Los Angeles Times.