Review: Bruno Mars brings Moonshine Jungle to Staples Center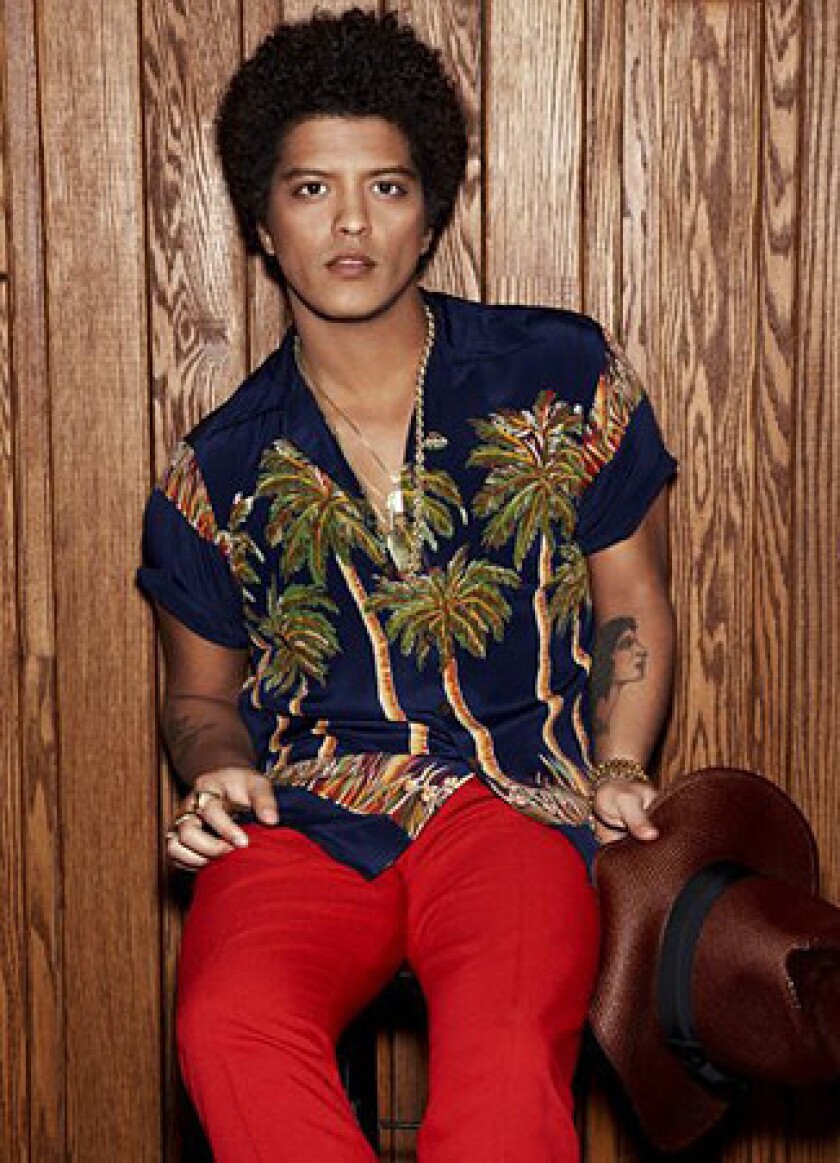 Bruno Mars makes it look so easy.
Midway through his concert Saturday night at Staples Center, the style-skipping singer hushed his band to deliver a lesson in seduction -- "R&B; 101," he called it.
First he demonstrated his strategic use of the word "damn," which he said communicates all kinds of romantic intent. Then he singled out a female fan near the stage and told her -- lied to her, really -- that by this point in his show he sometimes gets a little weary.
TIMELINE: Summer's must see concerts
"But then I see your smile and I just want to keep singing for the rest of my life," he said, adding with a grin, "You can put that one in your pocket, fellas."
Such knowing finesse has made Mars one of the most successful acts in pop, with a string of smartly crafted No. 1 singles (including "Grenade," "Just the Way You Are" and "Locked Out of Heaven") and sold-out arena gigs such as Saturday's, the first of two at Staples on his Moonshine Jungle tour.
Its name comes from "Moonshine," the opener in his set and a shimmering highlight from Mars' second album, "Unorthodox Jukebox," which has sold more than 1 million copies since it came out in December.
That doesn't mean Mars is coasting. In addition to his own work, he's written, produced and appeared on tunes by a number of other artists, and Saturday, his chest -- visible through the open neck of a wide-collared shirt that gave him the vibe of either a pimp or an early '70s cab driver -- gleamed with sweat.
But unlike some new-media adepts who've struggled to meet the demands of real-world stardom, Mars, 27, seems completely at home onstage, a natural performer with a second skin of leather and polyester.
His preparation runs deep.
PHOTOS: Concert photos by The Times
A pint-sized Elvis impersonator during his childhood in Hawaii, he moved to Los Angeles after high school and spent the next half-decade here playing "bars, clubs, pubs and strip clubs," as he put it Saturday.
In early 2010, he and his production crew, the Smeezingtons, scored hits with B.o.B.'s "Nothin' on You" and Travie McCoy's "Billionaire" (both of which featured Mars' vocals), and later that year, he released his solo debut, "Doo-Wops & Hooligans."
Now he fields calls like the one he recently received from the Grammy Awards' Ken Ehrlich, who asked him to jam with Rihanna, Sting and two of Bob Marley's sons on the 2013 telecast.
Backed Saturday by a crack eight-piece band no less invested in the performance than Mars was, the singer drew on that varied experience at Staples, in a show that felt like a vigorous survey of tactics and moods, from the stripped-down piano ballad "When I Was Your Man" to the busy '50s-era rock of "Runaway Baby" to "Treasure," Mars' current soul-funk single, during which a giant disco ball reflected dozens of bright gold lights.
In "Moonshine" and "Natalie," a video screen behind the stage flashed images of wild animals, while sparkly confetti rained down on the crowd during a ferocious rendition of "Locked Out of Heaven." (Media outlets including The Times were barred from photographing Saturday's concert, which seemed like a wasted opportunity; Mars' tasteful application of arena-show trickery could serve as an example to young stars still figuring out what to do with a room this size.)
RELATED: Best albums of 2013 so far | Randall Roberts
A close follower of pop history, he drew lines between his songs and those that preceded them, as when he mashed up "Billionaire" and "Money (That's What I Want)" and later dropped bits of Ginuwine's "Pony" and Ghost Town DJs' "My Boo" into his mid-'90s-R&B; homage "Our First Time."
And before he sang "If I Knew," he said he had "a special place in my heart for old-school music"; the openly Sam Cooke-inspired slow jam, he admitted, was his "attempt to write an old-school song."
Mars did well by all these signifiers; his shrewdly respectful synthesis of tradition and novelty shared something with that of Beyoncé, whose own summer tour touched down at the same venue last month.
But where she maintains plenty of space for herself -- for the myth of Beyoncé -- at the center of her show, Mars often seemed happy to disappear into the music, which in a way sets him apart.
Pop stars in 2013 tend to make themselves reducible to a single motivating idea: Lady Gaga's love of the underdog, for instance, or Taylor Swift's determination to redress romantic wrongs.
In its boundless energy and seemingly effortless precision, Mars' performance is about performance itself -- about how giving yourself over to show business can actually serve as a kind of liberating force.
The harder he played, the easier it appeared to get.
ALSO:
Watch Nine Inch Nails perform new song 'Find My Way'
With 'Blurred Lines,' Robin Thicke hits the big time, finally
Selena Gomez's sexy new vibe shines through in 'Stars Dance'
Twitter: @mikaelwood
PHOTOS AND MORE
PHOTOS: Concerts by the Times
THE ENVELOPE: Awards Insider
PHOTOS: Grammy top winners
---
The complete guide to home viewing
Get Screen Gab for weekly recommendations, analysis, interviews and irreverent discussion of the TV and streaming movies everyone's talking about.
You may occasionally receive promotional content from the Los Angeles Times.