From the Archives: George Michael explains post-coma accent, shreds Rupert Murdoch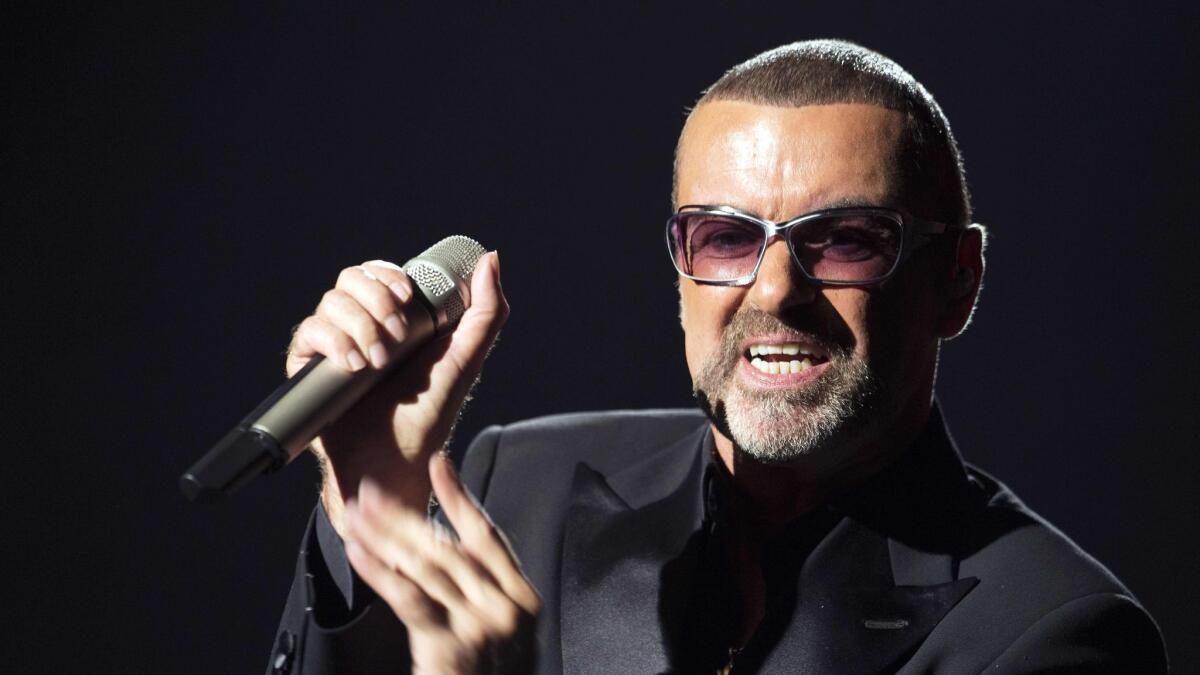 Singer-songwriter George Michael died Dec. 25, 2016, according to his publicist. He was 53. In a 2012 article, he talked about coming out of a coma, and Rupert Murdoch..
George Michael is delighted to be alive, but when he came back to life out of a coma last December, he spent a couple of days speaking in an accent that wasn't his own.
While doctors worried that he had brain damage following a horrid bout with pneumonia that included days in a coma, Michael told Britain's LBC radio, it turned out the London-born chap was just channeling a "Bristolian," West Country accent from a British comedy called "Nighty Night," which he'd been watching regularly with a friend shortly before falling so ill in Austria.
When he awoke and doctors asked him if he knew who he was, he said he answered, "King of the world?"
"My sisters, who were obviously so relieved that I'd actually woken up, were just laughing away at this stand-up comedy routine, and the doctors were worried," Michael said in the Wednesday interview.
"I was not quite conscious enough to know what I was doing."
With his accent firmly back to normal, Michael was talking about celebrating his second shot at life with new music and also taking a few shots at Rupert Murdoch, the News Corp. head honcho who's seen his News of the World tabloid shuttered in recent months in the course of a phone-hacking scandal.
"I'm delighted that the man has lived long enough to see what's happened," the onetime Wham! singer said, "because I've actually been on Murdoch Watch since I was about 19, honestly, watching this man, believing he was truly the most evil character on the planet, and that he had worked his way through the media to become the most powerful yet unelected man in the world."
According to the singer, the staff at Murdoch's Sun newspaper "shut down the office for the afternoon and had a party" the day in 1998 when he was arrested in L.A. for lewd conduct and consequently outed as gay.
"I've been watching this man wrecking our media for years and years and trying to explain to people, and they didn't even know who Rupert Murdoch was. I'm just so glad he's lived to see this kind of humiliation, 'cause he deserves it."
And get this: Michael said he was holding back about what he really thinks of the man. (We totally want to be in the loop when he finally, ahem, speaks his mind.)
Check out his new tune, "White Light," below. The singer said he knew "something was going to come out" of his brush with death, artistically, but "had no idea till I actually wrote it that it would be something this celebratory."
And he said that last word, "celebratory," in a really cute London accent.
See the most-read stories in Entertainment this hour >> »
RELATED:
George Michael a free man after four weeks in prison
George Michael thanks Vienna doctors for saving his life [Video]
George Michael reschedules shows canceled during pneumonia scare
Follow Christie D'Zurilla on Twitter and Google+. Follow the Ministry of Gossip on Twitter @LATcelebs.
Get our L.A. Goes Out newsletter, with the week's best events, to help you explore and experience our city.
You may occasionally receive promotional content from the Los Angeles Times.