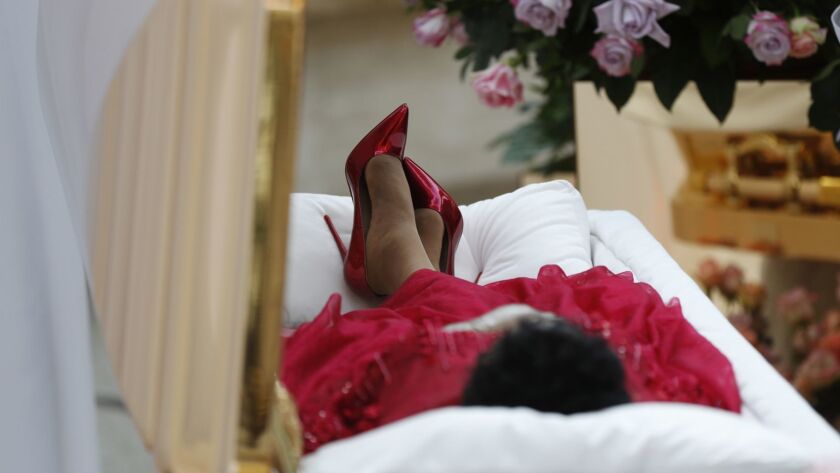 Once a diva, always a diva.
As fans pay their respects to the recently departed Queen of Soul, Aretha Franklin has continued to impress, exhibiting three different outfits for the three days of public viewing of her body.
Costume changes are a staple of nearly every performer's concert routine, and Franklin is no exception, remaining as stylish in death as she was in life.
On Tuesday, the first day of public viewing, Franklin was dressed in a lace, ruby-red dress and matching Christian Louboutin 5-inch patent leather pumps, ankles daintily crossed.
"She is presented in a way that reflects her life and her legacy," Linda Swanson, executive vice president of Swanson Funeral Home, told Detroit Free Press. "She is, indeed, resplendent in repose, as a queen should be."
That wasn't Franklin's sartorial decision but rather her family's, Swanson said, since the singer never talked about her death.
With the second day of public viewing on Wednesday, Franklin was outfitted in a powder blue dress with matching shoes. On Thursday, as Franklin was transported to New Bethel Baptist Church for another memorial, she was, like her casket, good as gold.
This time, it was a rose-gold, custom-knit suit with pink beaded lace. Her shoes, again, were Christian Louboutin heels, in matching rose-gold sequins.
Perhaps it strikes you as petty, this obsession with how a music legend is presented after her death, but the care and detail put into this celebration of Franklin's life is meaningful.
Funerals and memorials are how we grieve our loved ones. Franklin's family, as devastated as they are, clearly understand that they are not alone in their mourning.
The public viewings, the fashion choices, the love and dedication put into the outfits, they're all representative of Franklin's life, which she lived out loud and without restraint. For a woman whose personality was as big as her voice, anything less than an absolute spectacle would be a disservice.
Her funeral is Friday, and we can expect Franklin to be wearing her finest. She always knew how to go out on a high note.
---