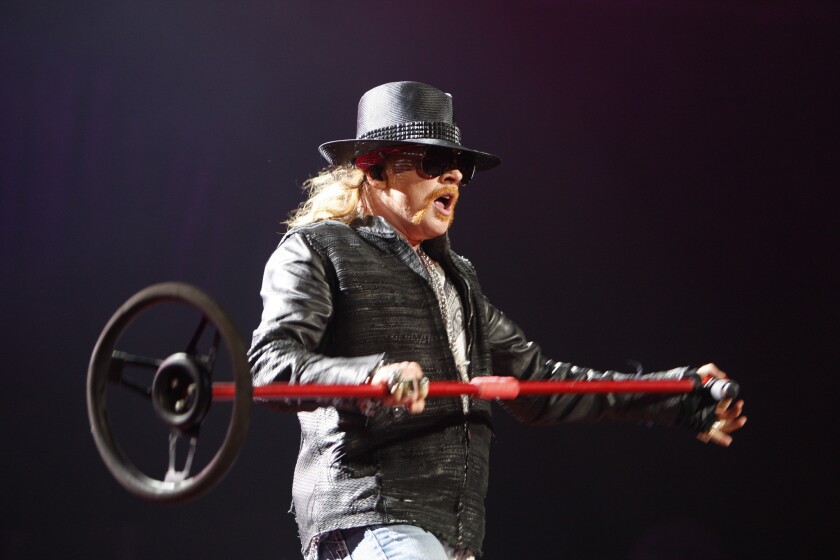 If it's true, you can bet the dirty deed won't be done dirt cheap.
Weeks after AC/DC announced that it was postponing concerts because singer Brian Johnson's doctors had advised him to stop touring, reports have surfaced claiming the Australian hard-rock band has hired Axl Rose of Guns N' Roses to fill in for its ailing frontman.
See more of Entertainment's top stories on Facebook >>
AC/DC's representative declined to comment on the matter. But according to Alternative Nation, a nephew of guitarist Angus Young confirmed rumors that Rose had agreed to join the band for 10 shows, including dates in Atlanta and New York.
"It's true," Ross Malcolm Young is quoted as saying in a since-deleted Facebook post. A spokesperson for Guns N' Roses didn't respond immediately to a request for comment.
In a statement earlier this month, AC/DC said it was putting off the final U.S. shows of its "Rock or Bust" world tour as a result of problems with Johnson's hearing. The concerts "will be made up later in the year," the statement promised, "likely with a guest vocalist."
Rose would make a somewhat surprising choice for the job, given that he's currently said to be in rehearsals for a string of upcoming Guns N' Roses shows — some of which will earn the band upwards of $3 million each, according to Billboard.
The influential L.A. outfit is scheduled to headline next month's Coachella Valley Music and Arts Festival with a lineup that reunites Rose with guitarist Slash and bassist Duff McKagan. Before that, GNR will play two nights, April 8 and 9, at the T-Mobile Arena in Las Vegas.
AC/DC headlined Coachella in 2015, a gig Johnson said at the time he was excited about because it "kind of takes you right back to the start, when you had to win over an audience."
Twitter: @mikaelwood
ALSO:
Coachella won't be the first place to see the Guns N' Roses reunion
Coachella 2016: A warm, safe place for bands to come together -- again
Bruce Springsteen's four-hour finale at the L.A. Sports Arena: A fitting ending to 'The Dump That Jumps'
---