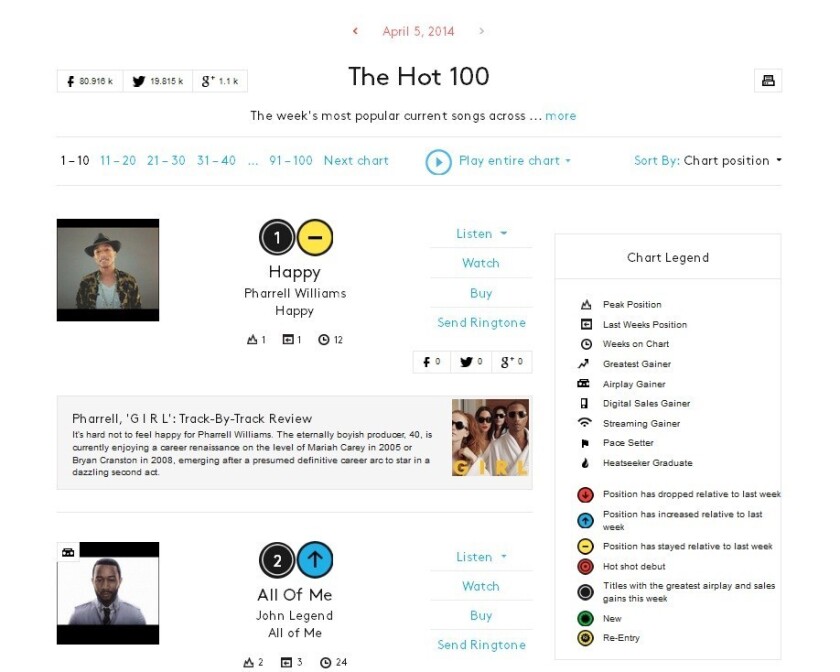 Pharrell's gleeful clap-along "Happy" is sitting at the top of the Billboard Hot 100 as it dominates pop radio, but what are music fans currently buzzing about on social media?
Right now fledgling British boy band the Wanted are trending after releasing a teaser for an upcoming music video with their fans posting reactions to the song. The single, "Glow in the Dark," might not be anywhere on the charts, but it's driving the conversation on Twitter right now.
What music fans are tweeting about will be the basis of a soon-to-launch music chart that Billboard and the social media platform paired up to launch. The Billboard Twitter Real-Time Charts will track music conversations occurring on Twitter in a bid to measure the popularity of music in real time.
The chart will reflect the top tracks being discussed at any given time and also track the most shared songs by new and upcoming acts on Twitter.
RELATED: Pop Bites: Franklin, Cobain, Kardashian and more
Like Billboard's many other charts, the Real-Time Charts will live on their site. It will also be shared through the music trade's Twitter account multiple times a week.
Billboard and Twitter also announced they had signed a Twitter Amplify partnership, which will help distribute the charts to a wide audience on the popular social platform and include custom in-Tweet charts and a weekly in-Tweet video round up of the week in music.
"Our goal with these efforts is to give artists who share songs and engage with their audience on Twitter a way to get noticed by even more fans, other musicians and industry decision-makers in real time," Twitter's announcement read.
The chart is expected to roll out in the next eight weeks.
ALSO:
The VIP treatment at Britney Spears' Vegas show
Review: Kylie Minogue and Enrique Iglesias sex it up on new albums
Matt Berninger of the National and his brother Tom talk 'Mistaken for Strangers'
---