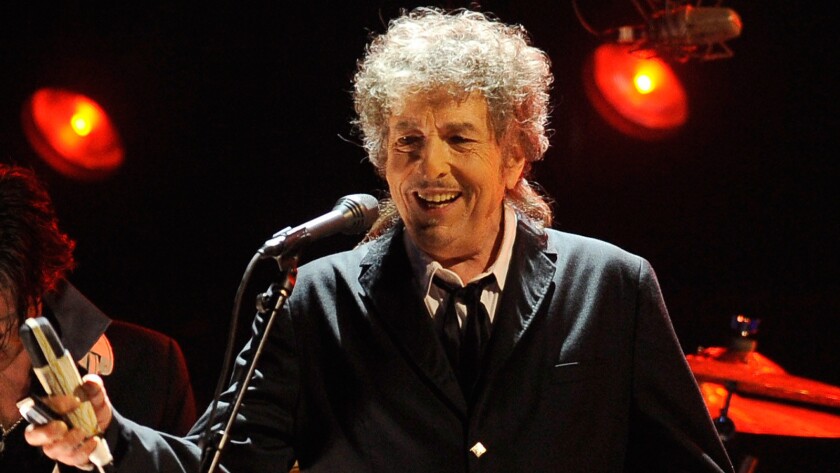 A once-secret trove of songwriting diaries, letters and other documents belonging to Bob Dylan, one of the most notoriously private figures in pop music history, has been acquired by a consortium of institutions in Oklahoma, where the new Bob Dylan Archive will reside near that of his musical idol and mentor, Woody Guthrie.
The bounty of material that Dylan has amassed over his nearly 60-year career contains more than 6,000 items, according to the New York Times, constituting an archive that is "deeper and more vast than even most Dylan experts could imagine, promising untold insight into the songwriter's work."
The material was purchased for a price believed to be in the $15-million to $20-million range by Oklahoma oil and banking billionaire George Kaiser's Family Foundation, and the University of Tulsa.
Dylan issued a statement saying he is honored that his papers "are to be included with the works of Woody Guthrie and especially alongside all the valuable artifacts from the Native American nations," referring to the collection of Native American art that is also part of the collection of those institutions, along with a rare copy of the Declaration of Independence.
At the heart of the archive is the collection of Dylan's extensive notebooks in which he first drafted and then meticulously refined many of his songs.
The New York Times report notes that "dozens of rewrites track the evolution of even minor songs like 'Dignity,' which went through more than 40 pages of changes but was still cut from the 1989 album 'Oh Mercy.'"
But along with the written material are many reels of tape recordings, contracts and film footage documenting various concert performances.
Plans call for a gallery that will make some of the material accessible to the public, but most of the archive, which is to be housed at the Gilcrease Museum in Tulsa, where Guthrie's archive is held, will be restricted to "serious scholars and for people who have a record of being Dylanologists," University of Tulsa President Steadman Upham told the New York Times.
Dylan aficionados have known that the singer and songwriter often repeatedly reworked lyrics in his songs through manuscripts that have come to light. Dylan and his record label, Columbia Records, have tapped into those materials in recent years for a series of "Bootleg" archival releases that have replicated some of the working drafts, production notes and other emphemra of his recorded legacy.
But even those most familiar with his creative process have expressed surprise over the voluminous repository that he kept to himself over the decades.
"It's going to start anew the way people study Dylan," Princeton historian and Dylan biographer Sean Wilentz told the New York Times.
Follow @RandyLewis2 on Twitter. For more on Classic Rock, join us on Facebook.
MORE:
'Bob Dylan: NYC 1961-1964' features photographs of the young folk bard
Neil Young and cast revisit his 1982 film 'Human Highway' at screening and Q&A
The Rolling Stones announce their first-ever concert in Havana
---