No joke, Blink-182 finds a happy mix between passion and parties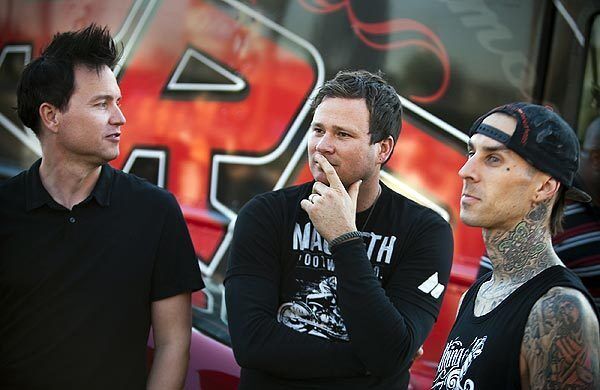 Blink-182
members bassist-
vocalist
Mark Hoppus, left, guitarist-vocalist Tom DeLonge and drummer
Travis Barker
participate in a promotional contest before their concert at the Honda Center in Anaheim.
(Allen J. Schaben/Los Angeles Times)
Blink-182
performs at the Honda Center in Anaheim. The band had an acrimonious breakup in 2005 and members pursued other projects.
(Allen J. Schaben / Los Angeles Times)
Drummer Travis Barker, 35, bears the scars from a 2008 plane crash in South Carolina. The accident is what directly led to the reunion of the band.
(Allen J. Schaben / Los Angeles Times)
Fans cheer at the Honda Center. The tour wraps up Saturday at the Hollywood Bowl.
(Allen J. Schaben/Los Angeles Times)
Blink-182
bassist-vocalist Mark Hoppus performs before screaming fans at the Honda Center in Anaheim.
(Allen J. Schaben / Los Angeles Times)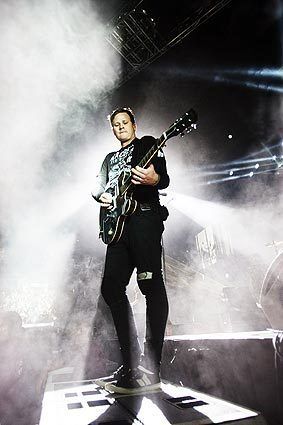 Blink-182
guitarist-vocalist Tom DeLonge performs at the fog at the Honda Center in Anaheim.
(Allen J. Schaben / Los Angeles Times)
Blink-182
members Tom DeLonge, left,
Travis Barker
and Mark Hoppus.
(Allen J. Schaben / Los Angeles Times)
For airplane-phobic drummer Travis Barker, the gig required a quick trip across town in a pimped-out low rider. Singer-bassist Mark Hoppus flew 5,400 miles from London. And with sky's-the-limit rock-star gusto, guitarist-vocalist Tom DeLonge bypassed traffic on the 405 and helicoptered in from San Diego.
With the sun high in the autumn sky, SoCal's Blink-182 arrived at the Hollywood Palladium to find a punk-rock centipede, a line of heavily tattooed, extravagantly pierced and Mohawk-sporting fans waiting for the sold-out show.
The scene made Hoppus uncharacteristically wistful. "I was that dude!" he said. "I saw so many Palladium shows."
With two back-to-back Palladium performances selling out in 36 seconds (and three other quickly scheduled dates at L.A.'s Wiltern Theater sold out as well), Blink-182's pop-punk cultural output is still defined by arrested adolescence.
PHOTOS: Iconic rock guitars and their owners
Blink rose from San Diego's suburban torpor to become perhaps the least likely alterna-rock band to conquer mainstream radio. But that band of bros singing about burritos, prank calls and alien abduction who never met a penis joke they didn't love? They lost that snot-nose spirit long ago.
Consider that Barker nearly died in a fiery 2008 private-jet crash that claimed the lives of four other people onboard. DeLonge battled back from skin cancer in 2010. And nearly three years ago, Hoppus moved to Europe.
For its November shows, the band turned away from its earliest material and spotlighted its underrated masterwork: the 2003 untitled album commonly known as "Blink-182." The plan was to play it front-to-back for the first time at the Palladium, including six songs Blink had never performed live before an audience.
"That's by far my favorite album we did," said Barker, taking a break from pounding his practice pads in an upstairs dressing room. "It was groundbreaking for us."
PHOTOS: Daughters of rock stars
Upon its release a decade ago this week, the self-titled CD arrived as a great leap forward for Blink. It drew in post-hard-core rock influences from DeLonge and Barker's critically hailed side band Boxcar Racer, and ultimately divided fans and startled critics. While selling more than 2.2 million copies and spawning a No.1 hit (on the Billboard alternative chart) with the melancholy power ballad "I Miss You," the album opened inter-personal fissures in the band and contributed to a hiatus that lasted from 2005 to '08.
Intended as their boys-to-men moment, the self-titled CD provided a turning point for the group by dint of its experimental instrumentation, darker lyrics and total absence of toilet humor.
"We were the joke band. We were the dudes that ran naked in the video," said Hoppus, 41, flanked by his visiting parents and pre-teen son backstage. "We needed to prove that there was something deeper than that. We wanted to treat our music as a form of art and see what we could really do."
Gathered in a backstage green room, Barker, Hoppus and DeLonge seemed more like hometown homies reminiscing about high school detention than pop-punk upstarts with more than 35 million album sales worldwide. After comparing notes about vegan burritos, the three discussed the album that flipped the switch on their creative MO.
PHOTOS: Unexpected musical collaborations
In 2002 they moved into a mansion in the San Diego luxury community of Rancho Santa Fe and recorded for nearly six months. In addition to rock-star creature comforts — pay-per-view pornography on continuous play, a space to "smoke hella weed" in the garage — producer Jerry Finn procured some decidedly un-punk instruments, including Tubular bells, stand-up basses and a polyphonic tape replay keyboard, or Mellotron. The Cure's Robert Smith contributed vocals on the song "All of This."
"Mark was like, 'Who … cares what anyone else thinks? This is for us,'" recalled DeLonge, 37, an alternately kinetic and pensive presence dressed in Johnny Cash black. "We wanted to see what we could be if the cage was opened up."
Rapier thin and laser-intense, Barker has been called "punk's first superstar drummer." But as Blink's least talkative member, when he speaks others take heed.
"I told the guys, 'Pretend this is our first album,'" said Barker, 37. "We weren't going to tour it or make videos; it was supposed to be this quiet little project."
Yet upon its 2003 release, "Blink-182" landed at No.3 on the national album chart, spawned two hit singles and several videos.
"People love their humor, but it probably overshadows the art," said Lisa Worden, music director for L.A.'s influential KROQ-FM. "When that album came out, it showed Blink's serious side — that they were real musicians."
But recognition came at a price. To hear it from the group now, Hoppus had difficulty accepting the group's new direction.
"It definitely caused some weirdness," Barker said.
After touring through 2004, the three essentially stopped communicating with one another. DeLonge bowed out of further touring, prioritizing family before band.
PHOTOS: A guide to the current top pop ensembles
Hoppus described Blink's period apart as an "acrimonious band split where people detest one another and say horrible things about one another in the press."
Barker's plane crash, which left him with third-degree burn scars, brought the three together again.
"We're in a good place," Hoppus said. "When the three of us are in the same room, everyone's focused and excited. Then everyone goes their separate ways and we drift apart. It takes something like this where everyone's like, 'Oh, yeah, this thing!' And we huddle together and get back to work."
The band has been on a massive stadium tour for the past two years, but at the more intimate Nov. 6 Palladium show, Blink hit the stage to an ecstatic welcome.
With nary so much as a "hello" and absent the jokey stage patter that has characterized Blink's live shows for two decades, the group charged through the untitled album: DeLonge all preening rock-star id and creaky falsetto, Hoppus pogo-ing with goofy joy back and forth across the stage and Barker, a blur of piston-like speed and pinpoint aggression behind the kit.
After leaving longtime home Interscope Records, Blink is in talks for a new deal. It expects to record new material within the next 90 days. Nostalgia surrounding the 10th anniversary of "Blink-182" notwithstanding, the idea is to channel the 2003 mojo into the new material.
Step 1: shack up in some opulent SoCal spot for the duration of recording. This time, Hoppus said, they're thinking Malibu.
---
Get our L.A. Goes Out newsletter, with the week's best events, to help you explore and experience our city.
You may occasionally receive promotional content from the Los Angeles Times.