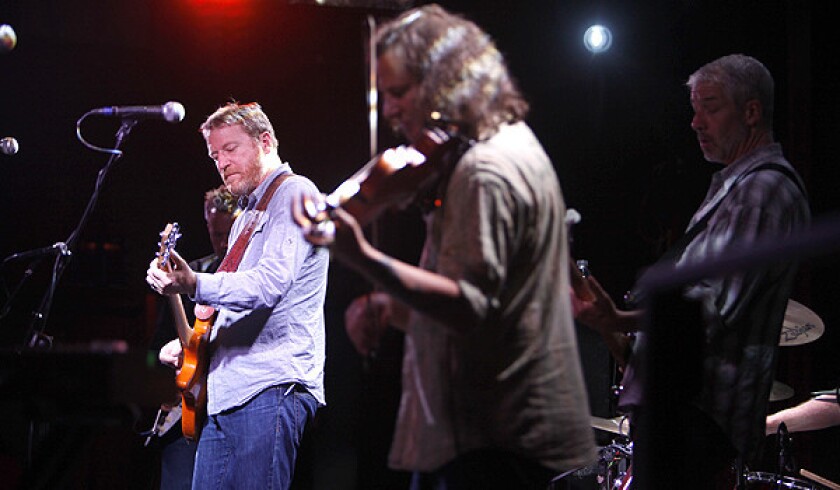 Camper Van Beethoven celebrated the 30th anniversary of its first gig at the Troubadour by playing old and new music and did so with the pride and confidence of master artisans surveying their life's work.
One by one, with intuitive precision, the band born in Santa Cruz carved out its songs on guitar, bass, drum, violin and the occasional keyboard, proving that with patience, care, a devoted fan base and decades' worth of effort, a band can convincingly, lovingly deliver songs they've played hundreds of times before.
On Saturday night, the five-piece band (David Lowery, Victor Krummenacher, Jonathan Segel, Greg Lisher, Frank Funaro) imagined a gig hovering over Pasadena with Talking Heads in "The Long Plastic Highway," saluted Patty Hearst in "Tania" and thematically zigged and zagged between good and bad. At times they patiently expanded songs with 16-bar excursions and offered evocative, perfectly phrased lines that captured big ideas and critiques within singalong stanzas. At others, they burst forth with quick bursts of melodic energy.
TIMELINE: Summer's must see concerts
The band was born in 1983 when a bunch of wry kids reared on punk, youth culture and twang united as Camper Van Beethoven and the Border Patrol (before shortening it). In 1985 they released an utterly beguiling debut album, "Telephone Free Landslide Victory," whose cover was printed on letterpress and whose music was equally stamped with decorative tradition.
The band emerged fully formed, drawing on rock, country, ska, Eastern European and klezmer music and folk. Before there was such a thing as Internet buzz, its approach had earned both word-of-mouth praise and support from ascendant superstars R.E.M. and the thriving college radio world. Versions of post-punk band Sonic Youth's early no-wave love song "I Love Her All the Time" and punk band Black Flag's classic "Wasted" offered quirky takes on self-serious punk. It performed only the latter at the Troubadour on Saturday, merging it with a pokey, smooth version of the Clash's "White Riot."
Though its early work was tinted with irony and humor, as Camper Van Beethoven evolved its music shed easy laughs for more cutting themes. At the Troubadour, the band showcased this movement through the underground hits that have only grown in stature over time: "Take the Skinheads Bowling," "When I Win the Lottery," "Eye of Fatima" and its brilliant reworking of Status Quo's "Pictures of Matchstick Men."
RELATED: Best albums of 2013 so far | Randall Roberts
"Good Guys and Bad Guys" effortlessly morphed from a carefree singalong song that advocated we "just get high while the radio's on/ drive your car up on the lawn" into a crawling dub version. Such fluid genre-mixing illustrated not only the breadth of their talent but also their ability to reveal connections among roots reggae, twang and bass-heavy grooviness.
Similarly, on "Sweethearts," the band played a minor key ballad while Lowery adeptly critiqued the workings of a former president's inner life: "In the mind of Ronald Reagan/ Wheels they turn and gears they grind/ Buildings collapse in slow motion/ And trains collide, everything is fine."
Working to avoid the trappings of nostalgia, it performed work from its California-themed new album, "La Costa Perdida." Like much of the record, the best of these songs, "Northern California Girls," offered evidence of structural expansion. A languid, loving ode to the less celebrated ladies of the state, Lowery offered a response to the Beach Boys classic. "Northern California girls say, 'You don't know what you're missing/ I've got a good job, stay home and play the guitar.'"
Those who have followed Lowery's recent writings and advocacy on behalf of musicians' rights and royalties might have appreciated that lyric about earning a living while playing guitar. In a July post on his blog Trichordist, Lowery wrote that despite one of his songs being played more than 1 million times on streaming site Pandora, his payment as songwriter and performer earned him a mere $16.89 -- "Less than I make from a single T-shirt sale."
Arguing against legislation that would further diminish certain royalty payments, Lowery lashed out: "Here's an idea. Why doesn't Pandora get off the couch and get an actual business model instead of asking for a handout from Congress and artists?" (Pandora vigorously defended its payouts.)
Lowery didn't broach the topic at the show, but still, Camper Van Beethoven's gig felt like an argument for the livelihoods of expert, dedicated musicians willing to commit to making art over the long haul. The band presented evidence of the ethical necessity of fairly compensating artists, especially those as accomplished as Camper Van Beethoven. It sold a lot of T-shirts to boot
---