Column: The worse things get for Chris Brown, the better his music becomes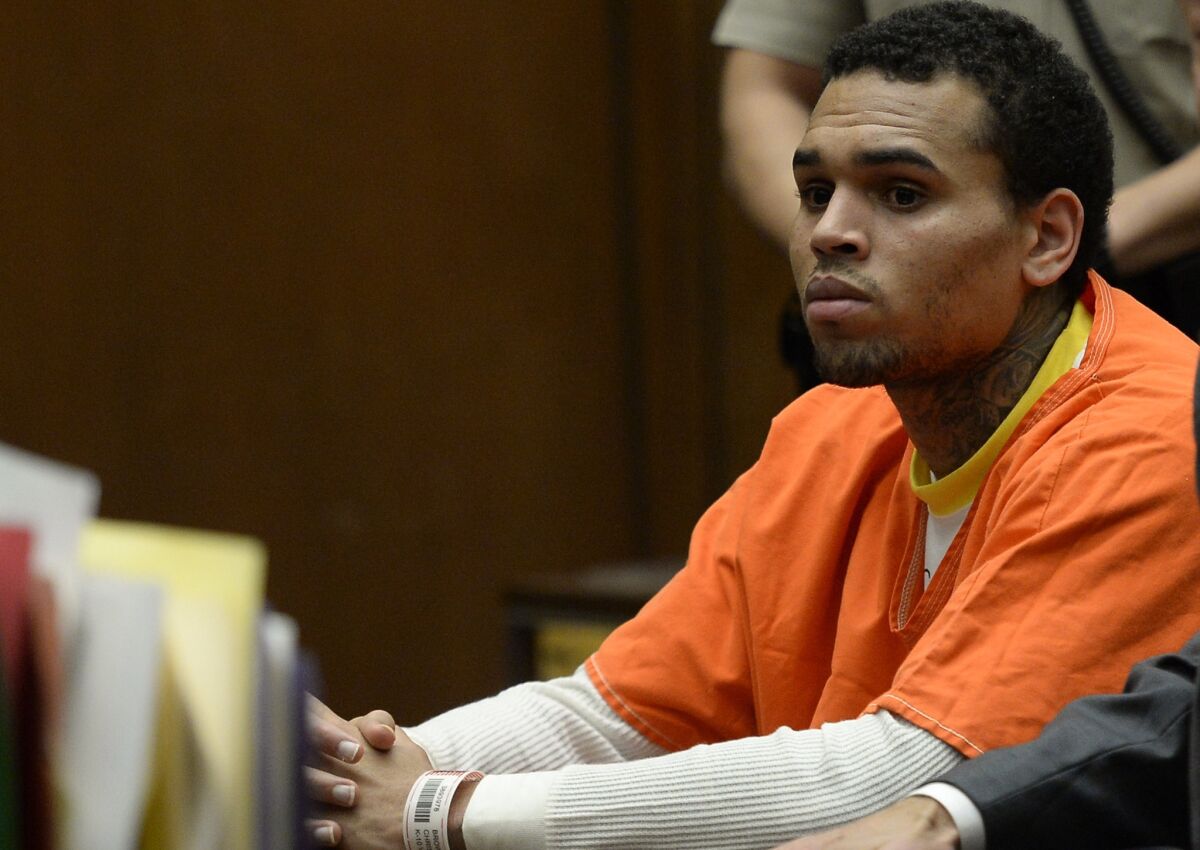 Early Monday morning embattled R&B singer Chris Brown was released from jail after serving part of a one-year sentence for violating his probation.
Brown landed in jail after being expelled from a court-ordered rehabilitation facility, violating the terms of his parole related to the 2009 felony assault on his then girlfriend Rihanna.
That violent incident, when Brown was just 19, shattered his image as a cute teenage heartthrob and christened him as a R&B bad boy -- an image he's continued to feed.
Over the past five years, Brown's been consistently in the middle of a scandal -- from a club melee with Drake to an alleged hit-and-run to a parking lot brawl with Frank Ocean.
But while his reputation has taken a big hit, his music career has continued to soar.
Brown's presence on the charts has remained steadfast, a remarkable feat considering not only the crippling negativity attached to his name, but also the fickle nature of the music industry.
He won a Grammy (his first) in 2012 for his comeback record, "F.A.M.E.," and his last effort, 2012's "Fortune," reached No. 1 and sold 135,000 copies in its first week despite murky reviews.
Even as Brown spent most of 2014 locked away (either in a Malibu rehab or behind bars), his latest single, "Loyal," has been inescapable on radio. Released in December, the single has cracked the top 10 on Billboard's Hot 100 and peaked at No. 4 on the R&B/hip-hop songs.
It'd be easy to say that like many rock, rap and country bad boys, Brown's reckless lifestyle makes for great lyrical fodder -- or at least sure-fire hits. But he's continually avoided mining his personal life in song for the sort of self-referential subject matter that's created seminal albums for countless troubled performers before him.
"I'm winning, you heard about my image / but I could give a flying [expletive] who's offended," a lyric off his last album in 2012, is about the most insight he's given us lately.
Instead, Brown plays the arrogant lothario armed with braggadocious club-thumpers and tawdry slow jams. He deftly switches between flipping off his haters, wooing his female fans and packing dance floors. The songs are undeniably catchy, but their subject is the stuff of every male R&B singer with tattoos and washboard abs. Just listen to current tracks from Justin Bieber, Trey Songz or Jason Derulo.
Musicians, like actors, politicians or athletes, have always seen their private life tried in the court of public opinion. But unlike most public figures, musicians have a platform where they are lauded for mining their personal lives for their artistry -- something Brown has yet to fully explore.
Rather than delve into his private life, Brown has delighted his female fan base with a flurry of sex jams, which have grown progressively more explicit as he's matured. But really, what else can he do at this point?
Brown isn't the first artist to have been arrested for domestic abuse – Ozzy Osbourne, Motley Crue's Tommy Lee, Slash and Creed front man Scott Stapp have all faced such charges – but Brown has remained demonized as a thug.
Harnessing this bad-boy image is surely safer for Brown than singing about his shameful act, the abuse he witnessed and suffered as a child, his time in rehab, sitting in jail, etc. He knows he isn't going to be pardoned the way Charlie Sheen and other industry bad boys have been, and maybe that's fueled his defiance.
However, with his long-gestating new album, "X," it seemed like Brown wanted to press reset and divulge something about his turbulent past few years.
When he previewed the album to The Times last year, Brown was quite sincere with his desires to change the reputation he, in part, helped create. And he claimed to be ready. On the album's title track, Brown went as far as admitting, "I can make you a believer if I turn the nonsense down.
"There was so much .... that was going on in my life. Fights and other stuff going on in the media. I got to the point where I didn't even want to leave the studio," he told me last year.
"People are just going to have to like me for it. Or don't. I don't really focus on the negative anymore. I know there's always stories or this or that out about Chris Brown.... [but] whatever you think you know about me, just listen to the album."
Brown's release will undoubtedly see his label fire up his comeback campaign, especially considering the massive success of "Loyal." But now even the album's title is riddled with sad irony.
It's derived from the numbers in his birth date, combined and converted to a Roman numeral, and it's the 24th letter in the alphabet, which corresponds to the age Brown would have been if the album was released last year as originally planned. Earlier this year, during his rehab stint, the album was pegged to May 5, the singer's 25th birthday -- which he ended up spending behind bars.
But one thing is certain, his team needs to carefully consider how to present the project. His label has yet to announce a new release date, and perhaps it's because the general public still seems to feel he hasn't fully atoned for his violence against Rihanna or anything he's done since.
Though the Rihanna incident was Brown's first run-in with the law and he's done apologetic interviews and stayed out of legal trouble until last year, there's been little redemption for him since 2009.
During Brown's stint in rehab it was revealed he was suffering from undiagnosed post-traumatic stress disorder and untreated bipolar disorder. It doesn't excuse the trouble he's gotten himself into, but it does offer more insight into his psyche.
Put simply: Far too much has happened to Brown since his last album for him to sell fans a record full of hedonism and machismo.
Maybe this time in jail has given Brown the tools to push the reset button on his life (and career), taught him some hard lessons in the process and given him something much more meaningful to sing about.
And despite the debt to society he just paid, Brown still isn't out of the clear yet and that, too, is something worth exploring.
The singer is still on the hook for the Washington misdemeanor, his probation was extended to January and he'll be required to see a psychiatrist and a therapist, take appropriate medication, abstain from medical marijuana and complete his outstanding community service.
Brown has already proved that he has the chops to keep the music together, regardless of whatever hurdles he's found himself in.
Question is, can Brown keep his life together long enough to find something that so far his music has been unable to deliver: redemption.
---
Your essential guide to the arts in L.A.
Get Carolina A. Miranda's weekly newsletter for what's happening, plus openings, critics' picks and more.
You may occasionally receive promotional content from the Los Angeles Times.