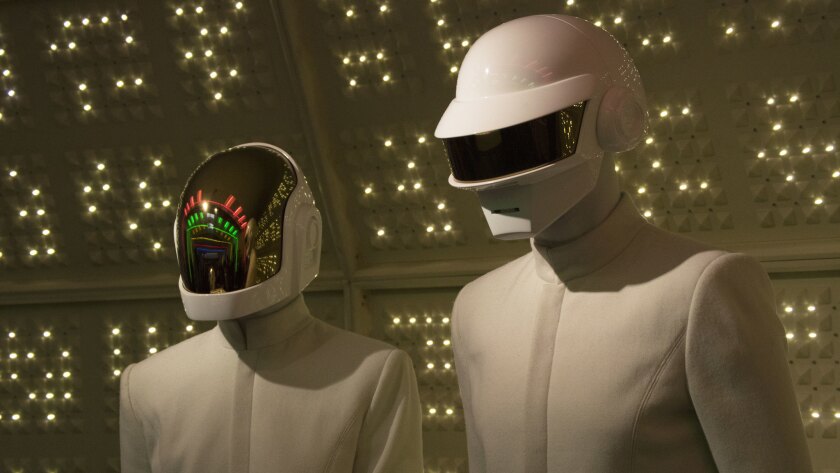 Dance music group Daft Punk, known for its creative collaborations with the Weeknd, Kanye West and Pharrell Williams, ends its latest experiment this weekend: its first L.A.-area pop-up shop.
With a nine-day run at Maxfield Gallery in West Hollywood, the shop has featured archival set pieces (such as a translucent drum kit, keyboard and electric guitar), costumes, helmets and limited-edition photos of the group, who recently performed "I Feel It Coming" and "Starboy" onstage with the Weeknd at the Grammys.
True fans of the "One More Time" performers can grab a $120 T-shirt or just check out their decades-spanning concert memorabilia on view at the Melrose Avenue shop.
Limited-edition clothing and jewelry from designers such as Virgil Abloh of street-chic line Off-White, Darkdron, Enfants Riches Déprimés and Han Cholo also are on display.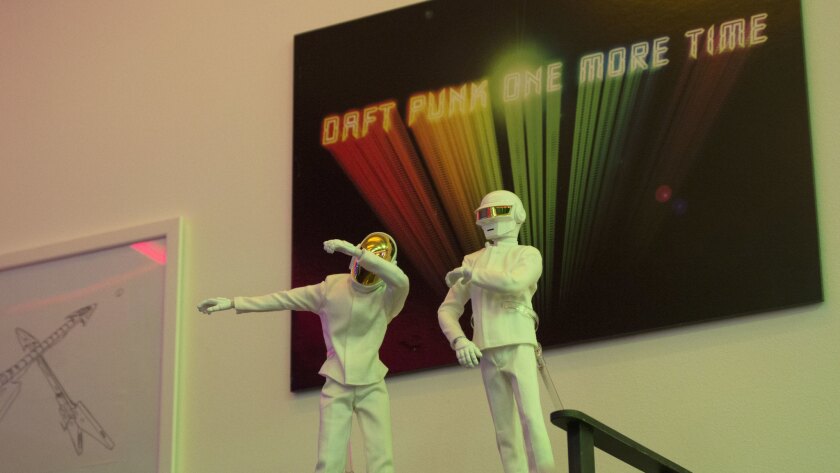 Neon signs of the group's logo or the silhouette of an electric guitar are for sale from $12,000 to $30,000. (Two have been sold.) The shop has figurines of the duo, helmet patches, logo pins, jewelry and even a Daft Punk snow globe. Posters, yo-yos, mugs, ornaments and other knickknacks are available for under $50, but many have sold out.
If you plan to go this weekend, prepare to stand in line outdoors. Only about 35 people are allowed in at a time, and the wait during the shop's opening weekend was about eight hours. Lines are expected to be just as long for the shop's final weekend.
Maxfield Gallery, 8818 Melrose Ave., West Hollywood. Open 11 a.m. to 7 p.m. through Saturday, noon to 5 p.m. Sunday.
Follow me on Twitter @sonaiyak
---