Appreciation: Pianist Dave Brubeck's gift for timing endures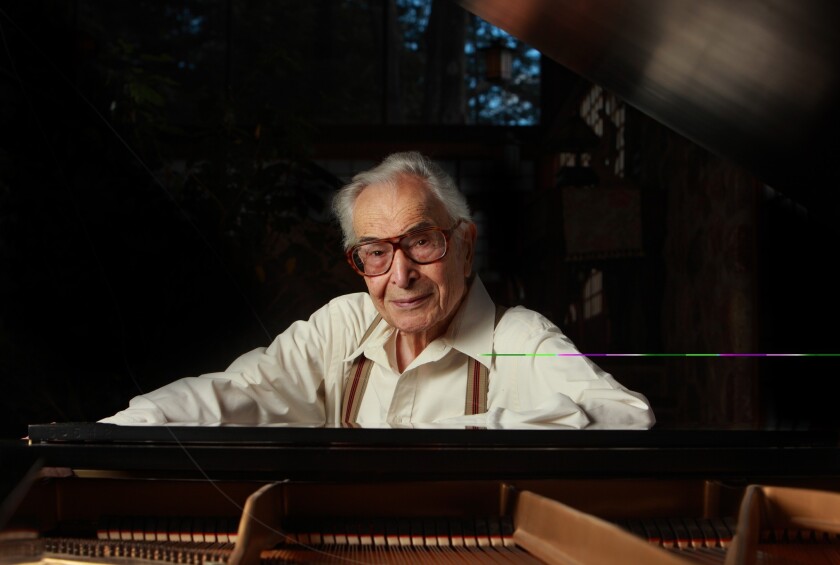 Jazz great Dave Brubeck in Wilton, Conn., in 2010.
(Carolyn Cole / Los Angeles Times)
Dave Brubeck in 1995.
( Handout)
Dave Brubeck in 1956.
(Associated Press)
Dave Brubeck, seated right, joins his fellow 2009 Kennedy Center honorees -- Grace Bumbry, Robert De Niro, Bruce Springsteen and Mel Brooks -- for a group photo.
(Kevin Wolf / Associated Press)
Dave Brubeck celebrates his 85th birthday in 2005 by performing with the London Symphony Orchestra at London's Barbican Hall.
(Alastair Grant / Associated Press)
Dave Brubeck sits at the piano surrounded by sons Chris, left, Danny and Darius, during an intermission of a concert in New York in 1985.
(Richard Drew / Associated Press)
Dave Brubeck, left, joined fellow jazz legends Herbie Hancock and Lionel Hampton at a luncheon honoring Hancock at New York's Tavern on the Green in June 1987.
(Osamu Honda / Associated Press)
Dave Brubeck plays piano as Tony Bennett sings "That Old Black Magic" at Carefusion Newport Jazz 55 in Newport, R.I., in 2009. Brubeck and Bennett had last performed the song together decades earlier, for President Kennedy at the White House.
(Joe Giblin / Associated Press)
Dave Brubeck entertains an after-work crowd at the 1990 JVC Jazz Festival in New York.
(Mario Suriani / Associated Press)
Dave Brubeck in 1974.
(Associated Press)
Dave Brubeck plays backstage for sons Danny and Darius between acts during his Newport Jazz Festival appearance at Carnegie Hall in New York in 1975.
(Richard Drew / Associated Press)
Dave Brubeck at the Newport Jazz Festival in Newport, R.I., in 1981.
(Paul Mello / Associated Press)
Dave Brubeck tours Moscow before performing at a concert in 1987.
(Boris Yurehenko / Associated Press)
After performing their own concert, Dave Brubeck, center, and Paul Desmond, far left, listen intently to Indian musicians playing the sitar in Mumbai in April 1958.
(Associated Press)
Dave Brubeck, right, jokes with an unidentified fellow Army soldier at Camp Hahn, Calif., in the 1940s. Brubeck served in France in World War II.
(Dave Brubeck )
When thinking about Dave Brubeck, you can't help but also consider time, and not just how much of it fans received from the prolific jazz pianist up to his death Wednesday at age 91.
A titan of West Coast jazz, Brubeck was linked with California for much of his career. He was born in Concord, studied at what is now is the University of the Pacific in Stockton and recorded for Berkeley-based Fantasy Records, which helped forge the Bay Area's sound in the '50s. But regardless of where a listener was based, the Dave Brubeck catalog was an inevitable destination.
Part of the reason is "Time Out," the aptly named 1959 recording that stands with Miles Davis' "Kind of Blue," Charles Mingus' "Mingus Ah Um" and Ornette Coleman's "Shape of Jazz to Come" as a groundbreaking album during a pivotal year in the evolution of jazz. Where Davis explored modal structures and Coleman blazed into a new world of saxophone, Brubeck was equally inventive for his experimentation with jazz's heartbeat.
PHOTOS: Dave Brubeck | 1920 - 2012 | Obituary
Written by Brubeck's saxophonist Paul Desmond, the immediately recognizable "Take Five" was in 5/4; "Blue Rondo à la Turk" -- a song inspired by Turkish folk music Brubeck heard while on State Department-sponsored tour -- shifts between 9/8 and 4/4; and the whole album continues the theme, shifting between waltz, double waltz and straight time with impossible ease.
To casual music listeners, such information can look like a fractions exam, but these songs upended the idea of what a jazz song could do. Despite fundamental structure changes (most jazz ticks along at 4/4), Brubeck still swung, and beautifully so.
Even at Brubeck's most inventive, he remained approachable. "Blue Rondo à la Turk" might have drawn a line in the sand as an album opener with its stuttering, almost manically paced beginning, but the song hardly sounds jagged as it gives way to a more familiar, blues-oriented section. The approach was new but never unwelcoming.
The proof is in the album's reception. Although Brubeck's label Columbia feared he might have gone too far out, the record became one of the bestselling jazz recordings of all time, peaking at No. 2 on the Billboard pop charts, and "Take Five" became a Top 40 single.
ARCHIVES: Dave Brubeck says he's 'fortunate' at 90
The song's appeal endures, having even appeared in an otherwise blandly elegant TV commercial for a Japanese luxury sedan in the '90s. The ad might not have sold a lot of cars, but it inspired many to go record shopping (this writer included).
Of course, with a life that found Brubeck performing high-profile gigs well into this century, it's difficult to summarize his impact and appeal in the context of one album. His reputation was established years before as he became only the second jazz artist to be featured on the cover of Time magazine in 1954 (though Brubeck questioned the honor and was reported to have said he thought Duke Ellington was more deserving). Brubeck continued to further explore exotic meters with his "Time Out" quartet until 1967.
A live recording from one of the band's last dates, "Their Last Time Out," was released in 2011 and still shows the pianist full of invention before shifting focus to composing more orchestral pieces. But Brubeck remains most memorable for his timing, and over such a long, fertile career it always seemed right.
ALSO:
Jazz pianist Austin Peralta dead at 22
Review: Robert Glasper Experiment at Royce Hall
Critic's Notebook: Vince Guaraldi's 'A Charlie Brown Christmas' score is a gift
Twitter: @chrisbarton
---
Inside the business of entertainment
The Wide Shot brings you news, analysis and insights on everything from streaming wars to production — and what it all means for the future.
You may occasionally receive promotional content from the Los Angeles Times.