First impressions of Jay-Z's new album, 'Magna Carta Holy Grail'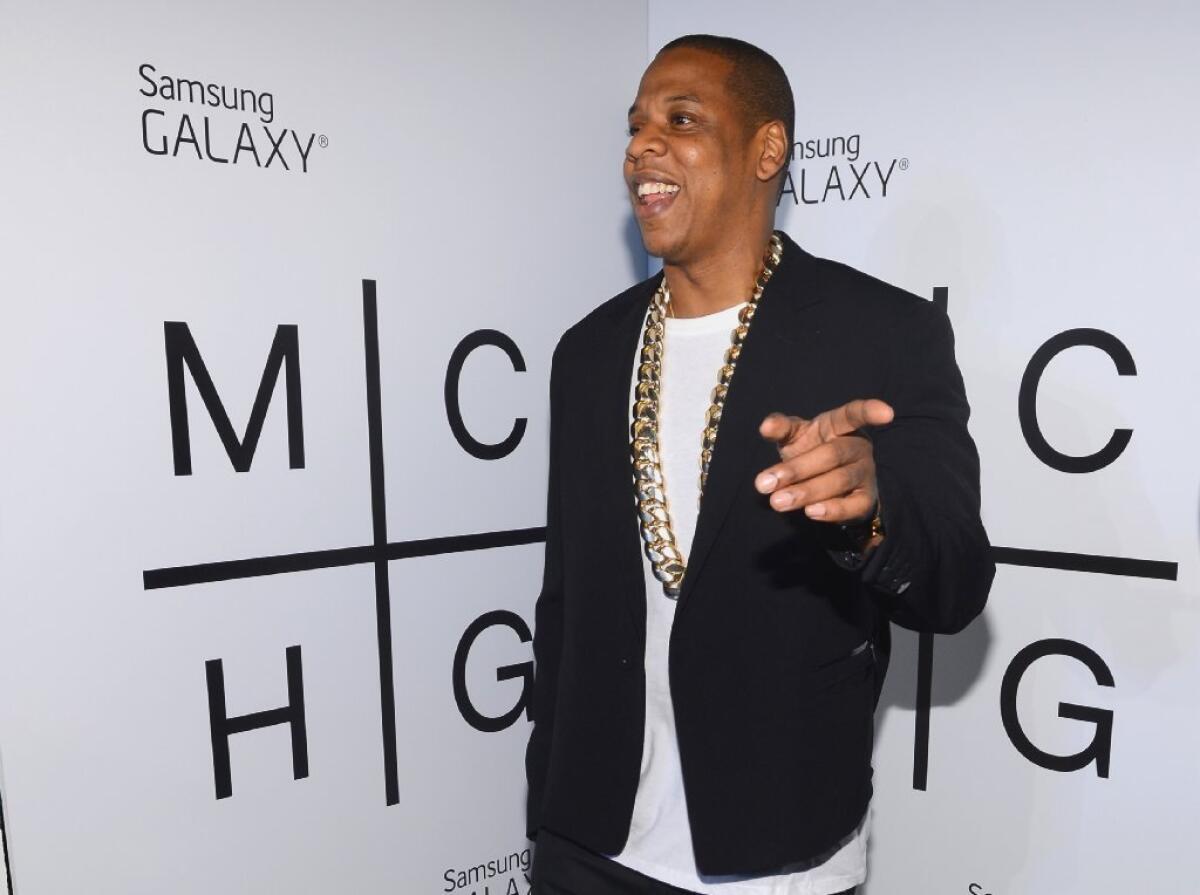 Los Angeles Times Pop Music Critic
Jay-Z's new album, "Magna Carta Holy Grail," came out Wednesday night, and as the rapper predicts on one track from it, he did indeed crash the Internet. Not literally, of course, but the artist's 12th solo studio album, released early to owners of Samsung phones who downloaded an app, set Twitter and Facebook abuzz.
And not necessarily in a good way: Social media was rife with frustrated fans unable to get the app to work properly, and many of them ended up hearing the highly anticipated release long after those who'd secured "MCHG" free through file sharing links.
Regardless, I've been up since 4:30 a.m. absorbing "MCHG" on the way to filing a full review of the album. Below are a few quick observations to help you decide whether you should care. Short answer: if you've ever been a fan of Jay-Z or his lead producer here, Timbaland, you should care deeply.
TIMELINE: Summer's must see concerts
1. The first track on the album, "Holy Grail," features an instantly hummable Justin Timberlake hook and was produced by hitmaker the-dream along with Timbaland. Sonically, the record is stunning, and at 16 tracks, it roller-coasters through sounds and tempos with a spirit of joyful experimentation. Though Timbaland and his co-producer, Jerome "J-Roc" Harmon, worked most of the sessions, other producers contributed as well, including Pharell, Swizz Beats, Hit-Boy and Mike Will Made It.
2. The rapper quotes Nirvana's "Smells Like Teen Spirit" on the opening track, sings a line of R.E.M.'s "Losing My Religion" on a magnificent song called "Heaven." Like former protege Kanye West on his new "Yeezus," Jay-Z, too, references the Abel Meeropol-penned lynching song "Strange Fruit"; he does so not as a springboard into a rant about opportunistic women as West does, but as a potent symbol of the post-war south.
3. The Holy Grail in English mythology was the chalice belonging to Christ's uncle, Joseph of Arimathea. Joseph, along with Nicodemus, took Christ's body down from the cross. From there, the myth travels in many directions. In one version, Joseph and his chalice journeyed to Great Britain. You don't need to know any of this mythology to appreciate the album.
Nor do you need to know that the first mention of a so-called "holy grail" in English literature was in the late 12th century, a mere two decades before King John of England agreed to the terms of the Magna Carta. If you don't know about the Magna Carta, learn about it. "Magna Carta" is also a play on Jay-Z's last name, which is Carter.
4. The best sample on the album, by far, occurs on "Jay Z Blue," a song that name checks Blue Ivy, the rapper's daughter with wife Beyonce. The clip is from "Mommie Dearest," the Joan Crawford biopic starring Faye Dunaway as the unhinged starlet. The use of two samples from the movie -- one long one at the beginning and the classic "No more wire hangers!" tantrum in the middle -- adds levity to an otherwise touching and insightful song about parenthood.
5. Is the album any good? It really is. A full review will come later today.
ALSO:
Wedding music: With these songs, I thee wed
Jay-Z reveals 'Magna Carta' art next to the actual Magna Carta
Jay-Z's 'Magna Carta' giveaway prompts RIAA change on certification
Follow Randall Roberts on Twitter: @liledit
Get our L.A. Goes Out newsletter, with the week's best events, to help you explore and experience our city.
You may occasionally receive promotional content from the Los Angeles Times.