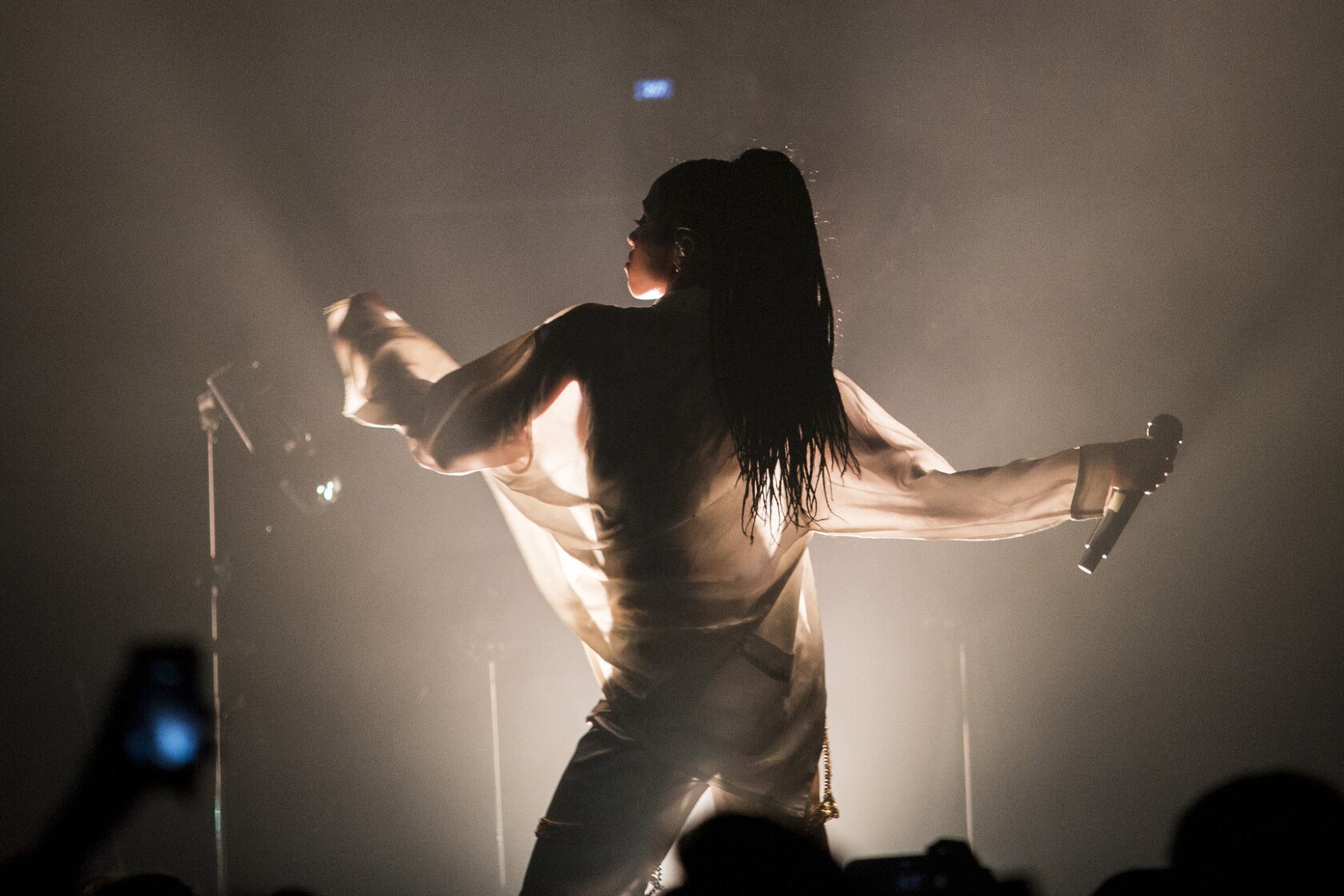 London recording artist Tahliah Barnett, known by her stage persona FKA Twigs, performs at the El Rey Theatre on Aug. 12.
(Jay L. Clendenin / Los Angeles Times)
FKA Twigs performs at the El Rey Theatre on Aug. 12, 2014.
(Jay L. Clendenin / Los Angeles Times)
Tahliah Barnett, a.k.a. FKA Twigs, lets the music move her at the El Rey Theatre on Aug. 12, 2014.
(Jay L. Clendenin / Los Angeles Times)
London recording artist Tahliah Barnett is the center of attention at the El Rey Theatre on Aug. 12, 2014.
(Jay L. Clendenin / Los Angeles Times)
FKA Twigs performs at the El Rey Theatre on Aug. 12, 2014.
(Jay L. Clendenin / Los Angeles Times)
For a moment Tuesday night, FKA Twigs lost control.
The multitalented British singer and songwriter born Tahliah Barnett had just finished a round of dancing that left her quivering on the floor of the El Rey Theatre stage. When she got up, she discovered that her cascading braided hair extensions had fallen off.
When the song ended, she briefly left the stage, passing the mike to a bandmate to make small talk while she re-applied them. When she returned, she was a touch embarrassed but also cheerfully defiant.
Stuff "happens when you vogue," she said to cheers from the crowd.
For Barnett, it was just about the first off-message thing that's happened during her rise to international acclaim. As FKA Twigs, Barnett works behind a veil of seductive, alien R&B. Her songs' eerie electronic arrangements, and the beguiling movements in the music videos she co-directs, showcase an artist in total command of her craft and image.
Her El Rey show proved that her talent and vision are immense. But onstage, she's learning that being FKA Twigs means being a bit distant and that having control means giving audiences less Tahliah Barnett.
On her records, Twigs understands this. She debuted in 2012 with a cryptic EP that earned comparisons to Massive Attack, Portishead, Aaliyah and other vanguards of sad, soulful electronic music. As buzz built around 2013's "EP2," she released a series of music videos that put a striking face to the project. "Papi Pacify," a song about the murky uncertainties of attraction and affection, came with a narcotic black-and-white video.
On "LP1," her first full-length for XL Records' Young Turks imprint (home of peers the xx), she collaborated with an array of today's elite producers and writers, including Kanye West favorite Arca, Drake cohort Sampha, Blood Orange's Devonte Hynes and Adele producer Paul Epworth. The fact that every airy, spooky moment of it still sounds entirely like FKA Twigs is an achievement.
And for the most part, her vision translated onstage at the El Rey. With just a trio of backing musicians playing guitars and samplers, Twigs proved that the vocal skill on her records is no digital trick.
On close-focus tracks like "Lights On," she made sex feel like a foreign country -- "When I trust you, we can do it with the lights on," she sang, with a mix of skepticism and raw need echoed in the song's stark synthetics. Kate Bush is an obvious comparison for any sonically ambitious, theatrically inclined British female singer. But Twigs' "Hide" truly shares Bush's sense of how inhuman electronica, paired with near-perfect vocal prowess, can yield something new and exultant.
When she's fully in character, Twigs is an incredibly compelling live performer. At the El Rey, she danced with an uncanny eroticism (her band name is an adolescent nickname earned from popping the joints in her long limbs), and her mix of '90s streetwear, boudoir lingerie and exotic jewelry has already resonated in her audience's own fashions.
The spell broke only when she occasionally tried to come back to Earth.
During several breaks in her set, the house lights came on while she thanked her band, touted her new album and noted that the crowd in L.A. seemed to be full of exceptionally "creative people." At a typical live show, that would be unremarkable. But FKA Twigs is something else.
The world she offers in her art is so much more sensual and bewitching than the one most of us live in. Even at her most raw, like her hot-blooded pursuit of a coupled-off partner on "Two Weeks," she wasn't asking permission as much as giving a command.
If she can just keep that mix of pain and provocation, of intimacy and the unknowable, then FKA Twigs will be a controlling force in R&B for years to come.
Follow @AugustBrown for breaking music news.
---