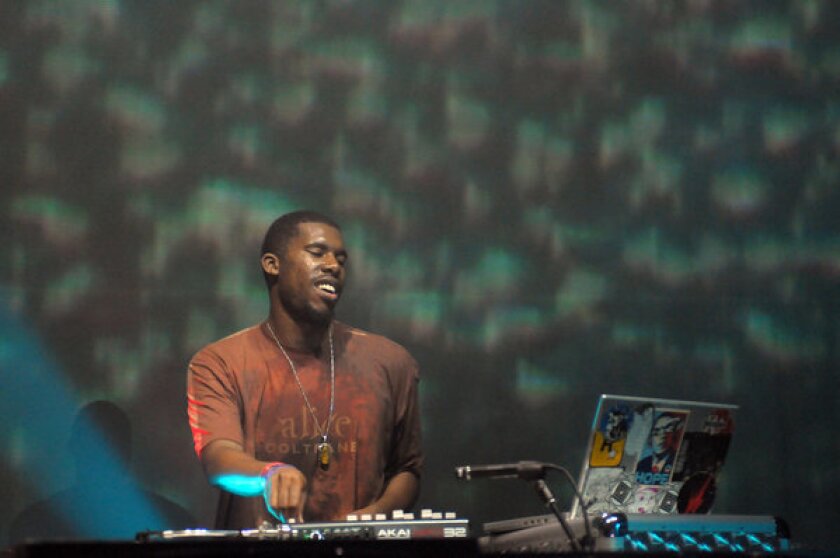 Unlike many beat-scene producers, Flying Lotus takes his time between albums. That doesn't mean he's not making a ton of music in the interim, however.
Today, the L.A. electro-jazz savant posted a free zip file with several dozen outtakes, remixes and unfinished ideas that find one of the city's most imaginative musical minds working out his loose ends.
The tracks on "ideas+drafts+loops" aren't meant as any kind of coherent mixtape, but are more of a data dump of interesting ideas. It still boasts some major star power, however, with appearances from Earl Sweatshirt, Baths, Shabazz Palaces and more.
The centerpiece? A remix of Kanye West's "Black Skinhead" given some lovely instrumental treatments from L.A. bass lord Thundercat.
PHOTOS: 2013's year of controversial rap lyrics
Sonically, the package is all over the place, from the tongue-in-cheek dinner jazz of "An Xbox Killed My Dog" to the synth-velvety "Flotus" to the laptop hard core of "Chasing Apples."
While you can understand why some of these tracks didn't make the final cut for release, it's an interesting look behind the curtain at how one of L.A.'s brightest musical minds arrives at his more exquisite, perfectionist conclusions.
ALSO:
Grammy nominations show puts chaos on display
Review: With 'Black Panties,' R. Kelly again dials up explicitness
Review: Kings of Leon headline KROQ's Almost Acoustic Christmas
---