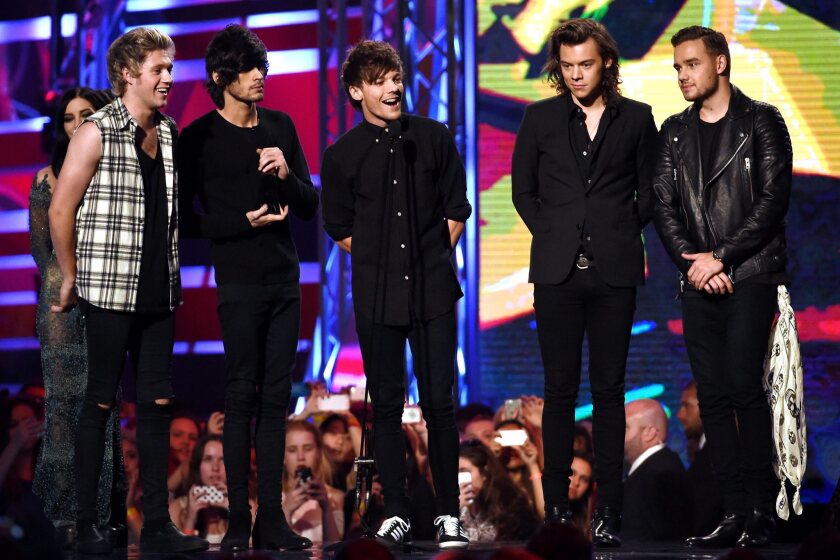 That makes four for the five lads of One Direction.
Setting a new record, the British boy band's latest album "Four" entered the Billboard 200 chart at No. 1 on Wednesday, reflecting sales of 387,000 copies in the week that ended Sunday, according to Nielsen SoundScan.
It's the fourth chart-topper in a row from One Direction, making it the only group in the chart's history to have its first four albums debut at No. 1, as Billboard's Keith Caulfield points out. (Three solo acts have also done it: Britney Spears, DMX and Beyonce.)
"Four" is the second-fastest selling album of the year, behind Taylor Swift's "1989," which moved 1.287 million copies in its first week in stores last month.
Still, the album started with considerably less of a bang than One Direction's previous full-length. Last year "Midnight Memories" entered the chart at No. 1 on sales of 546,000 copies.
Behind "Four" on this week's tally, "1989" came in at No. 2 with 214,000 copies sold. That brings overall sales of Swift's album, which spent three weeks at No. 1, to 2.21 million, the year's second-highest total after the soundtrack of "Frozen," which has sold 3.27 million.
At No. 3 with 99,000 copies is "That's Christmas to Me" by the a cappella group Pentatonix. It's one of three holiday discs in the top 10 this week, along with Michael Buble's "Christmas" at No. 9 and Idina Menzel's "Holiday Wishes" at No. 10.
Other new albums in the top 10 include the latest from two rock acts: Nickelback's "No Fixed Address" at No. 4 and "Black Widow" by In This Moment at No. 8.
Twitter: @mikaelwood
---