Appreciation: George Martin's indispensable role with the Beatles
Nearly 10 years ago, Cirque du Soleil gave reporters a preview of its new show "Love," based on the music of the Beatles. Small groups of us were led around the production facilities at the Mirage in Las Vegas.
Entering the sound booth, I was caught off guard when the door was pulled open by a tall, handsome white-haired English gentleman.
"Welcome – please come in," George Martin said to us.
He was 80 then, but Martin couldn't have been more gracious, more charming, more witty or more engaging – even when several of those in the room looked on in stony silence when the tour guide asked, "Does anyone have any questions?"
"Only a couple of thousand," was the thought that sprang to mind. Here was the producer of one the greatest collections of popular music ever recorded. What wasn't there to ask?
Martin's eyes sparkled as he described how he and his son, musician-producer Giles Martin, had essentially been given carte blanche to let their imaginations run wild in slicing and dicing the Beatles' catalog to create a soundtrack for the boundary-bending production.
It was yet another example of how John Lennon, Paul McCartney, George Harrison and Ringo Starr benefited in so many ways from their partnership with Martin. He wasn't simply a record label chief who demonstrated his smarts in 1962 when he originally signed the scrappy group of Liverpool upstarts that dozens of other companies had rejected.
In Martin, they also found a kindred spirit, musically and temperamentally, a man with the musical foundation to translate their gut instincts into reality and the technical acumen to take the magic they'd honed through countless hours playing live in rowdy pubs and capture it within the sterile confines of a recording studio so the world at large could soon revel in it.
At first, Martin and the group concentrated on translating the exuberant energy of the Beatles' live shows onto record. But quickly, all concerned got caught up in exploiting the potential of the recording studio as another creative tool at their disposal, not just a place to create audio snapshots of live performances.
They soon began opening new vistas by overdubbing instruments, voices and, later, all manner of exotic sounds that made the Beatles records both musically adventurous and sonically innovative.
From his piano solo for "In My Life" that was accelerated to double speed to sound like a harpsichord, to the elegant string quartet arrangement he wrote for "Eleanor Rigby," to numerous experiments with reverse tape loops pioneered on tracks such as "I'm Only Sleeping" and "Tomorrow Never Knows" and the cataclysmic orchestral crescendo at the climax of "A Day in the Life," Martin sat confidently in the pilot's seat as the Beatles journeyed to places no band, and no music fans, had gone before.
He got to stretch his own wings as a composer, most extensively perhaps with half an album's worth of instrumental compositions for the "Yellow Submarine" animated film in 1968.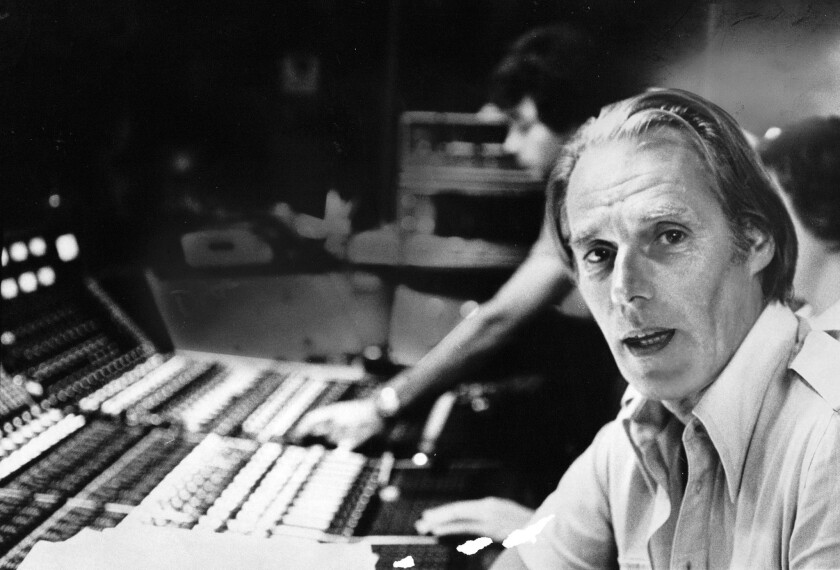 George Martin in 1977. He began working with the Beatles in 1962 after they were signed to Parlophone Records. He would go on to produce most of their recordings until their breakup in 1970.
(Tony Barnard / Los Angeles Times)
George Martin works with the Beatles in the recording studio circa 1964.
()
Producer George Martin listens as Paul McCartney and George Harrison work on a song during the fall 1965 sessions for "Rubber Soul."
(Apple Corps Ltd)
George and Judy Martin, left, toast newlyweds Terry and Danielle Ellis shortly after their marriage at St. George Church on the island of Tortola in 1980. Martin also played organ music during the ceremony.
(File)
George Martin with John Lennon in 1962 at one of the group's earliest recording sessions in London.
(Robert Freeman )
George Martin in May 1987. in 1955, Martin was named head of EMI's Parlophone label, becoming, at 29, the youngest person ever to run a major record company in England.
(UPI )
George Martin, often called the Fifth Beatle, shortly before he was knighted in June 1996. After that, he was called Sir George.
(Barry Batchelor / Associated Press)
"When I first met the Beatles, there was no way to know they would develop as songwriters. I signed them for their character and charisma," said George Martin, shown in June 1999 at the Four Seasons Hotel before participating in a Beatles tribute at the Hollywood Bowl.
(Los Angeles Times)
Ringo Starr and George Martin at the 50th Annual Grammy Awards at Staples Center in Los Angeles, Feb. 10, 2008.
(Lawrence K. Ho / Los Angeles Times)
George Martin speaks on stage during the John Barry Memorial Concert at London's Royal Albert Hall in 2011.
(Jon Furniss / WireImage / Getty Images)
George Martin and Paul McCartney at "LOVE," Cirque du Soleil's celebration of the Beatles in Las Vegas in 2006.
(KMazur / WireImage / Getty Sports)
After the Beatles called it quits in 1970, he continued producing, working with a variety of other artists as producer, arranger or orchestrator. Among them were Elton John, the Who's Pete Townshend, Jeff Beck, Dire Straits, America, Cheap Trick, Little River Band. He also produced Starr's 1970 solo album of pop standards, "Sentimental Journey," and McCartney's "Pipes of Peace," "Flaming Pie" and "Tug of War" solo albums as well as the title song he and wife Linda McCartney created for the 1973 James Bond film "Live and Let Die," nine years after producing Shirley Bassey's hit recording of the Bond "Goldfinger" theme.
In the minutes after my initial meeting and interview with Martin in the Mirage's sound booth ahead of the "Love" world premiere, I remember feeling speechless. I also met and briefly interviewed McCartney and Starr about the show.
Yet as personally rewarding as it was to converse with the two surviving members of what had been the favorite band of my youth, I found myself in genuine awe following the exchange with Martin—a feeling that resurfaced several months later when I sat between George and Giles in Capitol Records Studio A in Hollywood and explored the making of the "Love" soundtrack album that was shortly to be released.
Most touching was what he had to say about the new string arrangement he'd written for the revised version of George Harrison's song "While My Guitar Gently Weeps" used in "Love."
It was Harrison's dying wish that the members of the group find a way to collaborate one more time, some 30 years after they'd disbanded so acrimoniously in 1970. That wish became a family-affair reality through the combined efforts to bring "Love" to fruition by McCartney, Starr, Lennon's widow Yoko Ono and Harrison's widow Olivia -- and Martin.
------------
FOR THE RECORD
7:31 a.m.: An earlier version of this post listed the date of the "Yellow Submarine" film as 1967. It came out in 1968.
------------
He brought Giles in to assist with new-generation digital technology and computer editing tools for their radical reworking of the Beatles' recorded legacy for the "Love" soundtrack, which remixed and re-edited many of their classic songs in dramatic and eye-opening ways.
For "While My Guitar Gently Weeps," Martin wrote an orchestral accompaniment that he and Giles wedded to an alternate take from the group's 1968 recording sessions for what would come to be known as "The White Album."
Because his hearing was deteriorating at that time, Martin didn't qualify his pronouncement on his most recent exercise in composing music for the four blokes he sometimes called "the lads."
"That," he said, without a trace of sentimentality or regret, yet with the understated authority he always seemed to exude, "is the last music I will ever write for the Beatles."
The words that come to mind now, though, are from the track for which he created possibly the loveliest orchestral score he ever wrote, on the final track of "The White Album":
Good night.
Follow @RandyLewis2 on Twitter. For more on classic rock, join us on Facebook
MORE:
Paul McCartney on George Martin: 'I'm so sad...'
Paul McCartney, Ringo Starr and Sean Ono Lennon remember George Martin
Video: Watch George Martin cruise through L.A. to talk 'God Only Knows' with Brian Wilson
---
Inside the business of entertainment
The Wide Shot brings you news, analysis and insights on everything from streaming wars to production — and what it all means for the future.
You may occasionally receive promotional content from the Los Angeles Times.