Grouplove is beyond 'Tongue Tied' in new album 'Spreading Rumours'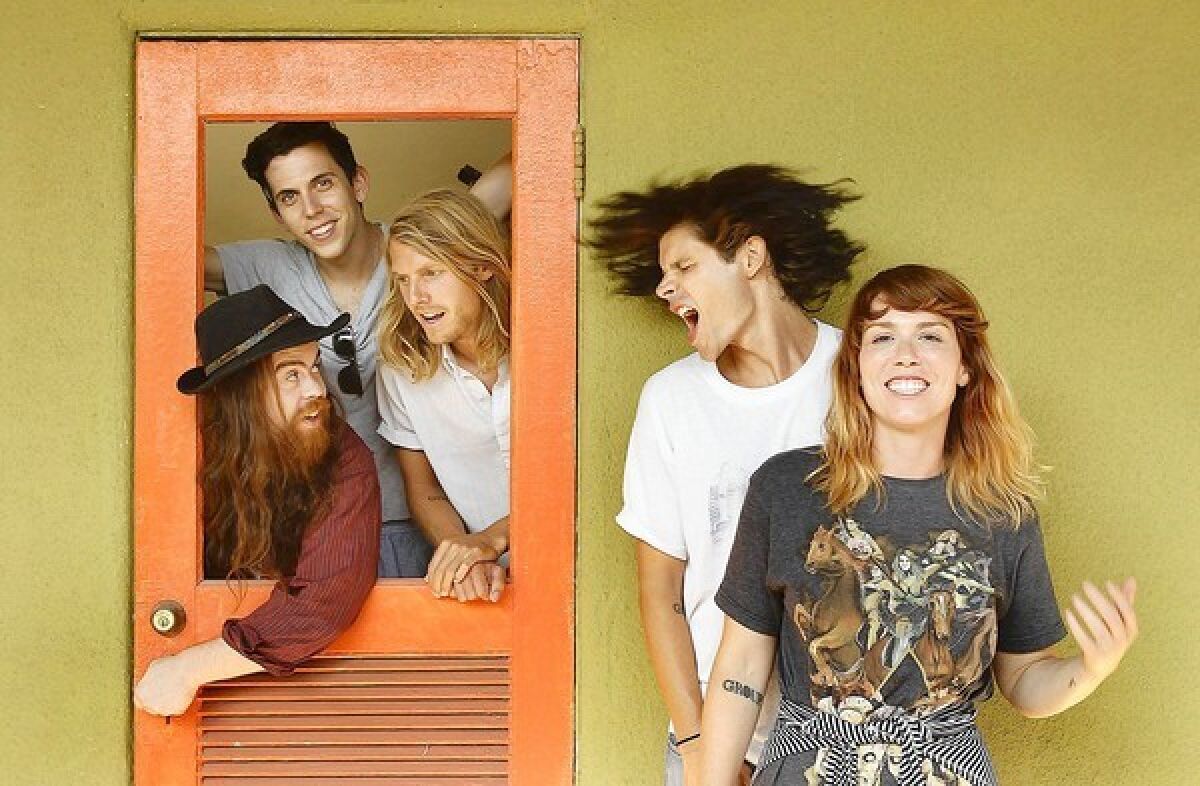 Christian Zucconi was nobody's idea of a Hollywood slickster when he ambled onstage one night last month at Club Nokia. Gawky, wild-haired and wrapped in what appeared to be a secondhand bathrobe, the frontman of L.A.'s Grouplove was there to perform with his band as part of a benefit for the Grammy Foundation.
In the audience, well-dressed guys and women teetering on high heels listened attentively enough as Zucconi sang about losing his head over Andrew Wessen's clanging guitar. More than a few crowd members, though, used the outfit's set as an opportunity to visit the bar ahead of the evening's headliner: the très chic French group Phoenix.
Yet if Grouplove seemed a bit out of place here, it's not as though the Grammy organizers had booked the band as a favor: Last year its song "Tongue Tied" spent 43 weeks on Billboard's alternative chart (including a stint at No. 1) and even crossed over to the all-genre Hot 100, reflecting airplay on pop stations such as L.A.'s influential KIIS-FM (102.7); to date, the propulsive synth-rock single has sold 1.1 million copies, according to Nielsen SoundScan, while Grouplove's 2011 debut album, "Never Trust a Happy Song," is at 157,000.
PHOTOS: Concert photos by The Times
In today's fractured music business, Zucconi and his mates — now working to support a sophomore disc — are a success story, dingy bathrobe and all.
"I'm sure there were some people there who thought our band was called Tongue Tied," said the group's keyboardist, Hannah Hooper, a few days after the Club Nokia gig. "But it's so fun to have a song people know — where they hear it and they're like, 'Oh my God!'"
Formed in 2009 after the band's members met at an artist's retreat on the Greek island of Crete, Grouplove (which also includes bassist Sean Gadd and drummer Ryan Rabin) owes some of "Tongue Tied's" ascent to the song's use in a 2011 Apple commercial for the iPod Touch. Ron Poore, a promotions executive at the band's label, said demand once the spot began running "was like an avalanche."
But "Tongue Tied" is also one of a growing number of quirky alternative-rock tracks to cross over to pop in recent years, along with songs such as Foster the People's "Pumped Up Kicks" and "Radioactive" by Imagine Dragons.
"In the early 2000s alternative was not creating hits," said Lisa Worden, music director at L.A.'s KROQ-FM (106.7). "Now the format's hot again."
PHOTOS: Unexpected musical collaborations
Gathered with the rest of the group at his and Hooper's airy Silver Lake home, Zucconi insisted the band's brush with mainstream pop culture hasn't suddenly made him want to compete with the likes of Katy Perry and Maroon 5. (Rabin, whose father is the film composer and former Yes guitarist Trevor Rabin, said he's more interested than his bandmates in Top 40 pop.)
And you can hear Zucconi's claim borne out to some degree on Grouplove's new album, "Spreading Rumours." Due Tuesday, it's noisier and trippier than the band's debut, with unexpected stabs of electronic fuzz like those in "Hippy Hill," where the singer makes a kind of pledge of countercultural allegiance, singing "I'd rather be a hippie than a hipster."
Still, there's no denying the craftiness on display in tunes such as the jangly "Shark Attack" and the album's chirpy lead single, "Ways to Go," which this week sits at No. 4 on the alternative chart. ("We put it on the air the minute we got it," said KROQ's Worden.) Nothing about the record feels like a sop to fair-weather fans who may have downloaded "Tongue Tied" after seeing the iPod commercial or hearing the song performed on "Glee."
But neither does "Spreading Rumours" downplay the band's appealingly ragtag charm; there's some aggressive enthusiasm to "Schoolboy" and "Borderlines and Aliens."
PHOTOS: A guide to the current top pop ensembles
That's just Grouplove being Grouplove, say the members, who are scheduled to play sold-out shows Tuesday at the Troubadour and Wednesday at the Masonic Lodge at Hollywood Forever Cemetery.
"We would never try to duplicate what we did with 'Tongue Tied,'" said Hooper, as her bandmates nodded in agreement. "We didn't really have any kind of tactic when we went in the studio. I mean, if you always approach something the same way, then you already know what you're going to come out with. So why would you start it?"
Perhaps because the approach, a visitor suggested, has been shown to lead to success.
Hooper looked genuinely as though that thought hadn't occurred to her — an accidental hitmaker hoping, but not necessarily planning, for more.
---
Get our L.A. Goes Out newsletter, with the week's best events, to help you explore and experience our city.
You may occasionally receive promotional content from the Los Angeles Times.