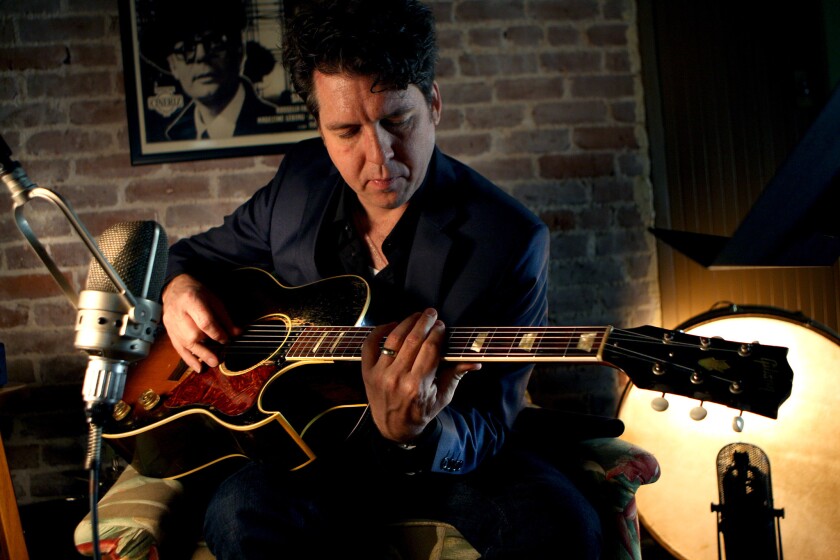 Joe Henry's name has cropped up as a producer on so many other artists' recordings in recent years -- Bonnie Raitt, Hugh Laurie, Rodney Crowell, Bettye LaVette, Solomon Burke, Billy Bragg, Aaron Neville, Mose Allison, Ramblin' Jack Elliott, Elvis Costello & Allen Toussaint, Loudon Wainwright III -- it's natural to wonder how he ever squirrels away enough time to work on his own music.
"I am busy," Henry said recently just before the release of his latest album, "Invisible Hour," "but I've got a friend who's a carpenter who's a lot busier than me. Having said that, I've made enough of my own records at this point that when I look at the calendar and start to think 'It's time for a new record,' I know I have to make some time for it. I only make a record when the songs gang up on me and insist on coming out."
When that does happen, Henry tends to work quickly and efficiently -- far from the relaxed pace some pop musicians have been known to take. Whether that's the cause or effect of his tendency to record everything live as much as possible in his home studio in South Pasadena is anybody's guess. But the results tend to be deeply felt excursions into the most soulful side of music-making.
"If what you respond to is the sensation, the proximity of people in a room discovering a song in real time, the best way to achieve that is actually to do just that," he said. "To get people in a room, to make this song stand up, it's like having a seance. Something gets conjured. I find it an incredibly exciting way to work. It puts a lot of energy back into the room."
The core of "Invisible Hour" is variations on the theme of relationship -- connection between people, between the individual and spirit, between the artist and the audience.
"In the liner notes I stated, cautiously, that in retrospect I've come to think these are all songs about marriage. ... I recognize the through line of the whole thing is that place where we connect with somebody else that illuminates.
"I'm using 'marriage' in the way we refer to it routinely, but I've also said I'm using marriage as a verb, not a noun, not a thing that gets possessed, but an engagement that has to be newly ratified continuously."
Henry's musician son, Levon -- named for Levon Helm of the Band -- is a prominent collaborator on the album, along with the Milk Carton Kids and Lisa Hannigan, and Levon also is along to lend a hand on Henry's current tour, largely solo dates except for his stop Saturday night at Largo at the Coronet Theatre.
"For Los Angeles, because I can and I want to," he said, "I'm playing two shows -- early and late. The early show will be solo acoustic, and the second show will be a full ensemble show, not like any of the other shows on the tour."
Twitter: @RandyLewis2
---