John Densmore on court fights with Doors bandmates: 'It wasn't fun'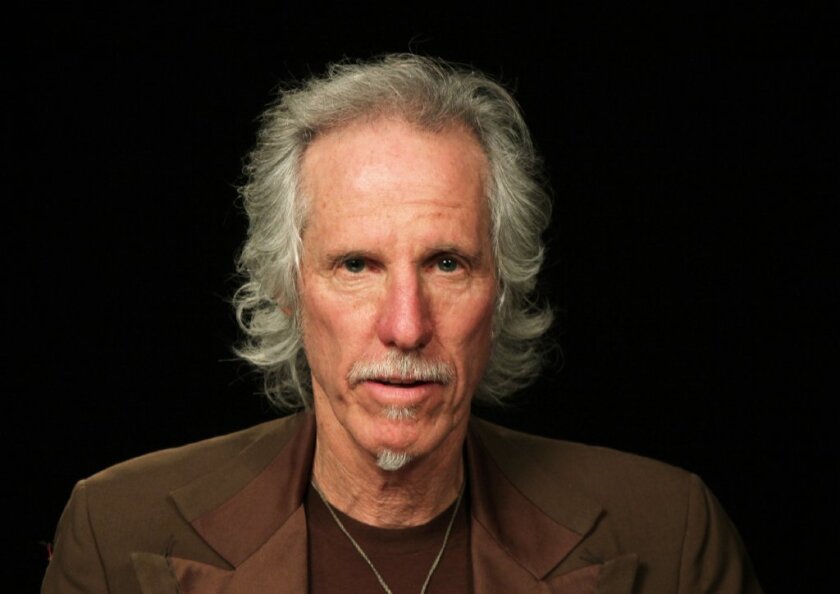 It was a battle that John Densmore wishes didn't require the beating of his drum, but one that his conscience wouldn't let him sidestep when he decided to sue his former bandmates in the Doors, keyboardist Ray Manzarek and guitarist Robby Krieger. At issue was their use of the Doors' name for a new round of touring without long-departed lead singer Jim Morrison.
Densmore's case against his fellow surviving members of the L.A. rock quartet -- and their $40-million counter-suit against him -- forms the core of Densmore's new book, "The Doors Unhinged: Jim Morrison's Legacy Goes On Trial" (Baker & Taylor, $24.95), which he'll be signing at Amoeba Music in Hollywood at 6 p.m. on Friday.
The book walks readers through both suits, which ran concurrently in L.A. Superior Court in 2004, through Densmore's use of court transcripts, supplemented by the thoughts that ran through his mind while the surreal affair unfolded.
PHOTOS: Iconic rock guitars and their owners
"I thought, God, what [an] ordeal — what did I put myself through, and why?" Densmore told Pop & Hiss on Thursday. "Maybe I should try to figure out why," which led the drummer to write his second book, after his 1990 New York Times bestselling history of the Doors, "Riders on the Storm."
"I skimmed through 20,000 pages of transcripts and culled it down to very little," Densmore said. "I thought about how I don't want this to be just dry courtroom stuff, so I drift off and explore whatever, like sitting in with Eddie Vedder or Carlos Santana, or philosophizing about the George Bush administration.
"It wasn't fun," he said of his time navigating the legal system, "but I tried to work some humor in."
The core of Densmore's action was his belief that Manzarek and Krieger should not use the Doors' name in their reconstituted touring band, which used, at different times, Cult singer Ian Astbury, Police drummer Stewart Copeland and other musicians playing Doors' songs as "The Doors of the 21st Century."
PHOTOS: Best albums of 2012 | Randall Roberts
At one point, Densmore recalls suggesting that they "call it the Windows, call it the Hinges. The Doors is Jim, Ray, Robbie and John — it's not Ray, Robbie, Ian, Stewart, Shirley, Fred or whatever."
The court eventually sided with Densmore, and Manzarek and Krieger adopted the name D21C. Densmore also emerged the victor in the countersuit, when he was sued for refusing to allow the Doors' music to be used in a Cadillac commercial, for which they were being offered $15 million. Densmore recounts Morrison's violent objection to a similar such effort while he was still alive, when Buick sought to use their breakthrough hit "Light My Fire" (written primarily by Krieger) in a commercial for the Opel.
"I just kept thinking about Jim," Densmore said, "and how he blew up over [the proposed lyric revision] 'Come on, Buick, light my fire.' And he didn't write it. What does that mean? That the whole catalog meant a lot to him. He's our ancestor, as Ray is now, and I wasn't going to forget that."
That fight almost seems quaint in an era when so many musicians put considerable time and effort into negotiating advertising and other branding tie-ins with their music, the focus on "monetization" of music ever-increasing. How do younger-generation musicians react to Densmore's position?
RELATED: Quick chat with John Densmore
"They admire it," he said. "I certainly am raising a provocative question, because I was countersued for not okaying the Cadillac commercial."
As in the book, Desnmore made it clear he doesn't think there's a simple black and white to the issue of commercial uses of music.
"If you're a new band trying to pay the rent, do it," he said. "But later, say you're getting a toehold on success, you might want to revisit the question that Tom Waits asked: 'Do you want to turn your lyrics into a jingle?' There's no clear answer.
"Pete Townshend said 'I don't give a [hoot] about Shirley and whether you fell in love with Shirley to my song.' There's all sides to these coins," Densmore said. "It's an individual decision. It's very tough out there, tougher than ever."
Densmore's book was published in April, about a month before Manzarek died at 74 from cancer. That prompted Densmore to postpone some appearances to promote the book, including the one at Amoeba that had been scheduled for June 2.
The lawsuit, predictably, caused serious strain in the relationship between the former bandmates. But Densmore said that "The healing between me and Ray and Robbie had already begun before Ray passed, and that feels good. I just wanted to get this story out for those who are interested. Having that out, a kind of a cloud had lifted, because way back, some hardcore fans were saying things like 'John is ruining our band.' Now they get it. They completely get it."
For an earlier book event Densmore did in Long Beach, he decided to reprint portions of the final chapter in "The Doors Unhinged," in which he expressed his affection for Manzarek and Krieger despite the bad blood that spilled during the lawsuits.
"People handed that out while people were in line for the signing, and that felt good, so I'm continuing to do that for however long it feels appropriate," he said. Densmore also noted that he's suggested to Krieger that they come together again with other musicians at some point to play Doors songs in memory of both Manzarek and Morrison.
"When I heard Ray was sick, I called him," Densmore said, "and we had a nice closure, thank God."
ALSO:Ex-Door lighting their ire
Ray Manzarek dies at 74; the Doors' keyboardist
Ray Manzarek: X's Exene Cervenka, John Doe remember a friend
Follow Randy Lewis on Twitter: @RandyLewis2
---
Your essential guide to the arts in L.A.
Get Carolina A. Miranda's weekly newsletter for what's happening, plus openings, critics' picks and more.
You may occasionally receive promotional content from the Los Angeles Times.