Latin rock's Julieta Venegas goes for profound in new album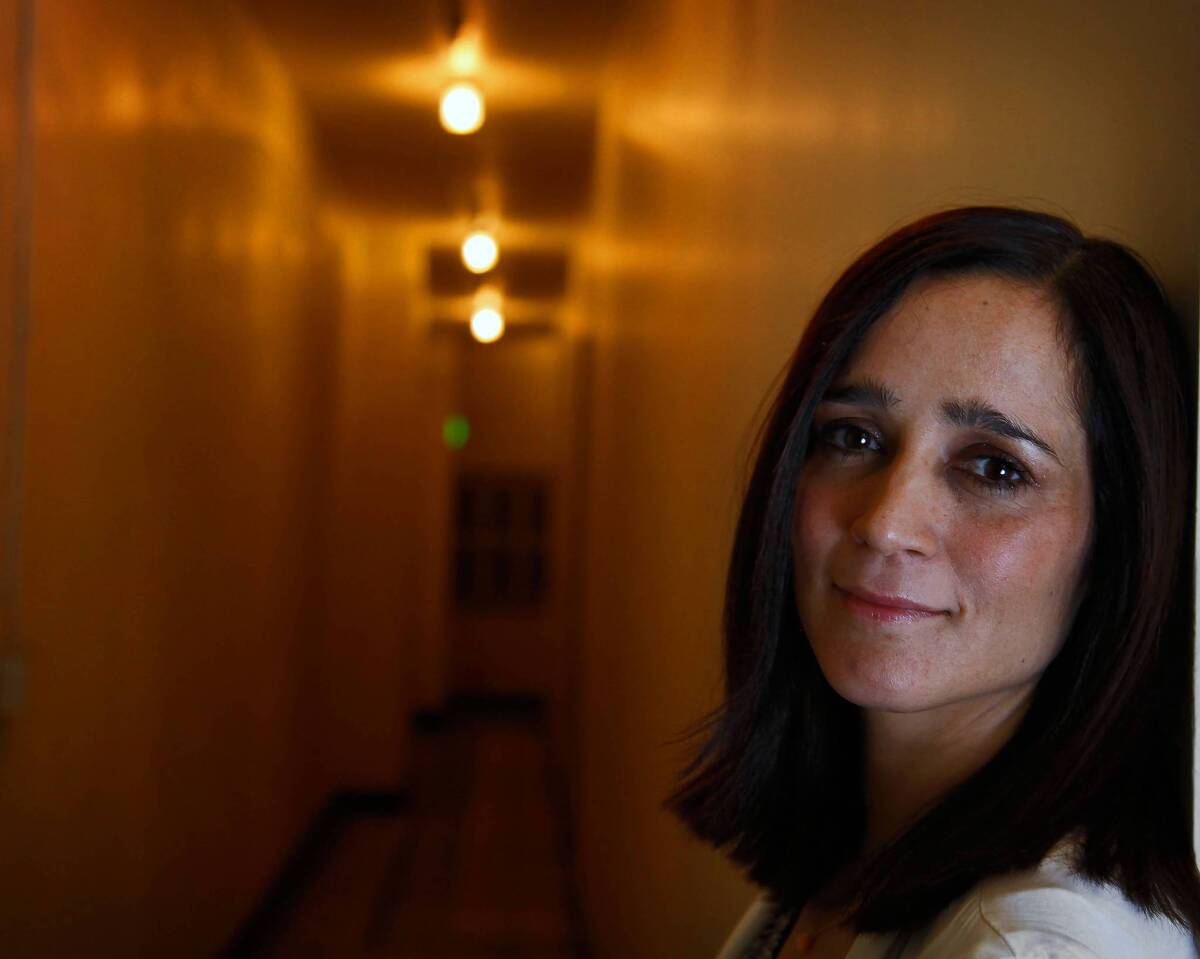 A bloody free-for-all has broken out in Mexico City. Gangs of young women punch and claw each others' faces. Office workers suddenly explode into rages and start attacking colleagues. A restaurant kitchen bursts into a fiery melee.
Cutting through the music-video carnage, a woman's voice, tender and empathetic as a grieving angel's, laments the shocking scene. "Everything was joyful in my city/ My tree flowered/ Everyone wanted to come here/ But my blood spilled..../ Now I breathe fear."
Aficionados of rock en español will instantly recognize the distinctive sound of Mexican American singer-songwriter Julieta Venegas, who's glimpsed a few times in the video for "Tuve Para Dar" (I Had to Give), the first single off her latest album, "Los Momentos" (The Moments).
PHOTOS: Concert photos by the Times
Passing through L.A. recently to promote her new disc, Venegas, who was born in Long Beach and raised in Tijuana, said that the metaphorical references to Mexico's recent epidemic of drug-related violence in "Tuve Para Dar" reflected her desire to "talk about things that were más profundidades" — more profound — "maybe even harder themes like sadness or loneliness or fear."
An intensely introspective quality has been associated with Venegas ever since she started performing and recording in the 1990s. It helped her become both a fan favorite and a critics' sweetheart, with landmark albums like "Aquí" (1997) and "Bueninvento" (2000), as well as a powerful female presence in the still macho-centric world of Latin rock.
As her new album's title suggests, Venegas wanted the songs in "Los Momentos" to feel personal and immediate. She wrote and recorded the album while raising her 3-year-old daughter as a single mother, and several songs allude to the challenges of negotiating a space between one's private and public selves.
"Having a child kind of gives you like a good — ack! It totally shook me up and just took all my fears away creatively. It just made me fearless, somehow," she said during an interview at a publicist's loft downtown.
PHOTOS: Best albums of 2012 | Randall Roberts
She paused, as if reconsidering. "I don't know if it has to do with being a mom or it just has to do with growing up, I guess, just being able to express different things. And I realized that I wasn't in the mood for easy songs at all."
Maturity seems to have settled comfortably on Venegas, 42, who recently opened a tour in Brazil that she expects will bring her back to Los Angeles to perform this fall.
A precocious talent, she grew up in Tijuana playing piano and studying music theory. Later, jamming with various bands, she became part of the border city's first-wave forays into aggressive fusions of ska, reggae, rock and Mexican regional music.
But it wasn't until she moved to Mexico City, where she continues to live, that Venegas began to seriously pursue her own songwriting, which led to her first album, "Aquí," produced in Los Angeles by Argentine impresario Gustavo Santaolalla. Along with bands like Café Tacuba, Venegas helped invent Mexican alternative rock by introducing a more worldly sensibility and traditional instrumental textures to a Mexican rock scene that too often before had simply mimicked Anglo-American guitar-god swagger.
Her new album retraces part of that evolutionary path through collaborations with old friends such as the Mexican singer-songwriters Ceci Bastida and Natalia Lafourcade, Café Tacuba lead singer Rubén Albarrán, and Ana Tijoux, the French Chilean rapper-chanteuse. Fittingly, the song on which Albarrán and Tijoux appear, "Vuelve" (Come Back), deals with themes of friendship, exile and reconciliation.
PHOTOS: Iconic rock guitars and their owners
"As soon as I wrote 'Vuelve' I thought of Ana," Venegas said, "because I thought that she could give another vision to the song. Because the song is about telling somebody from out of Mexico to come back to my country."
Produced by Yamil Rezc, who has teamed up with Mexican progressive bands like Zoé and Hello Seahorse!, "Los Momentos" follows the current global passion for electronic dance music. The record derives its subtle power from the tension between its dreamy, electro-pop surfaces and the pensive lyrics often rumbling beneath them.
Longtime followers of Venegas may regard "Los Momentos" as residing somewhere between her early records and later, more commercially oriented releases such as "Sí" (Yes), from 2003, and "Limón y Sal" (Lemon and Salt), which came out three years later. Those albums, packed with catchy, easy-to-digest love songs, were greeted with approval by Spanish-language radio programmers, but with less enthusiasm by those who thought that Venegas was moving away from her indie roots.
Venegas, for her part, seems unconcerned with such chatter, maybe because she's too busy with her new projects. They include contributing "four or five" songs to a Mexican animated children's film, and working on music for another feature film, which she said she's not yet at liberty to name.
Lending her efforts to other peoples' creative ventures has been liberating, she said, "because it takes me out of my own space and it takes me out of my own stories and my dramas."
As for her own private world, she finds it rewardingly absorbing — especially since she built a separate recording studio next door to her house.
"When we were doing the album, everything just felt so natural," she said. "I would say, 'You know what, guys, I'm going to go bathe my child and put her in bed, and I'll be back,' and I'd come back, and it was great because I didn't have to disconnect one thing from the other. It was all kind of interconnected."
Get our L.A. Goes Out newsletter, with the week's best events, to help you explore and experience our city.
You may occasionally receive promotional content from the Los Angeles Times.