Kanye West's vulnerability was the centerpiece in his '808s & Heartbreak' show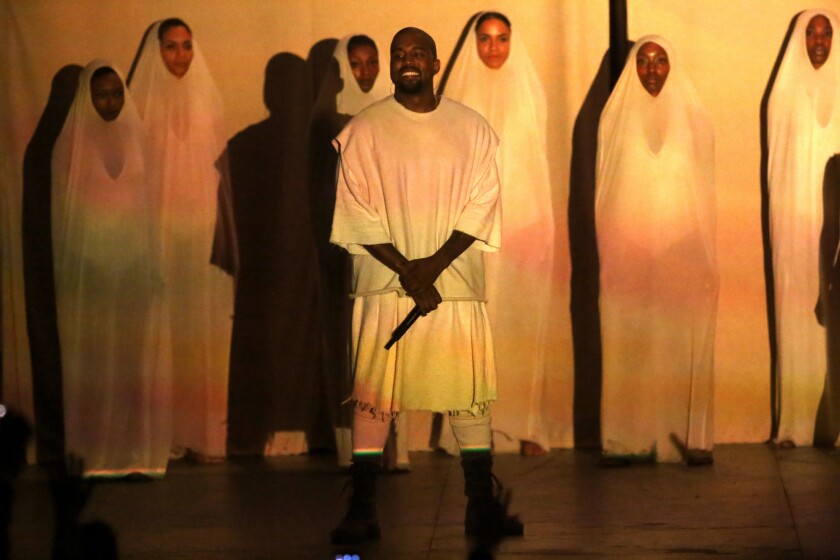 Even with all the artificial snow, full-body burlap wraps and dozens of stone-faced performers, the most fascinating bit of stagecraft at Kanye West's Friday night Hollywood Bowl show was West himself.
The kickoff to his two-night "808s & Heartbreak" stand turned a minimal, depression-laced album into a regal fantasia of abstract forms and visceral physicality. Tiers of stairs were filled with expressionless, powder-smeared young men (a twist drawn from his Vanessa Beecroft collaboration at New York Fashion Week) who emptied into the crowd. A gold-painted female dancer commanded the amphitheatre with a few small movements. And the giant glowing orb that dominated the stage slowly shifted color to change the emotional timbre of each song.
SIGN UP for the free Essential Arts & Culture newsletter >>
But the one thing you couldn't look away from was Kanye West, because, for perhaps the first time in his career, he looked genuinely nervous onstage.
His last Los Angeles show -- a last-minute headlining turn at FYF Fest -- was a feat of rowdy energy and noisy assurance. But this complicated new setting, and the ransacked emotional tone of the record, seemed to turn him inside out in fascinating ways.
The record barely features any rapping, and West had to sing it live through a haze of digital effects. The performance sounded raw and revealing in ways that a typically bombastic hip-hop set from him never could. The mix of classical orchestration and deep synthetic sub-bass seemed to put him on edge. How loud should he be? How hard should he dig into his words? What should he be doing onstage, and how much energy is appropriate for an album about death and desertion?
West was answering those questions in real time, and every now and then the uncertainty showed on his face. But even the mistakes -- some glitches in the backing tracks, some oddly timed firework blasts -- didn't necessarily feel like mistakes.
West is almost alone in modern pop about being totally transparent about his achievements and his faults. For all the high production values and the big-event feel of the evening, he really did look like he was finding his way in this new terrain, and didn't have all the answers.
Sometimes it was goofy (when he pantomimed being shot onstage), and sometimes it was extraordinary, like when he ascended the cream-colored stairways and sat alone, singing to himself, lost in the bleak intimacy of his most groundbreaking album.
His line about this show being "the best dress rehearsal" was a funny acknowledgement of the stumbles. But Kanye West is a dress rehearsal. That's why we can't stop watching him. He doesn't know how this show ends either.
Follow @AugustBrown for breaking music news.
---
Your essential guide to the arts in L.A.
Get Carolina A. Miranda's weekly newsletter for what's happening, plus openings, critics' picks and more.
You may occasionally receive promotional content from the Los Angeles Times.