Listen: Janelle Monáe and Miguel get sensual in 'Primetime'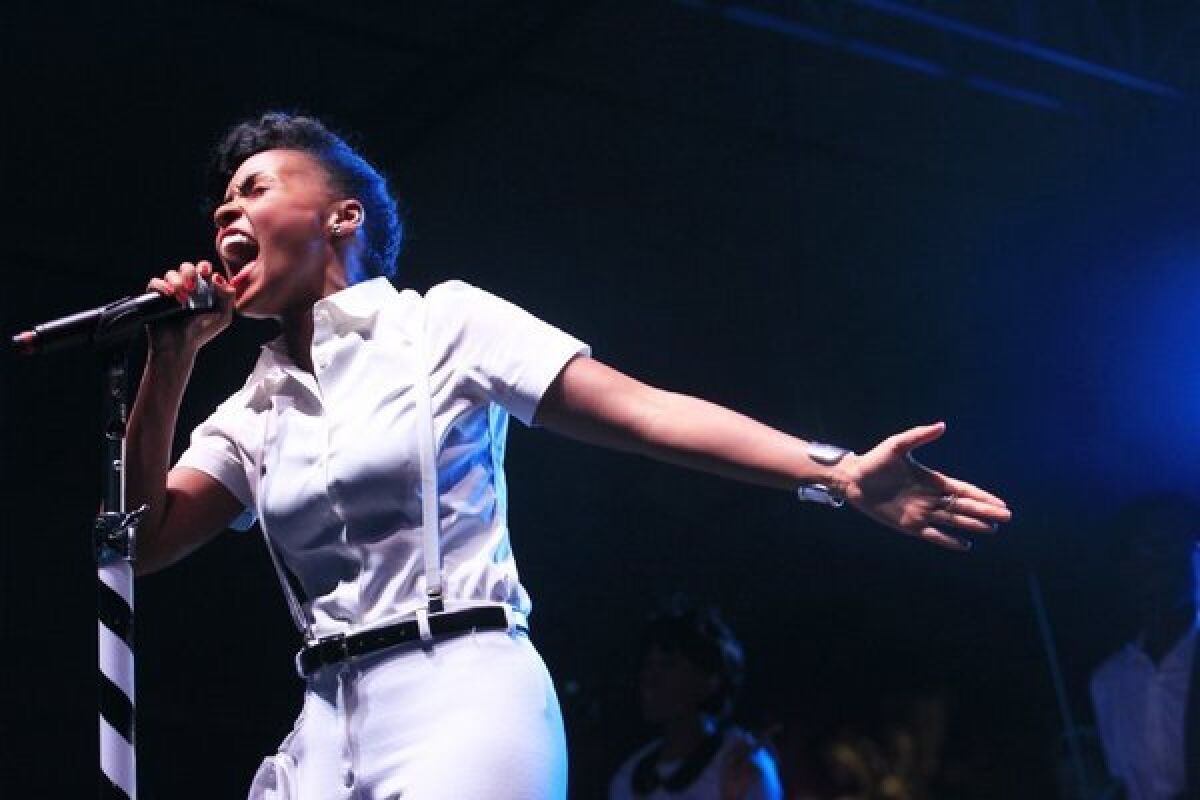 Local R&B star Miguel had quite a winning 2012, what with Grammy accolades and a breakout hit in "Adorn." Now as a guest on Janelle Monáe's new single, "Primetime," the singer is part of another rare feat, if only for a moment.
"Primetime," the third single from Monáe's upcoming album, "The Electric Lady," sees her slowing things down, which grounds the song in more earthbound sensuality. For Monáe as a songwriter and composer, her tunes are often bursting, psychedelically, with genre-hopping excitement. This one actually provides time for the audience to slow dance.
Early glimpses of new material from "The Electric Lady" may not possess the full-on sci-fi weirdness of her 2010 album, "The ArchAndroid," but there's no denying they're lively and ambitious. First single "Q.U.E.E.N.," with Erykah Badu, is definitely out there, boasting zigzag vocals, finger-snapping funk breaks and kazoo-like keyboards. That says nothing of its lyrical content, with manages to mix dance floor freakishness with social consciousness.
Unlike "Q.U.E.E.N.," follow-up "Dance Apocalyptic" went straight for F.U.N. As Monáe sings of breaking up, breaking out and being allergic to the house, she digs deep into the crates of vinyl past to create an off-centered take on old-fashioned rhythm & blues. Hurried verses, girl group silliness and Space Age lounge quality ensure that it never feels of a certain time or place.
"Primetime" is more of a breather, as well as a showcase for Monáe as a vocalist. It may be a soul ballad at its most lovey-dovey, but Monáe grips the song in its pre-chorus and never really lets go, as she pledges her devotion with strict determination.
"I want to scream and dream ... is that OK?" she asks early in the song, and then answers herself with an affirmative moments later. The three singles have already given her plenty of stylistic freedom as a vocalist, and here, accompanied by animated beats that bounce like mini techno trampolines, she plays it more silky.
TIMELINE: Summer's must see concerts
But she's in control of her emotions rather than in awe of them. Miguel coos behind her, a Prince-like guitar solo emerges mid-song, and her collaborator comes in for the second verse. Miguel is more yearning in his approach, but it's not a give-and-take so much as it is a way for Monáe to address the emotional extremes of pining.
"Tonight, I don't want to be mysterious," she sings, conversationally, near the song's end, playing it direct and revealing a side of herself her fans rarely see: normalcy.
Monáe will appear Nov. 2 at downtown's Club Nokia. Tickets go on sale Thursday, and prices range from $28.50 to $40. Listen to "Primetime" below:
ALSO:
Julia Holter is at the center of her own swirl of sound
Review: Pitbull, A Tribe Called Quest and more at H20 Festival
Producers Christian Rich talk Earl Sweatshirt, Beyonce, RZA, more
---
Your essential guide to the arts in L.A.
Get Carolina A. Miranda's weekly newsletter for what's happening, plus openings, critics' picks and more.
You may occasionally receive promotional content from the Los Angeles Times.