Review: Luke Bryan on 'Kill the Lights': A drunk texter with mortality on his mind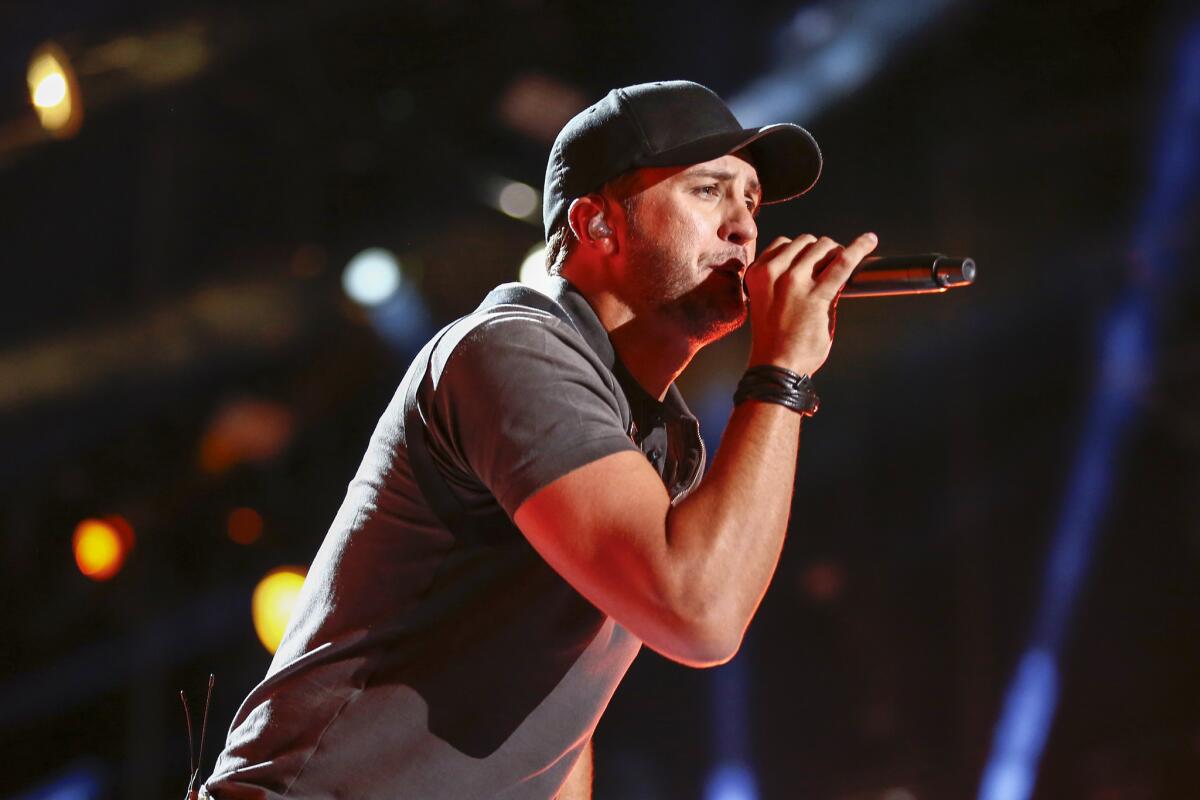 At this point, is anyone in country music not trying to crash Luke Bryan's party?
Back in the mid to late 2000s, when he began his slow climb to the top of the Nashville heap, this crinkly eyed charmer looked like just another member of country's suburban insurgence, a beer-drinking, truck-driving, ball-cap-wearing bro more or less understood along the same lines as Dierks Bentley or Rodney Atkins or Eric Church.
But starting with 2011's "Tailgates & Tanlines," led by the hit single "Country Girl (Shake It for Me)," Bryan set himself apart as the mainstream star most eager to expand country's sound (and its audience) by borrowing cheerfully from hip-hop and dance music.
SIGN UP for the free Great Reads newsletter >>
The outreach met with success: "Tailgates" sold more than 2 million copies, while Bryan's follow-up, "Crash My Party," did even better, finishing 2013 as that year's third-biggest-selling album, right behind discs by Justin Timberlake and Eminem. And that success, of course, inspired imitation among young bucks such as Florida Georgia Line and Chase Rice. It's hard to imagine Thomas Rhett bragging that he modeled his upcoming album on the sound of Mark Ronson's "Uptown Funk" without Bryan first throwing a bit of Jason Derulo's "Talk Dirty" into his headlining performance last year at Stagecoach.
You can sense the effect of those heel-nippers on Bryan's new album, "Kill the Lights," which opens with two songs seemingly designed to prove he's still out in front: "Kick the Dust Up," a swaggering country-rap jam about turning a cornfield into a party, and the sleek title track with its disco strings and "Billie Jean" beat. Later, there's "Home Alone Tonight," a synthed-up duet with Karen Fairchild of Little Big Town (another adventurous act working in Bryan's shadow) in which they text their respective exes a "payback picture" after getting sloppy in a bar.
Yet Bryan, never a particularly flexible singer, sounds even more wooden than usual in these tracks; for the first time, this 39-year-old father of two seems a bit embarrassed here, which threatens to topple the whole enterprise. If he's not having fun, how are we supposed to?
The singer is far more convincing in the album's slower, quieter tunes, including "Strip It Down," a ballad with real sensuality – "Let's whisper, let's don't talk / Baby, leave my T-shirt in the hall" – and the gorgeous "To the Moon and Back," which he said recently on Facebook "could be considered a wedding song down the road." (He's probably right.)
The high point is "Fast," a dreamy number about how time appears to speed up with age. "All you keep trying to do is slow it down," he sings, "Keep trying to make the good times last as long as you can." On one of his previous records, Bryan would've come up with a way to do that – another tractor ride, perhaps, or one more pull from his jar full of clear. Not here, though.
"But you can't," he goes on in "Fast," an admission of defeat, and also a warning to the party boys filling up the room behind him.
Twitter: @mikaelwood
MORE:
Hey, hey, hey: The Robin Thicke comeback is happening, people
Dr. Dre finished a new album, 'Compton,' and it's coming out Friday
Ryan Adams is promising to turn Taylor Swift's '1989' into a Smiths album
Get our L.A. Goes Out newsletter, with the week's best events, to help you explore and experience our city.
You may occasionally receive promotional content from the Los Angeles Times.