Shooter Jennings praises Luke Bryan's apology on outlaw country comments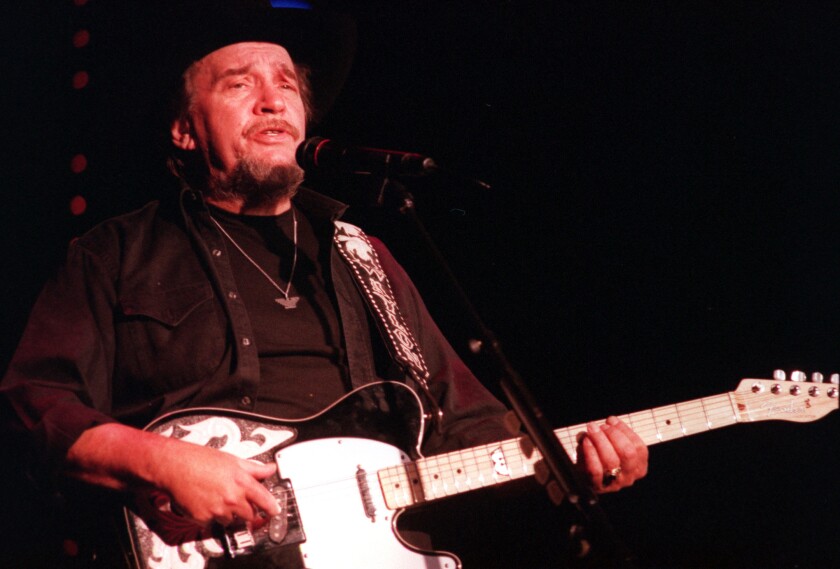 Waylon Jennings' son, maverick singer-songwriter Shooter Jennings, has extended an olive branch to current country superstar Luke Bryan, who got himself in hot water last week for off-the-cuff remarks about the outlaw country movement and three of its prime proponents: Waylon Jennings, Willie Nelson and Merle Haggard.
Talking about stylistic changes in country music in recent years, Bryan told HitsDailyDouble website, "I think that people who want Merle, Willie and Waylon just need to buy Merle, Willie and Waylon. … I'm not an outlaw country singer. I don't do cocaine and run around. So I'm not going to sing outlaw country.
"I like to hunt, fish, ride around on my farm, build a big bonfire and drink some beers—and that's what I sing about," Bryan said. "It's what I know. I don't know about laying in the gutter, strung out on drugs. I don't really want to do that."
His juxtaposition of the cocaine/running around/laying-in-the-gutter comments with the names of three of outlaw country's most respected figures unleashed a wave of wrath from fans, especially those of Jennings, the Texas singer and songwriter who died of diabetes in 2002.
Jennings' daughter-in-law, Kathy Pinkerman Jennings, who is married to Jennings' son Buddy, took to Facebook and YouTube to upbraid Bryan for his remarks.
"I hope your family members are proud of you for using your worldwide platform to take the time to disrespect my father-in-law," she said. "You have managed to prove to the world your true self. Albeit that Waylon's drug use is well documented and something he overcame, I assure you, he was never 'laying in a gutter.'"
Shooter Jennings told The Times on Monday that Bryan has since reached out with an apology to his mother, Jessi Colter.
"Luke Bryan called my mom today to clarify that he would never disrespect my dad or me or any of us," Jennings said. "He also asked for Buddy's number to call Kathy. Whether or not he does, that takes a lot of guts. I misfired and said some things in the past about people, namely John Mayer. And I didn't have the guts to apologize. So, that being said, that kinda won me over."
Shooter Jennings, who has followed in his father's footsteps in pushing at boundaries of country and rock, said, "I love Kathy for her defense of the family and caring so much for the legacy. But as my mom says, [some] people out there want things the way it WAS and nothing else. I'm not defending pop music but I am defending new music. My dad never liked labels and neither do I."
After the initial eruption of criticism, Bryan tweeted in his own defense, saying, "It's so frustrating that something negative has spun out of the story. I would never speak against any artist. It's not my style. I consider Willie, Waylon and Merle musical heroes. I was trying to state what I was about and where I come from with my music. It's as simple as that."
Noted Shooter, "While I support my family obviously, personally the whole thing didn't make a difference to me. I've had my fair share of words being twisted and articles being sliced and diced. So I figured it was that….
"His music isn't something I find myself listening to, but that's not personal, I don't listen to any new country besides a few underground acts that are a pretty far reach to even call them straight country," Shooter said. "My point is it's all flush in my book. He said some [stuff] and because of the Internet it came back on him. But he went above and beyond and manned up and apologized. In the long run I believe his image has improved."
Follow @RandyLewis2 on Twitter. For more on Classic Rock, join us on Facebook.
SIGN UP FOR OUR ENTERTAINMENT NEWSLETTERS:
Indie Focus: Your field guide to only good movies
Classic Hollywood: A weekly email celebrating the Golden Age of Hollywood
Essential Arts & Culture: A curated look at SoCal's wonderfully vast and complex arts world
---
Your essential guide to the arts in L.A.
Get Carolina A. Miranda's weekly newsletter for what's happening, plus openings, critics' picks and more.
You may occasionally receive promotional content from the Los Angeles Times.