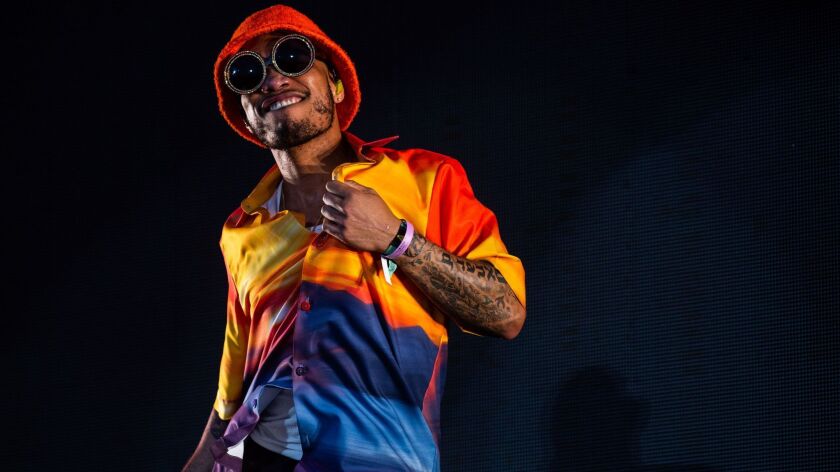 A little punk and a little funk round out June in the high-energy week ahead for L.A. live music.
Priests, Sons of an Illustrious Father, Polyplastic
Convene at the Teragram on Thursday night for some of contemporary post-punk's finest offerings. D.C. tour de force Priests lead the bill, armed with a batch of fresh tunes from the band's acclaimed second LP, "The Seduction of Kansas." The band's dynamic, full-throttle sound is matched only by its inspired lyrics, loaded with urgent sociopolitical critique that goes down smooth on the dance floor. Be sure to arrive early to catch a pair of formidable openers: actor Ezra Miller's "genre queer" project Sons of an Illustrious Father and the punk-noir stylings of rising L.A. duo Polyplastic. Tickets cost $16 in advance and $18 on the day of the show. The Teragram Ballroom, 1234 W. 7th St., 8:30 p.m. Thursday.
The Misfits, with Anti-Nowhere League, Cro-Mags, the Distillers and Rise Against
Bust out your patched-out DIY finery for this rare evening of punk and hardcore reunions. Fans will get the chance to see Glenn Danzig and Jerry Only take the stage for a rare "Original Misfits" gig (other classic-lineup members may also make appearances) in an outdoor arena setting. They'll be joined by hardcore greats Cro-Mags and Anti-Nowhere League, plus victory-lap sets from the Distillers and Rise Against for a true night in Hollywood Babylon. Tickets start at $39.75. Banc of California Stadium, 3939 S. Figueroa St., 5 p.m. Saturday.
Anderson .Paak, Earl Sweatshirt, Thundercat
Three of L.A.'s best acts join forces at the Forum this weekend for a night of funked-up hip-hop, jazz and R&B goodness. With a pair of acclaimed new albums in tow, "Ventura" and "Oxnard," Anderson .Paak returns home in fighting form from his spring tour with plenty of new material to play, honing his reputation as a can't-miss showman alongside his band the Free Nationals. Tickets start at $29. The Forum, 3900 W. Manchester Blvd., 7:30 p.m. Saturday.
Modern Funk Fest
Get your synth, soul and funk fix Friday with this fine San Diego export. Honoring decades of funk-boogie tradition, Modern Funk Fest brings together some of the best contemporary DJs, labels and live acts from California, Europe and Texas for a night of crew love and dance floor antics, plus a record fair presented by Discogs. Performers include Moon B, XL Middleton, Ivan Makvel, Moniquea, Zackey Force Funk, Amadeo85 and Hotthobo. Tickets cost $10 in advance and $12 at the door. The Echoplex, 1154 Glendale, record fair at 6 p.m., show at 9 p.m. Friday.
Judas Priest
Headbangers rejoice as heavy-metal legends Judas Priest blast through L.A. on the band's Firepower tour. Expect Rob Halford and Co. to deliver a decades-spanning set of material that established the group as genre architects, plus new material from the group's latest album, "Firepower," which more than lives up to its name. Classic metal outfit Uriah Heep will open. Tickets start at $49.50. Microsoft Theater, 777 Chick Hearn Court, 8 p.m. Thursday.
Planned Parenthood benefit with Girl Pusher, Justus Proffit and Wild Wing
This lineup of local punk luminaries is a draw unto itself, but they've gone ahead and sweetened the deal by donating all proceeds at the door to Planned Parenthood. Cyberpunk duo Girl Pusher comes in hot with visceral stage antics and new tracks from last year's favorite "911" EP, while scene staple and Jay Som collaborator Justus Proffit will reckon with the demons detailed on his outstanding new debut LP, "L.A.'s Got Me Down." The night also includes a DJ set from Emperor Tomato Ketchup and vegan grub provided by Rafa's Tacos. The best part? Tickets are just $10. Alex's Bar, 2913 E. Anaheim St., 8 p.m. Sunday.
---