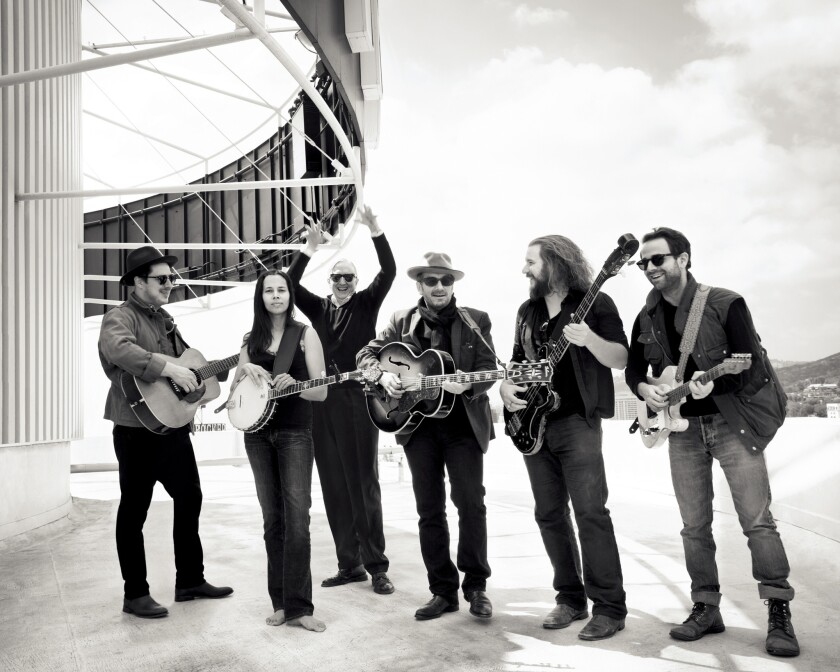 "Lost on the River: The New Basement Tapes," an ambitious new project in which a handful of contemporary musicians have completed unfinished songs by Bob Dylan nearly half a century old, has been set for release on Nov. 11.
Additionally, a video for one of the newly minted songs, "Nothing To It" -- a lyric video incorporating Dylan's handwritten lyrics -- is premiering Tuesday on Vevo.
The album is a collaboration among producer-musician T Bone Burnett and singer-songwriters Elvis Costello, Mumford & Sons' Marcus Mumford, My Morning Jacket's Jim James, Carolina Chocolate Drops' Rhiannon Giddens and Dawes' Taylor Goldsmith.
The team has taken lyrics that Dylan wrote in 1967 while working in upstate New York in seclusion with members of the Band and set them to music.
"These are not B-level Dylan lyrics," Burnett told The Times in March while recording of the album. "They're lyrics he just never got around to finishing."
Dylan and the Band wrote dozens of songs during that period, among them "This Wheel's on Fire," "I Shall Be Released," "Tears of Rage," "You Ain't Goin' Nowhere" and "The Mighty Quinn," many of which he and the Band recorded in demo versions that were widely bootlegged for years before eventually being released in 1975 under the title "The Basement Tapes."
The latter-day album is an attempt to use a similar process with a select group of musicians to put Dylan's words into songs. It will be released in several formats, including a 15-song standard edition, a 20-song deluxe version, and a two-LP audiophile vinyl pressing.
Although Dylan and the Band spent months in upstate New York in the house that came to be known as Big Pink working on the material that is often cited as one of flash points for the genre of Americana music, Burnett, Costello and their cohorts recorded "Lost On the River" over a period of just two weeks in March at Capitol Records' studios in Hollywood.
Shortly after the album's release, an accompanying documentary shot by filmmaker Sam Jones, "Lost Songs: The Basement Tapes Continued," will premiere on Showtime on Nov. 21. A website for the album has been created at www.myplaydirect.com/the-new-basement-tapes.
"What transpired during those two weeks was amazing for all of us," Burnett said in a statement accompanying the release date announcement. "There was a deep well of generosity and support in the studio at all times, which reflected the tremendous trust and generosity shown by Bob in sharing these lyrics with us in the first place."
Follow @RandyLewis2 on Twitter for pop music coverage
---