Nicki Minaj vows she'll focus on rap in next album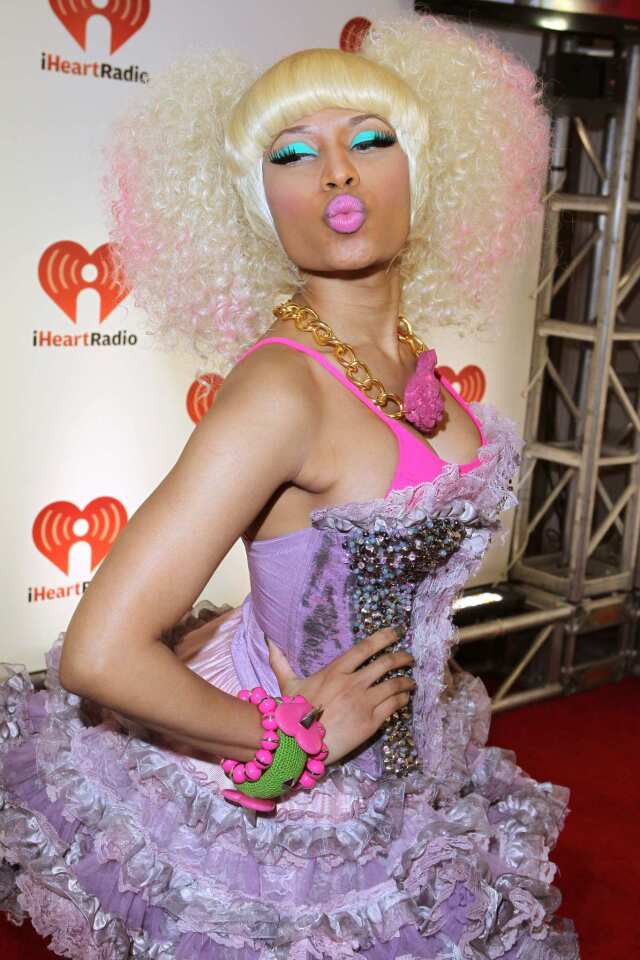 Minaj could be straight out of the Moulin Rouge in this purple bustier and ruffled skirt. In true Minaj fashion, she added some candy jewelry and a hot pink bra.
(Jeff Bottari / Associated Press)
Nicki Minaj wears Oscar de la Renta.
(Chris Pizzello / Associated Press)
Minaj performed at the fashion show in a mix-and-match outfit of rainbow colors, zebra print and metallic sparkle.
(Brad Barket / Associated Press)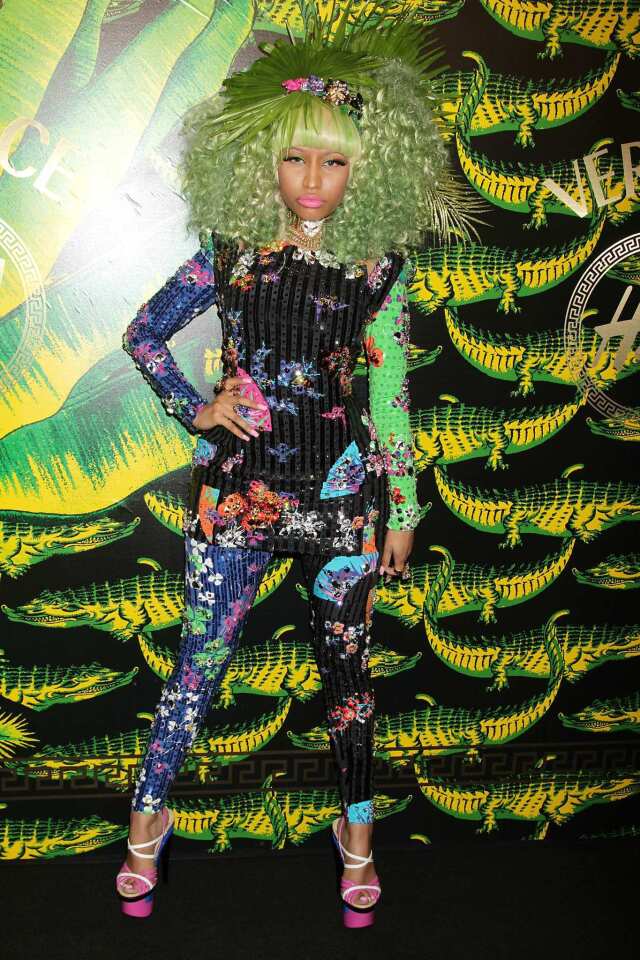 Minaj wears a Versace-esque colorful print.
(Dave Allocca / Associated Press)
Minaj sports a leopard suit designed by Givenchy.
(Kirk McKoy / Los Angeles Times)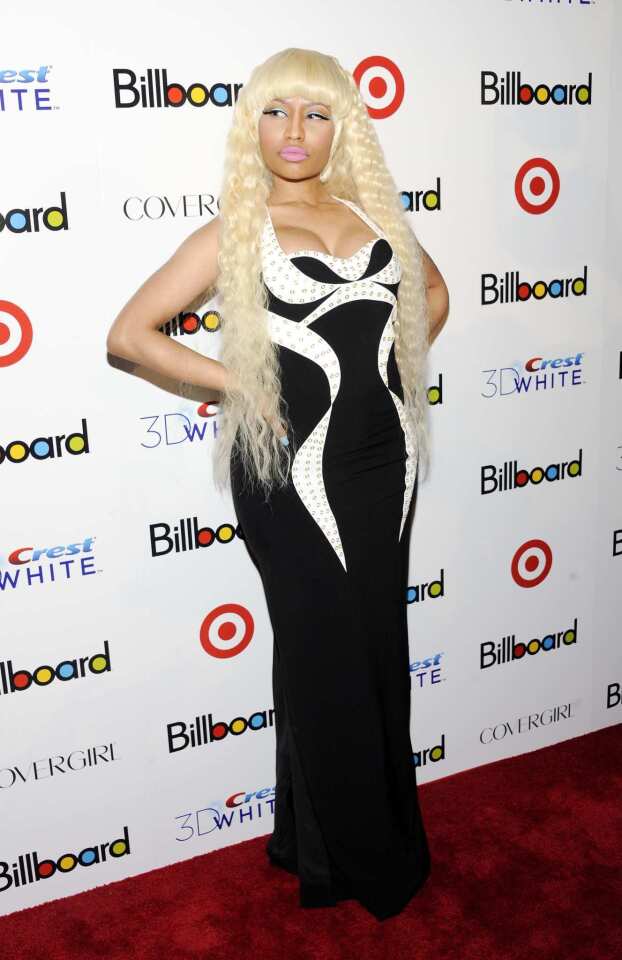 Minaj shows off her curves in a gown from the Versace resort 2012 collection.
(Evan Agostini / Associated Press)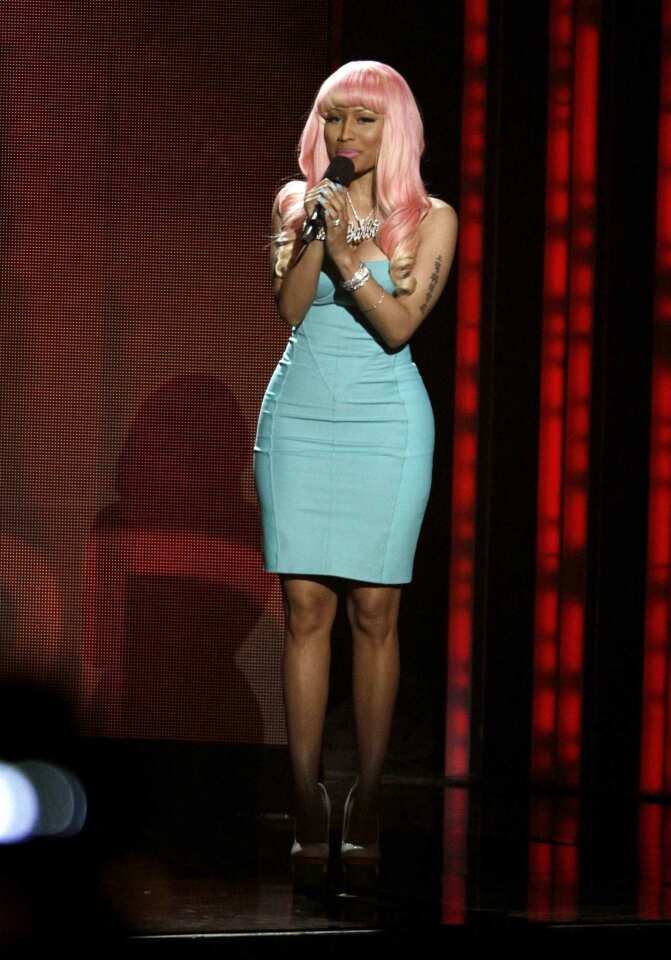 Minaj looked surprisingly demure in this skintight teal dress.
(Matt Sayles / Associated Press)
Nicki Minaj says she is diving deep into her rap roots for her upcoming project.
"I've been getting back to that place where I was before I dropped my first album, which is 'kill, kill, kill, kill, kill, kill everything,'" Minaj explained to Hot 97 personalities Peter Rosenberg and Ebro Darden.
"I agree that Nicki Minaj should focus on rap ... now."
Minaj spoke with the controversial New York radio station to bury the hatchet after Rosenberg had bashed her pop-leaning smash "Starships" before she was supposed to headline the station's annual Summer Jam festival last June. The rapper, and Young Money honcho Lil Wayne, pulled the plug on her performance hours before she was to take the stage.
PHOTOS: Concert photos by The TimesNearly a year later, Minaj sat down with Rosenberg and Darden, Hot 97's program director, for a lengthy interview on Tuesday in which she said the incident was "water under the bridge" but did vow to get back to the gritter, razor-sharp rhymes that made her a force.
"You have to remember, I am not your typical rapper. I just did the biggest TV show in America for God's sake. So I understand when I step out and do a pop song … a lot of people are disappointed by that," she explained. "I wanted to experiment. My whole career has been a playing field to try new things. I never put a limit on myself. You should be able to try whatever the hell you want, along as you keep your integrity."
"I was thinking, if I really wanted to right now, I could go back in and make another pop song like that to sell, but I'm choosing not to do it. I'm choosing to get back to my essence and feed the core hip-hop fan," Minaj said. "I feel like I need this because it's just a more powerful platform for me. ... Even when I'm on stage performing my rap songs, it's more organic."
"Starships," which was produced by pop/dance powerhouse RedOne, showcased Minaj flirting with glossier Euro-pop textures.
PHOTOS: Best albums of 2012 | Randall Roberts
She channeled a great deal of the pop success she captured with the equally infectious "Super Bass" on her sophomore album, "Pink Friday: Roman Reloaded." The project was largely criticized for splitting itself between the venomous Minaj they fell in love with on mix tapes and singsong-y dance-pop numbers.
Times pop critic Randall Roberts commented that the album's dance tracks sinked the disc: "In a spectacularly unfortunate crash-and-burn, Minaj abruptly hits the accelerator and stops rapping, leaving behind the minimal, bouncy hip-hop tracks that highlight her charm and achievement in favor of 128-beat-per-minute dance pop songs as simple as they are generic," he wrote.
Minaj also talked briefly about her first starring role, playing Cameron Diaz's assistant in the upcoming film "The Other Woman" and her time time on "American Idol" without dishing on her well-documented feud with fellow judge Mariah Carey.
"I don't want to talk about her no more, God bless her," Minaj said. "In terms of 'Idol,' now looking back I can say, hmm, they are very calculated. They knew a lot of things that … whatever, they gave me a really great opportunity. I loved them, and I did have a great time."
Minaj said she plans on focusing on the record after she's finished filming "The Other Woman."
---
Your essential guide to the arts in L.A.
Get Carolina A. Miranda's weekly newsletter for what's happening, plus openings, critics' picks and more.
You may occasionally receive promotional content from the Los Angeles Times.