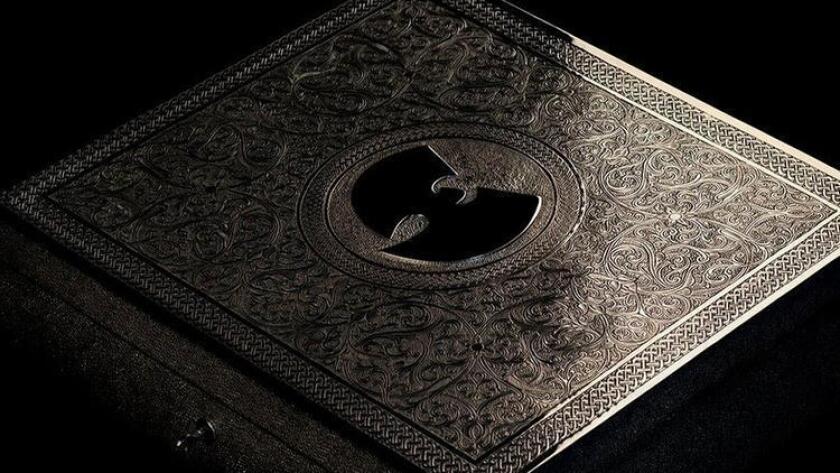 When it was announced that Wu-Tang Clan's ambitious, one-of-a-kind secret album "Once Upon A Time in Shaolin" — of which only a single copy was produced — had been sold for millions, the immediate question was: to whom?
Private auction house Paddle8, which spent six months discreetly vetting offers for the album, citing its policy of client confidentiality, would only reveal that an American buyer had acquired the opus and that the buyer and seller agreed to the sale in May before months of contracts and new legal protections were finalized.
In an extensive report by Bloomberg Businessweek on Wednesday it was revealed that controversial pharmaceutical executive Martin Shkreli is the one who made the purchase.
SIGN UP for the free Essential Arts & Culture newsletter >>
For the unaware, Shkreli became notorious when he increased the price of Daraprim, a lifesaving drug for HIV patients, from $13.50 to $750 a tablet overnight back in September. Shkreli made the offer for the album before the controversial decision.
BBC wrote that he may be the "most hated man in America." Hillary Clinton called the move outrageous. Donald Trump called him a spoiled brat (ironic). Shkreli has been labeled a "scumbag" and a "garbage monster."
"I was a little worried that they were going to walk out of the deal," Shkreli told Bloomberg. "But by then we'd closed. The whole kind of thing since then has been just kind of 'Well, do we want to announce it's him? Do we not want to announce it's him?' I think they were trying to cover their butts a little bit."
Shkreli wouldn't divulge how much he paid for the one-of-a-kind album, but Bloomberg reported the deal was $2 million.
When Paddle8 announced that it would be overseeing the sale, it was revealed that the purchaser would have to agree not to release it commercially for 88 years.
Under the condition of the sale, Wu-Tang will never release any of the content in any form to the public, and neither can the buyer, unless it is released for free.
The sole copy of the album came housed in an engraved silver-and-nickel box crafted by British Moroccan artist Yahya. It was accompanied by a 174-page manuscript containing lyrics, credits and anecdotes on the production of each song, printed on gilded Fedrigoni Marina parchment and encased in leather by a master bookbinder and came with a set of $50,000 speakers for listening.
In the interview Shkreli mostly comes off as gross, pretentious and, to echo Trump, bratty.
He described himself as a recluse but admitted the idea of buying the album in order to rub shoulders with celebrities seemed appealing — this is a guy who once joked on Twitter about trying to buy Katy Perry's guitar so he could get a date with her, and revealed he purchased Kurt Cobain's Visa card in a Paddle8 auction and pulls it out to pay a check to get a rise out of people.
"You know, at the right price these guys basically will do anything," he said during the interview, bragging about how he hired breakout star Fetty Wap to come perform for his employees.
And no, he doesn't care if Wu-Tang fans are disgusted by him. "At the end of the day," he said, "they didn't buy the last album or the one before that, and all they had to pay was $10."
Shkreli hadn't decided what he will do with the album -- he hadn't even listened to it yet.
"I could be convinced to listen to it earlier if Taylor Swift wants to hear it or something like that," Shkreli said. "But for now, I think I'm going to kind of save it for a rainy day."
In a statement, RZA confirmed that the sale of the album was agreed upon "well before [Shkreli's] business practices came to light."
As for his controversial pharmaceutical decision, Shkreli remained unbothered: "What's escaped the conversation is, hey, how about the fact that this is actually what I've been hired to do," he said. "It's like someone criticizing a basketball player for scoring too many points."
A significant portion of the proceeds will be donated to charity, RZA said.
For more music news follow me on Twitter: @gerrickkennedy
MORE:
SAG Awards: Matt Damon, Helen Mirren and the five biggest snubs and surprises
Now that artists can't afford the Arts District, L.A. needs to rethink its role as a creative city
'Star Wars: The Force Awakens' has roused theater campers too
How that CEO who jacked up a drug price by 5,000% is roiling biotech--again
---