Review: Ariana Grande's charmingly retrograde 'Yours Truly'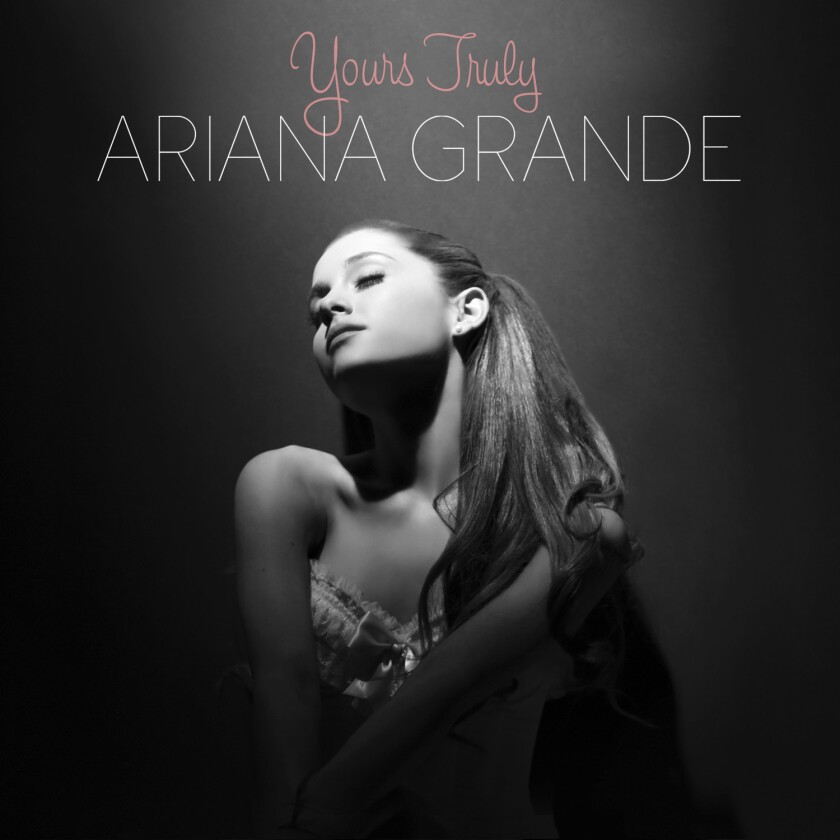 Miley Cyrus wasn't the only kiddie-culture veteran looking to make a grownup splash on the MTV Video Music Awards last month. Though the former "Hannah Montana" star thoroughly dominated discussion of the telecast with the Twerk Heard 'Round the World, viewers tuning into the VMA pre-show could also see Ariana Grande – late of Nickelodeon's "Victorious," now on the network's "Sam & Cat" – flexing her post-Mariah Carey melisma during a performance of her top 10 hit "The Way" on the red carpet outside Brooklyn's Barclays Center.
"I got a bad boy, I must admit it," she sang, "You got my heart, don't know how you did it."
A savvy display of yearning cut with mischief, this was 20-year-old Grande staking a claim on musical and emotional territory just beyond Nickelodeon's tightly patrolled borders. If she was exploring, though, she was being careful about it – thus the purple princess dress that looked straight off the rack from the Disney Store. No flesh-colored bikinis or giant foam fingers here.
PHOTOS: Concert photos by The Times
Nor on Grande's deeply retrograde debut, "Yours Truly," which takes sonic inspiration from the first half of the 1990s (think "Vision of Love") and what we might call moral cues from an even earlier era: "I wanna say we're going steady," she sings in "Tattooed Heart," "like it's 1954." Lest the mention of a tattoo scare you away, other tunes sport titles like "Honeymoon Avenue" and the very Carey-esque "Daydreamin'."
And in "The Way" Mac Miller announces himself by urging Grande, "What we gotta do right here is go back" -- referring, one presumes, to the rapper's relatively quaint request that she "come and watch a movie with me / 'American Beauty' or 'Bruce Almighty,' that's groovy." (Miller also seems to be acknowledging the song's basis in a sample used previously by Big Pun for his 1998 hit "Still Not a Player.")
Yet what "Yours Truly" lacks in thrills, it replaces with charm: This might be the most inviting pop record of 2013, with a bubbly ebullience that makes even its most familiar moves feel fresh.
Some of the credit for that should probably go to Babyface, the songwriter and producer who did as much as anyone to develop the sound Grande is drawing from (in songs by Whitney Houston, Brandy and others) and who helps her revisit it so convincingly in tracks such as "You'll Never Know" and "Baby I."
But there's no discounting Grande's singing, which apart from its impressive technical flexibility -- the fluttering trills in "Baby I," the soulful ache of "Almost Is Never Enough" – captures something true about the intermediate phase she's in right now: a tween queen aging up, a TV star taking on music, a simpler-times nostalgist peeking around the bend.
---
Ariana Grande
"Yours Truly"
(Republic)
*** (3 stars out of 4)
ALSO:
Review: No fun with Fun. at the Greek Theatre
Watch Katy Perry's jungle-themed video for 'Roar'
Listen to Eddie Murphy's new reggae single 'Red Light'
Twitter: @mikaelwood
---
Inside the business of entertainment
The Wide Shot brings you news, analysis and insights on everything from streaming wars to production — and what it all means for the future.
You may occasionally receive promotional content from the Los Angeles Times.