Review: New Kids, Mindless Behavior keep boy bands booming
The New Kids on the Block on the stage at Staples Center as part of their 2013 tour.
(Michael Robinson Chavez / Los Angeles Times)
The New Kids on the Block on the stage at Staples Center as part of their 2013 tour.
(Michael Robinson Chavez / Los Angeles Times)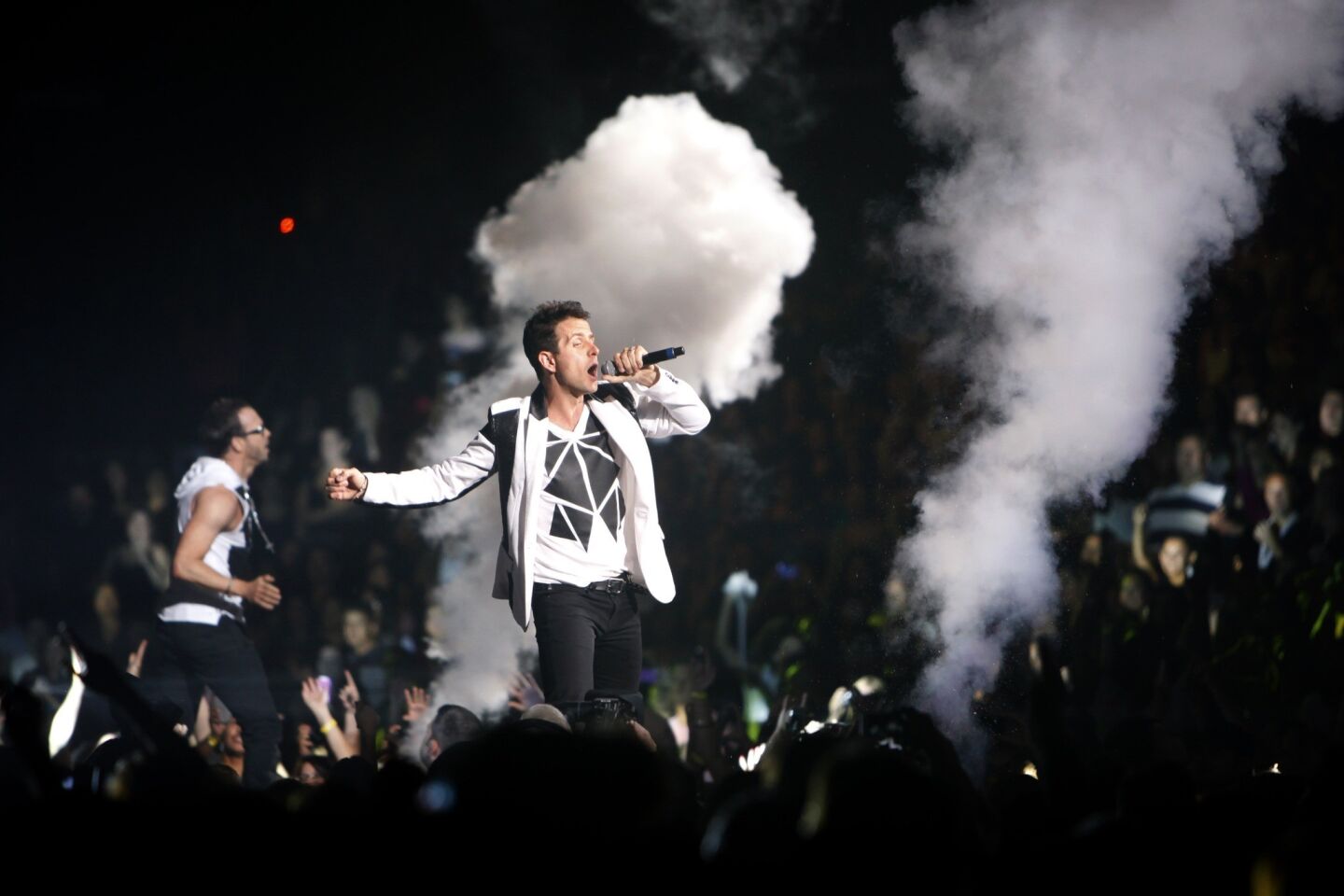 The New Kids on the Block on the stage at Staples Center as part of their 2013 tour.
(Michael Robinson Chavez / Los Angeles Times)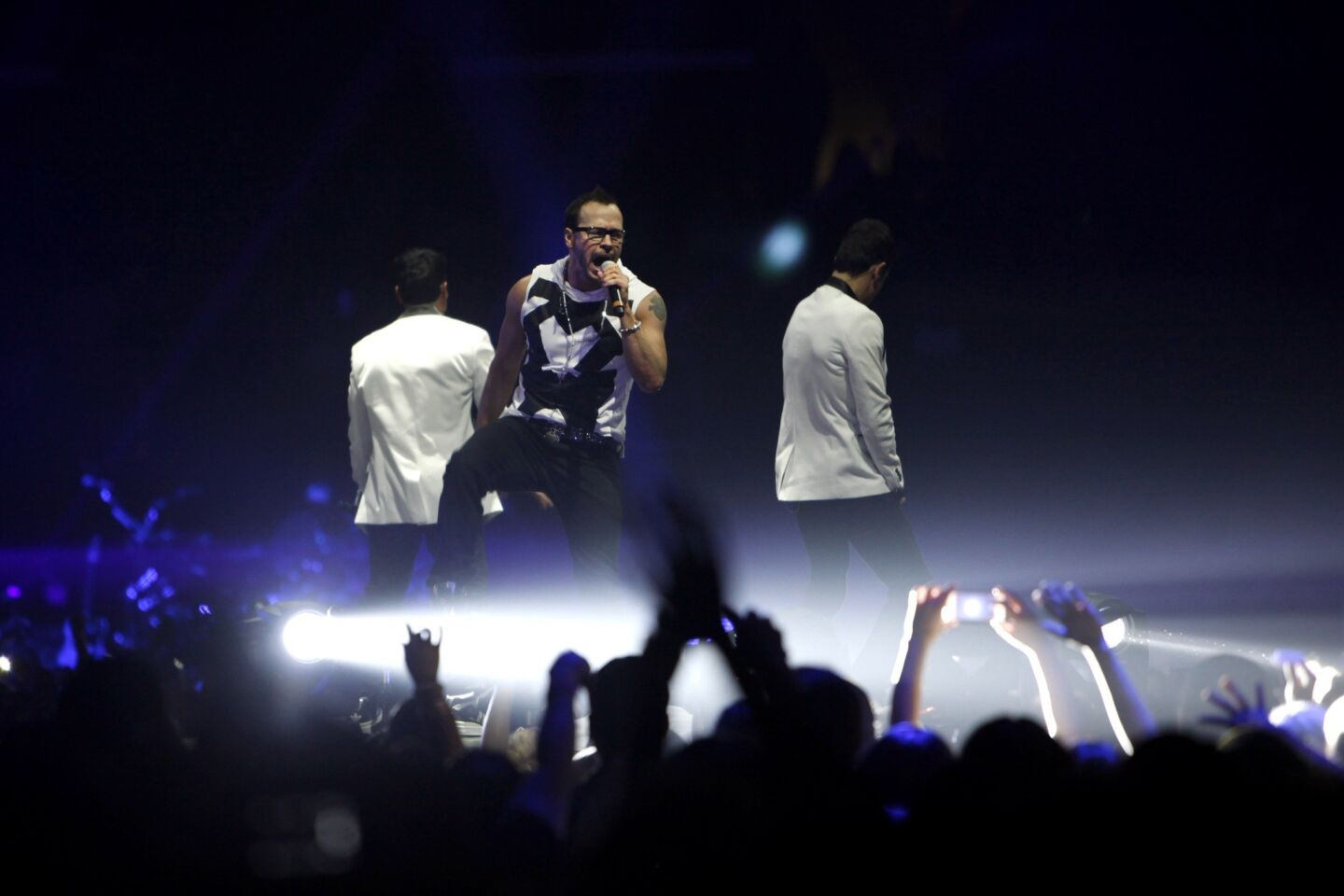 The New Kids on the Block on the stage at Staples Center as part of their 2013 tour.
(Michael Robinson Chavez / Los Angeles Times)
By 10:30 Friday night, Joey McIntyre had been listening to the shrieks of a packed arena audience for nearly an hour and a half. So you could understand his sense of security in acknowledging that his boy band, New Kids on the Block, no longer contained any actual boys.
It had been a quarter-century, the 40-year-old McIntyre said, since the group broke out with the smash-hit "Hangin' Tough" album in 1988. And though "a lot has happened in 25 years" -- including the birth of McIntyre's three children, one of whom he brought to the stage at Staples Center -- he and his bandmates were looking forward to another 25.
Cue more shrieking.
As McIntyre pointed out, a lot has happened since the late '80s. But when it comes to hormone-fueled pop, has much really changed?
PHOTOS: New Kids on the Block perform
The evening after the New Kids on the Block concert -- part of the so-called Package Tour the group is on with two other boy bands, 98 Degrees and Boyz II Men -- Mindless Behavior played the Nokia Theatre not long into its All Around the World Tour.
This L.A. quartet differs noticeably from New Kids on the Block; its members are teenagers, for starters, and African American. (In this, Mindless Behavior calls to mind New Edition, the black boy band on which the New Kids were modeled.)
Yet the two shows shared a unity of purpose; both felt like repositories for desire.
The durability of that model helps explain the current boy-band resurgence, which in addition to Mindless Behavior has given us the British groups One Direction and the Wanted, as well as Big Time Rush, which grew out of a Nickelodeon TV series. The wrapping may change with each of these acts -- not to mention the Korean boy band TVXQ, which played the Nokia Theatre on Friday -- but what's inside remains the same.
New Kids on the Block didn't wait for this revival to get back in business; the Boston quintet reunited in 2008 for "The Block," its first studio album in more than a decade.
But Friday's show was feistier and more energetic than recent outings -- including a 2011 tour with the Backstreet Boys -- as though the outfit had been newly revitalized by the idea of younger competition. (Next month, One Direction is to wrap up a massive North American tour with four sold-out shows at Staples Center.)
TIMELINE: Summer's must see concerts
For "You Got It (The Right Stuff)," the band tricked out its vintage music-video choreography with grown-man pelvic thrusts. McIntyre added some R. Kelly-style speechifying to his signature ballad, "Please Don't Go Girl." And the New Kids, scheduled to stop at Anaheim's Honda Center on July 13, juiced "Hangin' Tough" by injecting a bit of the Dropkick Murphys' "I'm Shipping Up to Boston," of all things.
They applied as much muscle to stuff from this year's "10" album, which narrowed the gap slightly between lumpy new tunes such as "We Own Tonight" and enduringly crafty oldies such as "Step by Step."
Though Jordan Knight's falsetto sparkled in "I'll Be Loving You (Forever)" -- think of him as the group's Justin Timberlake -- the singers' vocals Friday didn't always live up to that presentation; Donnie Wahlberg sounded especially grim in "Cover Girl." But soon enough, the band's appointed bad boy was tearing off his black tank top to display his impressive abs -- a clear indication that today's New Kids on the Block know where their strengths lie.
Exclaimed one thirtysomething fan after the concert: "Donnie got swag!"
So too did the member of Mindless Behavior known as Princeton, who triggered an equally enthusiastic (if higher-pitched) response Saturday night when he lifted his shirt during the group's performance in front of a much younger audience.
Yet Princeton and his bandmates sold that swagger softly, seemingly cognizant of how many in the crowd were accompanied by moms and dads. (Perhaps that's also why they did a medley of relatively ancient Michael Jackson tunes.)
In "Hello," the singers made heart shapes with their hands. And whereas Wahlberg had taken the opportunity in the New Kids' song "Single" to kiss a female fan he'd brought onstage, the members of Mindless Behavior merely brushed against their admirers during a similar set piece in "Missing You"; the moment had some endearingly realistic awkwardness to it.
Fully a product of its digital age, the group's music flashed much harsher edges than the New Kids' dance-pop R&B. But even at its most abrasive, as in the thrillingly bass-heavy "Keep Her on the Low," Mindless Behavior stayed approachable.
It was a band of boys ready to become gentlemen.
ALSO:
Sam Spiegel turns odd musical pairings into a winning formula
Justin Timberlake's 'The 20/20 Experience' leads 2013 album sales
Bob Dylan, Wilco, Richard Thompson bring Americanarama to Indiana
Twitter: @mikaelwood
Get our L.A. Goes Out newsletter, with the week's best events, to help you explore and experience our city.
You may occasionally receive promotional content from the Los Angeles Times.