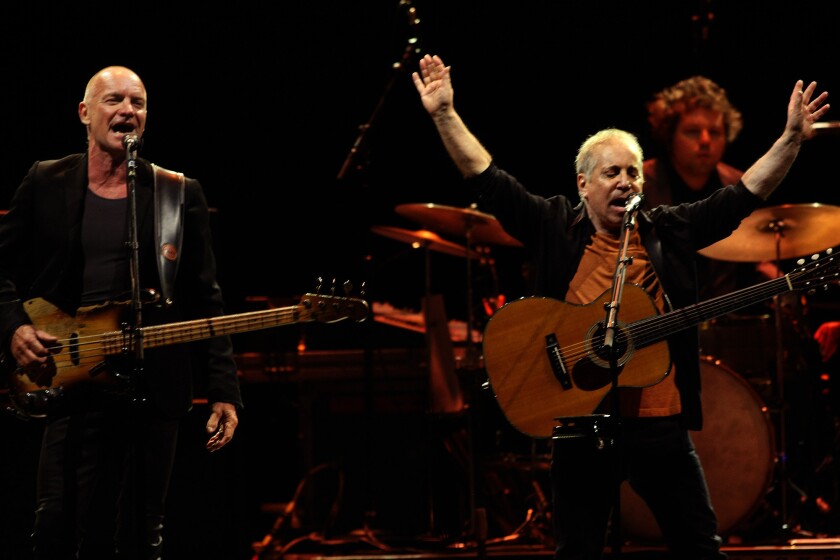 The tricky work of streamlining complicated ideas united Paul Simon and Sting when the veteran rockers teamed for a joint concert at the Forum in Inglewood on Saturday.
The two songwriters, among rock's most ambitious and proudly erudite, emerged from dramatically different scenes, and at different times -- Simon during the New York folk revival of the mid-1960s, Sting as frontman of London's post-punk Police.
Yet both went on to become world-class pop stars known for pondering big themes -- love, of course, but also patriotism, faith and mortality -- in songs that had no trouble catching hold on the radio.
And Saturday's show, the first of two Southland dates on the duo's North American arena tour, seemed designed to emphasize their similarities, even as Simon welcomed the audience to "our little experiment." (The tour is to stop Sunday night at the Honda Center in Anaheim.)
Backed by more than a dozen musicians drawn from each man's expert road band, Simon, 72, and Sting, 62, began the Forum gig trading lines in duet versions of Sting's "Brand New Day" and Simon's "The Boy in the Bubble."
From there, the two alternated turns at center stage, with the band's lineup shifting to suit the requirements of each tune; the singers rejoined forces at various points for a handful of cuts, including an appealingly rootsy rendition of "The Boxer" set over a lively locomotive rhythm.
No matter who was present, though, the music employed luscious melodies and ear-grabbing textures to frame (and sometimes soften) thoughts not necessarily geared to the pop-song format.
In the bouncy "Englishman in New York," Sting considered the alienating effects of emigration, while over plush soft-pop keyboard in "Still Crazy After All These Years," Simon addressed the quiet disappointment of middle age -- a concern that many in the graying audience could likely appreciate.
INTERACTIVE: Discover songs of L.A.
Elsewhere, the two men took up notions of crime and punishment, Simon sketching a portrait of big-city delinquency in "Me and Julio Down by the Schoolyard," Sting outlining the ramifications of an accidental murder in "I Hung My Head," described by the singer as his attempt to write a country song.
Other styles made their way into the show, as in an angular, hard-funk take on "Roxanne" by the Police and "Diamonds on the Soles of Her Shoes," from Simon's groundbreaking African-pop immersion album, "Graceland." Ceding the spotlight to Simon in one changeover, Sting linked his ska-inflected "Love Is the Seventh Wave" to "Mother and Child Reunion," which Simon recorded in Jamaica.
Those different strands cohered thanks to assured singing and playing by everyone onstage, particularly Simon's two guitarists, Mark Stewart and Vincent Nguini, who brought color and detail to an early-rock medley of "Mystery Train" and Chet Atkins' "Wheels." Playing one of three full kits onstage, Sting's drummer, Vinnie Colaiuta, was crucial too, maintaining a steady groove in the elaborately arranged "They Dance Alone."
Yet all that professionalism sometimes provided too much gloss. "Fields of Gold," "You Can Call Me Al," "Message in a Bottle" -- these familiar hits slid by without making much of an impact, their eccentricities rubbed smooth through overuse. An obligatory duet on "Every Breath You Take" was even worse; it had none of the queasy menace that defined the original single.
PHOTOS: Iconic rock guitars and their owners
Another gripe: Neither singer did enough of his strong recent work. The concert included only one track, the delicate "Dazzling Blue," from Simon's superb 2011 album "So Beautiful or So What." And Sting didn't play anything at all from September's "The Last Ship," with handsome songs from a new musical set to open this fall on Broadway (a decade and a half, you may recall, after Simon's own theatrical foray with "The Capeman").
At this point in their careers, these two entertainers know the demands of an arena concert. But the set list here felt occasionally like a failure of imagination.
Not at the end, though. After a "Bridge Over Troubled Water" in which Sting took some welcome liberties with Art Garfunkel's indelible vocal part, the pair concluded Saturday's concert by harmonizing through a stripped-down rendition of the Everly Brothers' "When Will I Be Loved."
They presented the cover as a tribute to Phil Everly, who died last month. But in its stirring elegance, the performance also honored the perhaps unlikely bond between Simon and Sting: not brothers, not even contemporaries, but fellow travelers in pursuit of the same goal.
ALSO:
Review: Demi Lovato keeps it real at Honda Center
Eric Church gets 'back out there' with 'The Outsiders'
Review: Spiritualized reaches the outer limits at the new Ace Hotel
Twitter: @mikaelwood
---