Review: Skrillex, Nero and more at Hard Day of the Dead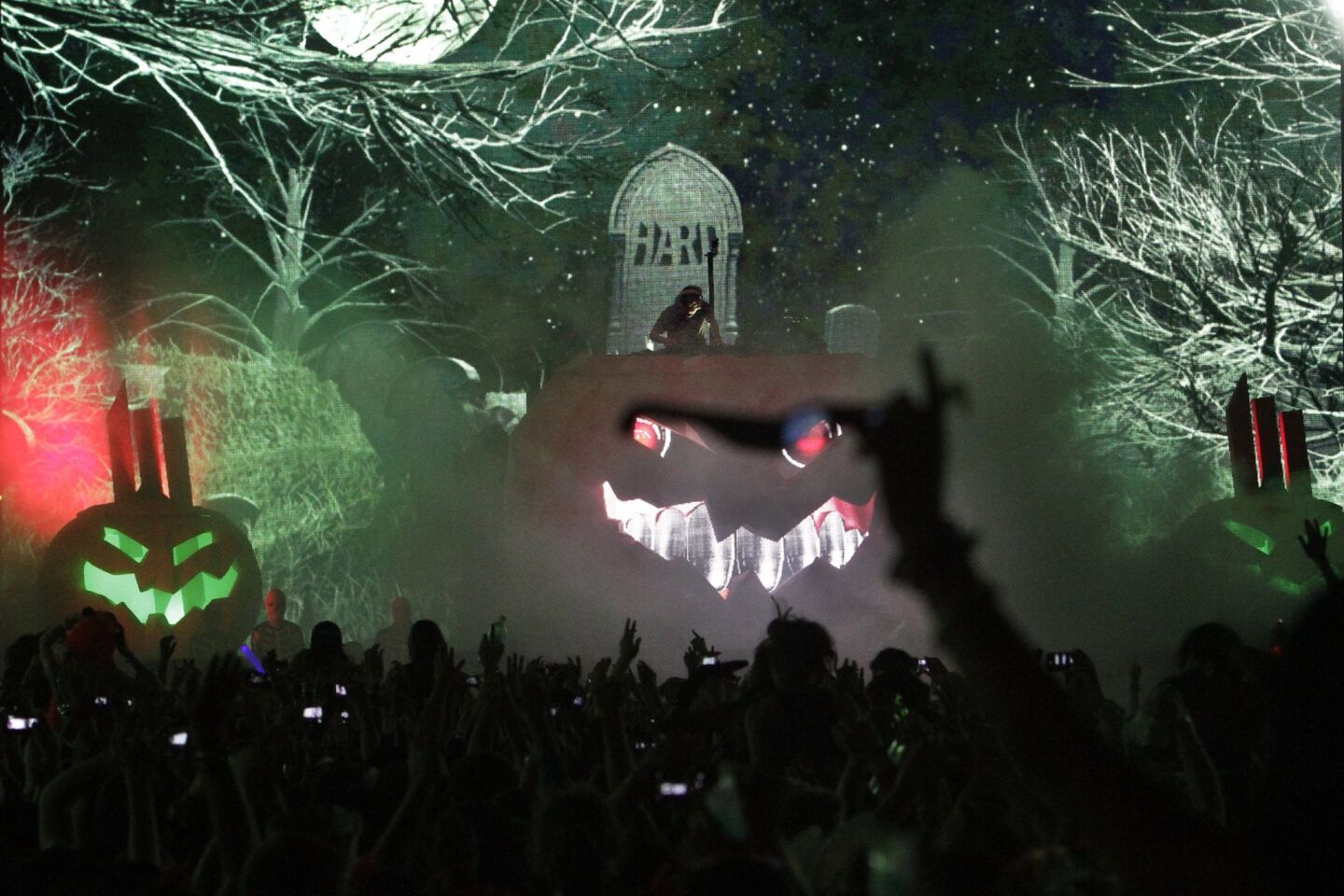 Skrillex, on top of the Halloween pumpkin at the Hard Day of the Dead festival in 2013, has a video out for his new "Ragga Bomb."
(Lawrence K. Ho / Los Angeles Times)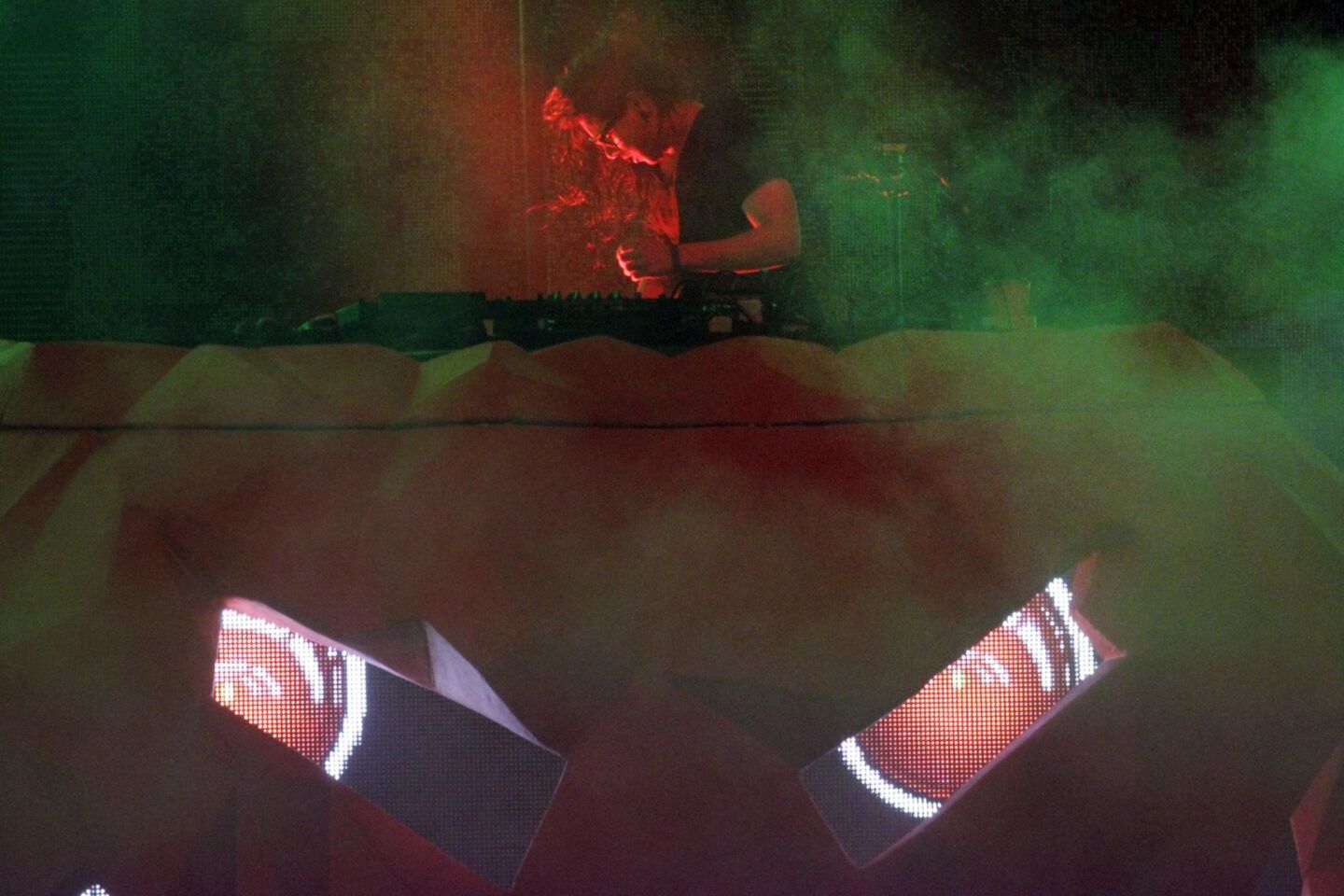 Skrillex (Sonny John Moore) on top of the Halloween pumpkin.
(Lawrence K. Ho / Los Angeles Times)
Gaslamp Killer (William Benjamin Bensussen) dons a theatrical mask.
(Lawrence K. Ho / Los Angeles Times)
Fans cheer at the Hard Day of the Dead electronic music festival.
(Lawrence K. Ho / Los Angeles Times)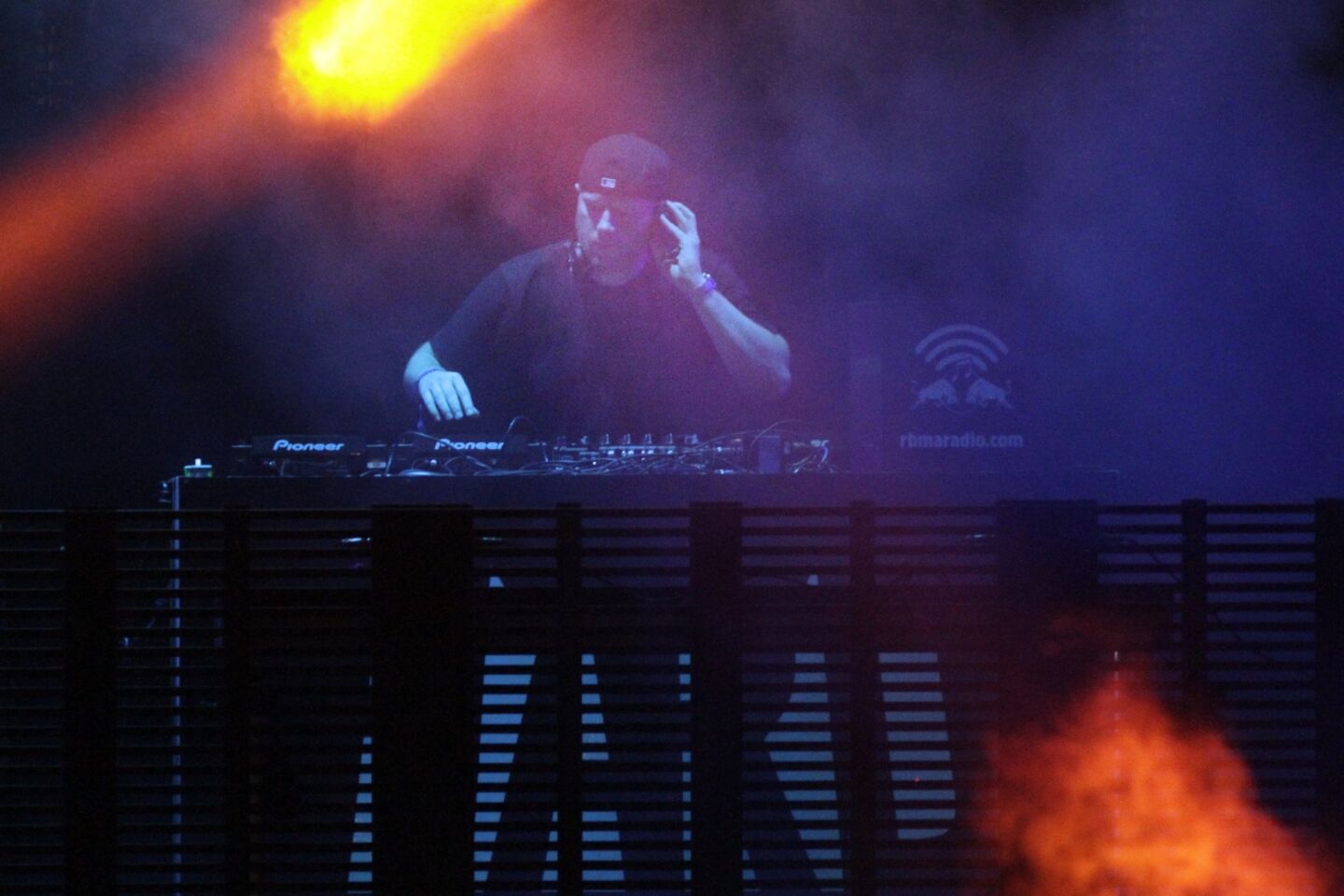 Cirez D works onstage at the fall electronic music festival.
(Lawrence K. Ho / Los Angeles Times)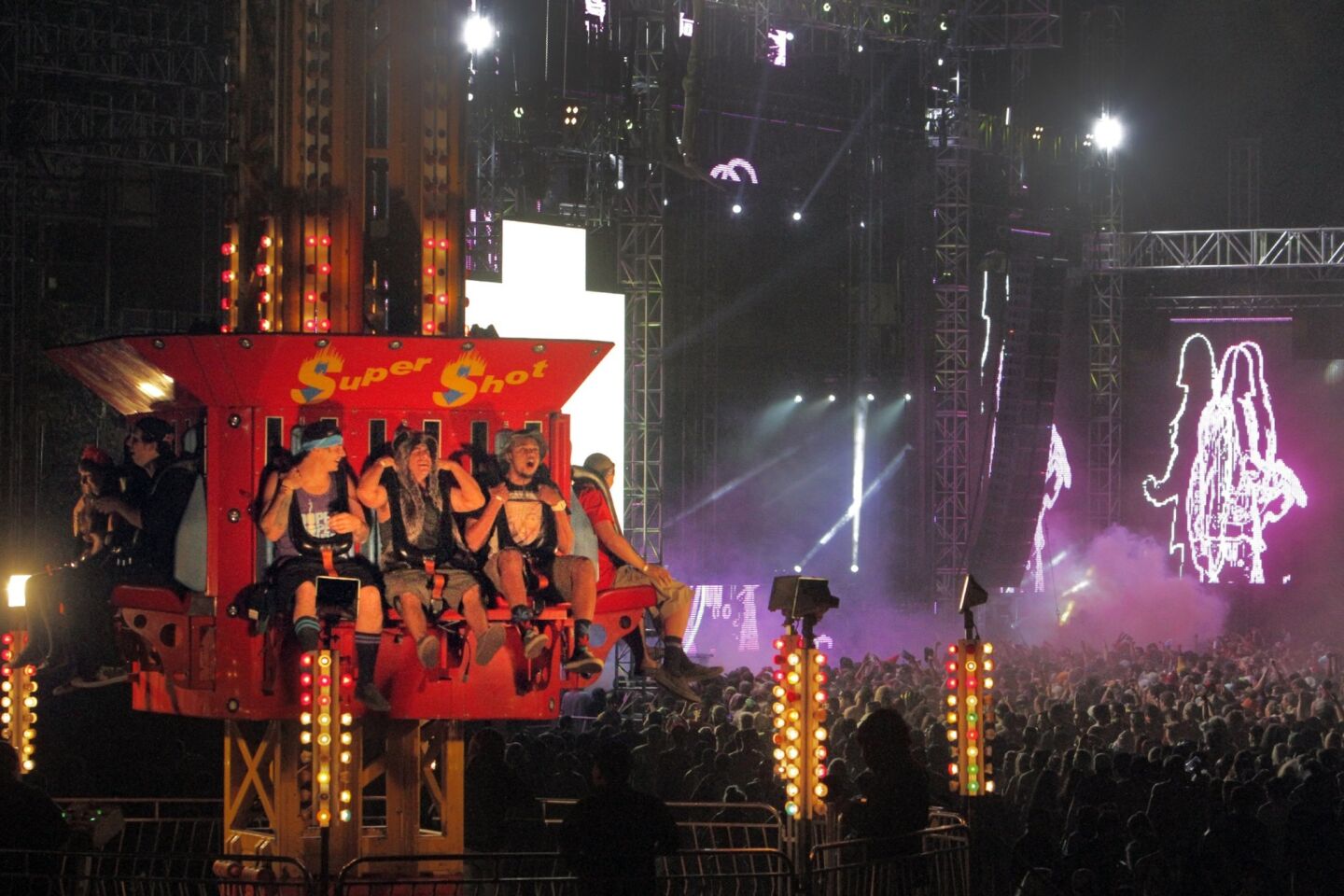 Carnaval rides are part of the offerings at the music festival at L.A. State Historic Park.
(Lawrence K. Ho / Los Angeles Times)
A fan gets a shot during Benoit & Sergio's performance.
(Lawrence K. Ho / Los Angeles Times)
The crowd cheers on Cirez D.
(Lawrence K. Ho / Los Angeles Times)
Sir Bob Cornelius Rifo of the Bloody Beetroots performs at the festival.
(Lawrence K. Ho / Los Angeles Times)
Sometimes, it's OK to throw the same festival twice.
Dance-music fans scanning the lineup at Saturday's Hard Day of the Dead festival at L.A. State Historic Park north of downtown might be forgiven for thinking they'd raved themselves through a cosmic wormhole back to 2012. Headlining acts including Skrillex, Nero, the Bloody Beetroots and Boys Noize all played Hard's summer festival just last year. Along with all the heebie-jeebies from the Día de los Muertos costumes in the crowd, it was hard not to feel some déjà vu as well.
That is, until everyone actually started playing music. This year's Hard Day of the Dead was less about announcing new stars into the EDM world, and more about showing how established ones are tweaking, refining and amplifying their formulas to stay relevant as their genres move along. Add in some refreshed festival logistics and a solid underground disco card, and Saturday's fest might be worth conjuring up yet again someday.
PHOTOS: Hard Day of the Dead Festival 2013
Sunday's installment brings some different blood to Hard (headliners include Deadmau5, Calvin Harris, Cut Copy and Eric Prydz). But there was a distinct and unexpected pleasure in strolling the grounds and finding that many artists who confused or annoyed you a year ago had suddenly gotten much more interesting.
Take Nero, for instance. The proggy U.K. dubstep duo (with singer Alana Watson) emerged as a kind of techno Pink Floyd built on dorky synth drops, and seemed forever doomed to second-headliner purgatory. Imagine fans' surprise, however, when they turned in a lean, tasteful and occasionally even melancholy set from Hard's beautifully LED-encircled main stage. If the mission in "Gravity" had gone better for George Clooney and Sandra Bullock, they could have used Nero's set as zero-G after-party music.
The Bloody Beetroots stole the early evening with a bizarre but riveting new live setup, where frontman Sir Bob Cornelius Rifo played Jerry Lee Lewis-style grand piano runs atop samples of classic-punk-era screams, laser-cut synths and a blood-spatter of live drumming. Rifo never sat still for a second, but his set definitely challenged all the night's staid stay-in-the-box DJs to a duel he's bound to win.
German producer Boys Noize and headliner Skrillex have been collaborating as the appealingly harsh duo Dog Blood, and that new arena to be angry has refined what they do well individually. Boys Noise is introducing more space and longer breaks to his sets, which made his liftoff moments feel even bigger. Skrillex, having crafted an entirely idiosyncratic dubstep sound, is now owning up to his influences in exciting ways -- dropping more patois-soaked Jamaican dancehall vocal samples, or relying less on his hit singles in favor of focused hard-house workouts. It all made Skrillex feel more fundamentally musical and less laptop-choppy -- a good sign for him as a lifelong producer and not just an EDM-era phenomenon.
For all this main-stage progress, we can (as always) thank the underground for the influence. Hard generally kept its cool-kid spaces self-contained, with the Underground stage at the far south of the grounds and the Discotheque acts in a floor-to-ceiling tent.
But the moody, azure deep house tones of Maya Jane Coles brought her large crowd up to dance and down to ponder at her will. French producer Kavinsky turned his '80s-action-movie fetish into a perfectly noir live set of filter-washed arpeggios (the packed, screaming tent wouldn't let him leave the stage when he was done). The D.C. duo Benoit & Sergio played reams of their own bouncy, major key house cuts with brutally droll live vocals about wanting to hang themselves.
It'd be hard to ask for a better sendoff than Cirez D (the spacier, minimal alias of Swedish star Prydz). His watch-gear drum programming gave his tracks an Adderall-intense focus, while never steering out of their throbbing, danceable lane. Let's hope the night's other superstars were listening -- they might come back next time all the stronger for it.
ALSO:
PHOTOS: Hard Summer music festival 2013
Review: Ideas flow at Hard Summer's wild sonic mashup
Los Angeles' EDM explosion powers its way to dance music dominance
Get our L.A. Goes Out newsletter, with the week's best events, to help you explore and experience our city.
You may occasionally receive promotional content from the Los Angeles Times.