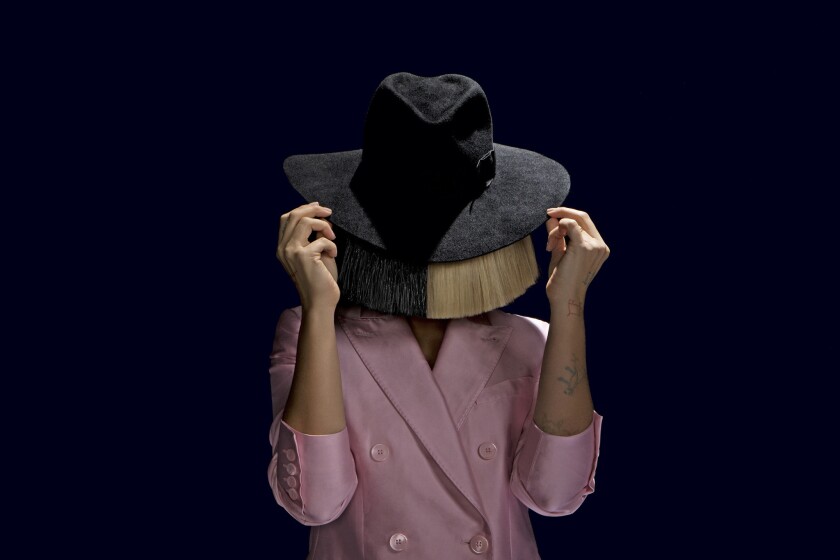 A year and a half ago, Sia transformed a serious liability into an undeniable asset. So why does her new album make waste of her success?
An Australian singer-songwriter with a flair for fitting confessional lyrics to sleek electronic beats, Sia built a respectable following in the late 1990s and early 2000s. Eventually, though, she grew tired of the demands of modern pop stardom and switched gears to write songs for others. The hits — sung by Rihanna, Beyoncé and Christina Aguilera — racked up quickly, making Sia one of the music industry's most sought-after collaborators.
Inevitably, her track record also reignited interest in her as a solo artist, which led to 2014's "1000 Forms of Fear," her first album in years. Yet rather than wade back into the celebrity culture she claims to disdain, Sia deflected attention even as she made the promotional rounds. In photographs she hid beneath elaborate wigs; for television performances she hired dancers to act out her songs.
The gambit paid off too. Thanks in part to the novelty of her approach, "1000 Forms of Fear" debuted at No. 1, and its lead single, "Chandelier," scored several Grammy nominations. Sia's reticence, it turned out, helped her music speak louder than ever — a pretty neat trick.
See more of Entertainment's top stories on Facebook >>
Unfortunately, Sia stumbles in what appears to be a simpler task on her follow-up, "This Is Acting," due Friday. Given her accomplishments last time — and the well demonstrated weirdness at work in even her biggest hits — Sia should've taken this opportunity to spend some of that hard-earned creative capital, to venture even farther out now that we're all paying attention. Think Beyoncé on "Beyoncé."
But in almost every way "This Is Acting" feels safer and more ordinary than "1000 Forms of Fear," with familiar (if sturdy) melodies and lyrical clichés about houses on fire and footprints in the sand. Where Sia vividly urged a lover on the previous album to "detonate me / Shoot me like a cannonball," here she just wants him or her to "take me to the heavens now."
And where she previously emphasized the frayed edges of her unique singing voice, here she too often streamlines her delivery, smoothing out the quirks that made "Chandelier" feel so powerful and vulnerable at the same time.
Sia might argue that this was all part of her plan. She's said that "This Is Acting" comprises songs she originally wrote for other artists to sing, and that she only recorded them herself after they were rejected. And, indeed, you can hear her self-consciously adapting her style to the perceived needs of Rihanna (in "Cheap Thrills") or Lana Del Rey (in "Space Between") or Adele (in "Alive," which she co-wrote with the British singer).
In other words, her thinking might've gone, putting too much Sia in these songs would've prevented them from doing what they were designed to do. But that's a problem she's solved more inventively before.
Twitter: @mikaelwood
---