Review: Sleater-Kinney keeps looking ahead at the Palladium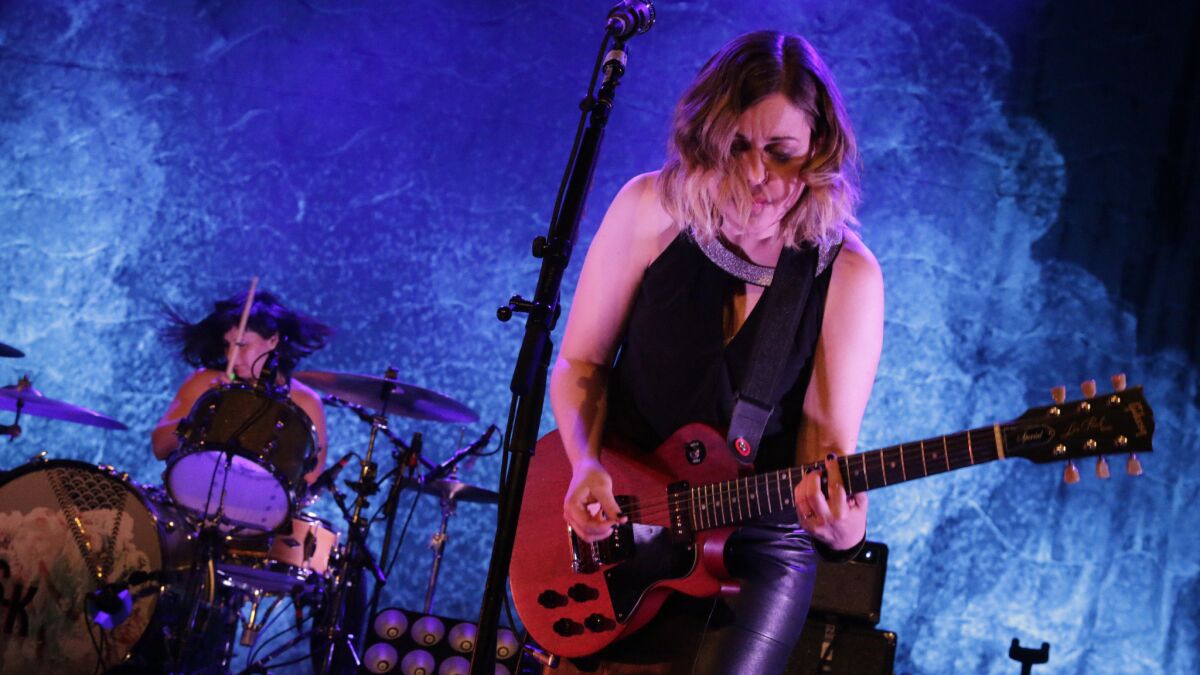 Sleater-Kinney didn't waste any time justifying its appearance onstage Thursday night at the Palladium in Hollywood.
On tour for the first time since 2006, the influential punk band -- a product of the early '90s riot grrrl movement -- opened its set with "Price Tag," which also opens "No Cities to Love," Sleater-Kinney's recently released comeback album. The choice was sending a clear message that this wasn't just another alt-rock reunion designed to rehash past glories.
Practically speaking, of course, Sleater-Kinney is just another alt-rock reunion, merely the latest in a long line of acts (including the Pixies and Blur) to get back in business after a lengthy hiatus. Last year, the group's three members -- Carrie Brownstein and Corin Tucker, both of whom sing and play guitar, and drummer Janet Weiss – came together secretly in their home base of Portland, Ore., to write and record a new album, their first since 2005's "The Woods."
Each kept busy over the intervening decade with various projects; Brownstein, somewhat improbably, became a TV star thanks to her IFC sketch comedy series "Portlandia." A limited-edition box set of its earlier work sold out fast, and when word spread that more music was coming (a new single was discreetly packaged inside the set) fans greeted the news with the excitement of people who'd obviously missed the band.
At the Palladium, where the group is scheduled to perform again Friday, there was no missing the uptick in applause every time Sleater-Kinney played an old favorite: "Ironclad," for instance, with its dive-bombing guitar riffs, or the bludgeoning, slightly trippy "The Fox." During "Dig Me Out," the title track from the trio's breakout 1997 album, Weiss' extended drum roll sent a surge of energy through the audience, members of which might've started a mosh pit if they'd been 10 or 15 years younger.
Even so, Sleater-Kinney seemed determined to keep the focus of Thursday's concert on the here-and-now. Augmented by a fourth musician, Katie Harkin, on guitar and keyboards, the band followed through on the promise of its opener by ripping through most of "No Cities to Love," which maintains the group's trademark guitar sound but adds new textures and structural twists. "Surface Envy" alternated knotty verses with a fist-pumping chorus; "No Anthems" had an ominous synth line.
Sleater-Kinney's commitment to its current incarnation -- to the idea that it needs to do more than satisfy nostalgia -- was easy to admire and well in keeping with its progressive mind set. (It's worth noting that the band likely passed up an opportunity to perform at last month's Coachella festival, where alt-rock reunions have become a reliable attraction.)
For all its forward momentum, though, Sleater-Kinney never tapped into the exuberance or the sense of abandon it used to summon onstage. There was something dutiful about this show, as though the women were doggedly adhering to a position rather than chasing a spark.
Ninety minutes after they began, they closed with "Modern Girl," one of their loveliest tunes, in which Brownstein sang, "I'm sick of this brave new world." Then they split.
Twitter: @mikaelwood
Get our L.A. Goes Out newsletter, with the week's best events, to help you explore and experience our city.
You may occasionally receive promotional content from the Los Angeles Times.