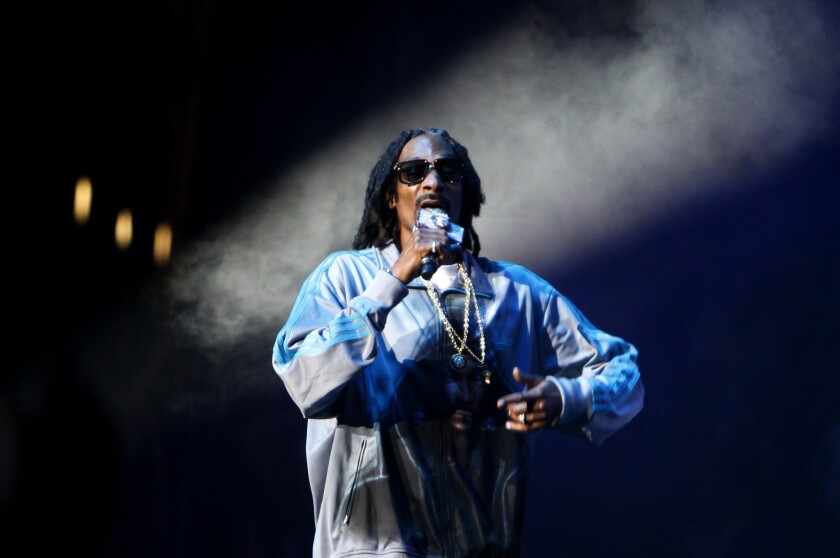 Snoop Dogg has a few choice words for Donald J. Sterling, embattled owner of the Los Angeles Clippers.
Unfortunately, almost none of them are fit for publication in a family newspaper's blog.
On the heels of an audio recording obtained by TMZ which the website says captures the Los Angeles business magnate upbraiding his girlfriend for "associating with black people" and "taking pictures with minorities" at Clippers games, the erstwhile Doggfather blasted Sterling with his own obscenity-packed videotaped rejoinder posted on Instagram on Saturday.
In that recording, Snoop – who turned over a new, reggae-inspired leaf last year as the dreadlocked, peace-loving Snoop Lion – calls the NBA owner a "redneck" and a "racist" amid a torrent of four-letter invective.
On Twitter, meanwhile, Philadelphia rapper Meek Mill weighed in on the situation by calling Sterling the "definition of racism."
"He could b your judge… Your doctor… You teacher etc… I bet nothing happen to him!" Mill tweeted Saturday.
INTERACTIVE: Best of 2013 music
To say nothing of the opprobrium in the world of popular culture as personalities such as "Anchorman" director Adam McKay vowed to give up his season tickets to Clippers games, and Amir "Questlove" Thompson of the Roots pondered a walkout by Clippers players – many of whom are African American.
"Part of me wishes the Clippers won't suit up for the rest of the season," Questlove posted on Twitter. "A fella can dream tho."
For Chuck D, lead MC for the agitprop rap collective Public Enemy, the issue of Sterling's purported racism is indivisible from certain matters of the heart: "Everyone surprised about Donald Sterling? A jealous old rich boyfriend & you know the race thing was gonna tumble out of him eventually."
READ: Chris Paul, Kevin Johnson respond
On his Postargram account, Comedian Kevin Hart made his feelings on the matter unequivocally clear.
"Donald T. Sterling is flat out racist….He will never see another dollar from me!!! This is disgusting….he has a slave master mentality!!!! This is disturbing and unbelievably sad!!! I feel for my close friends that play for this Racist because of the position that this puts him in!!! #Racist #ScumBag #Racist #ScumBag #Racist #ScumBag
ALSO:
OutKast, Pharrell Williams top L.A. Times readers' Coachella picks
Pixies, Damon Albarn, Ben Watt back with mixed results
Stagecoach 2014: The Year of the Bad Boy
Twitter: @__chrislee
---