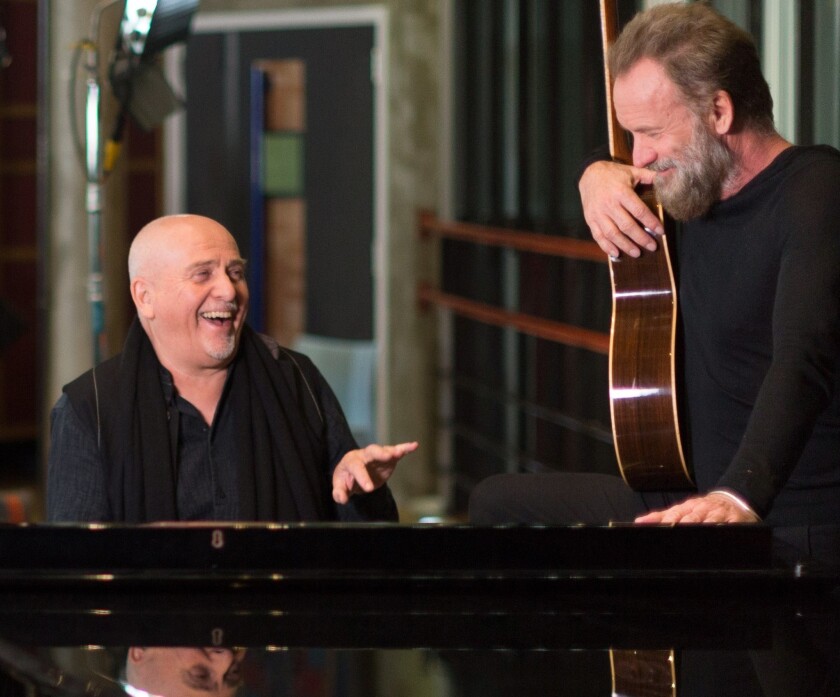 Sting and Peter Gabriel will hit the road this summer for a monthlong co-headlining tour.
Nearly three decades after they first met and toured together for Amnesty International, the British singer-songwriters have teamed up for a North American trek, which they have dubbed the Rock Paper Scissors tour.
See more of Entertainment's top stories on Facebook >>
Rather than just exploring their own respective catalogs, Sting and Gabriel will meld their bands to perform each other's tracks both separately and together.
"We want to sing a lot of hits basically, people want to hear the songs we're famous for," Sting told Associated Press in an interview announcing the tour. "But it's always interesting to trade a song.... I'm not precious about giving him whatever he wants."
The 19-date tour opens in Columbus, Ohio, on June 21 and makes its way to L.A. with a stop at the Hollywood Bowl on July 17.
"What intrigues me is that you get a good bunch of musicians together and interesting things will happen," Gabriel said in a statement. Added Sting, "I'm very happy that we're taking the chance to experiment this way. I think people will be intrigued, I certainly am."
Tickets for most of the tour's dates, including the Hollywood Bowl, go on sale Monday through Live Nation.
For more music news follow me on Twitter: @gerrickkennedy
MORE:
Coachella won't be the first place to see the Guns N' Roses reunion
Meet the music entrepreneur who's taking on Spotify and other streaming services
Adele raps Nicki Minaj verses in carpool karaoke, dubs Taylor Swift's squad 'Amazonian'
Los Lobos' Cesar Rosas releases solo live album -- better late than never
---