SXSW 2014: Jay Z and Kanye West reunite on Samsung's dime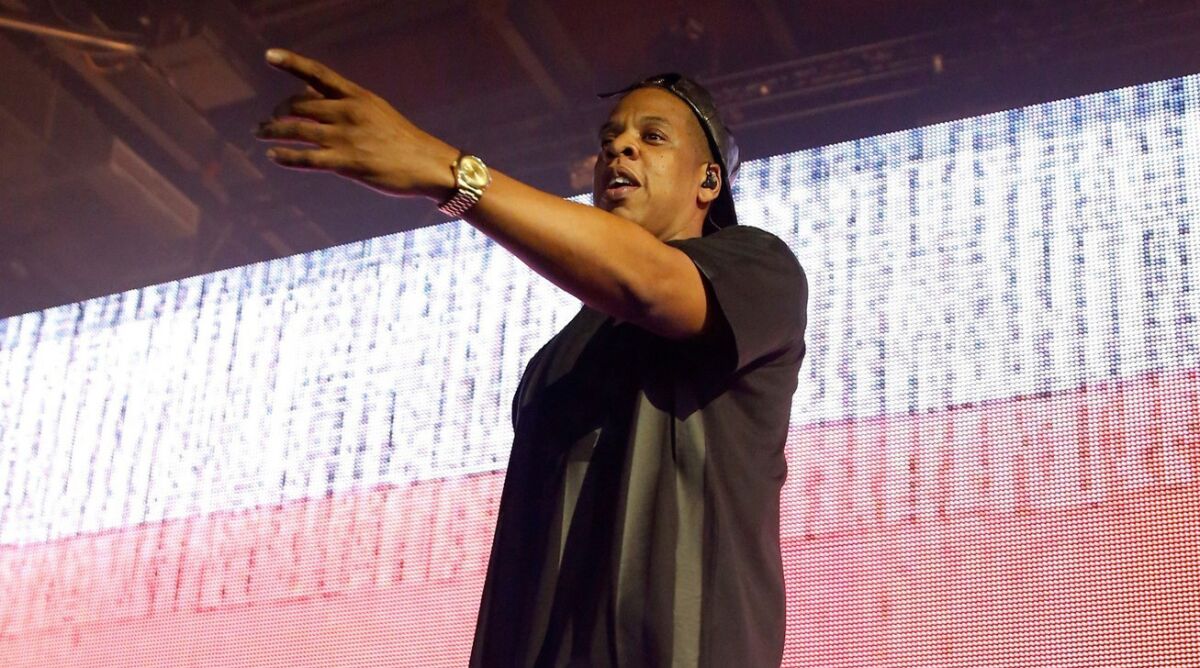 AUSTIN, Texas — Video images of fierce predatory animals flashed across several gigantic screens behind Jay Z and Kanye West at the Austin Music Hall on Wednesday night, a visual holdover from the rappers' collaborative tour in 2011 but also, it seemed, a kind of warning to the South by Southwest music festival they'd dropped in to dominate.
Attract as many superstars as you like, the footage appeared to say — we'll devour them all.
Once a forum for undiscovered regional talent, SXSW has become irresistible in recent years to A-list acts eager for a concentrated audience of gatekeepers and tastemakers. Ditto the blue-chip brands that can afford to hire stars to be the glittering centerpieces of elaborate marketing stunts such as Thursday's scheduled Lady Gaga concert, for which Doritos asked prospective showgoers to complete tasks requiring various levels of humiliation.
Nothing so gauche accompanied Jay Z and West's show, a comparatively restrained Samsung promotion open to owners of a particular smartphone -- and, of course, to any number of VIPs and journalists. (The event began before two people were killed and many more injured when a car plowed through a festival crowd in a different area of downtown Austin.)
But given the presence at SXSW this year of Apple's iTunes — which is behind a series of concerts by Coldplay, Keith Urban and Pitbull, among others — it was easy to feel the corporate strategy at work inside the hall.
A sense of creative competition was no less pervasive as the two rappers moved through approximately three dozen of their hits, including the pointedly titled "Run This Town." Neither man explicitly addressed the song to Kendrick Lamar and Schoolboy Q, who minutes earlier had wrapped an iTunes gig a few blocks over, but perhaps that's because they didn't need to: Two hours' worth of instantly familiar songs demonstrated their position quite clearly.
Emerging through the tops of two large black cubes, Jay Z and West went about reproducing a smaller-scale version of the stark arena spectacle they designed in connection with their joint 2011 album "Watch the Throne."
PHOTOS: Concerts by The L.A. Times
A digitized American flag waved behind them during "Otis," with a prominent vocal sample from Otis Redding. The beat dropped out in "Who Gon Stop Me" so that Jay Z could do a lengthy stretch of the song a cappella. And "Welcome to the Jungle" developed the wildlife theme to its logical conclusion as onscreen a pair of leopards feasted on an antelope.
They tag-teamed, as well, on older solo hits like West's "Jesus Walks" and Jay Z's "Empire State of Mind," before which he asked the crowd, "Can I take y'all to my hometown?"
For "Runaway," his self-described scumbag's bloodletting, West changed out of an all-black outfit (including his signature kilt) into a red-leather jacket, calling attention to his style even as he detailed his own narcissism. (He went back to black for the concert's encore, a festive triple-play of the "Throne" cut known in its edited form as "Paris.")
Yet the duo also updated the show with material each has released since their tour wrapped in 2012, and it was in the new stuff that they made the deepest impact.
INTERACTIVE: A festival for every fan – SoCal's yearly sonic lineup
That's no surprise for West, who last year issued one of his most potent albums in "Yeezus." Here he was seething in "Black Skinhead," roaring lines about being "a black man with a white woman" as lasers strafed his head, and "New Slaves," which climaxed with an explicit call-and-response bit on one of the song's most memorable (and coarsest) lines.
He did his verse from Rick Ross' just-released "Sanctified" too, pushing his voice to its breaking point over the song's trippy psych-gospel groove.
But if "Yeezus" found West at an artistic high point, Jay Z's 2013 disc, "Magna Carta Holy Grail," seemed to catch the king of commercial hip-hop in a moment of crisis, with apparently little to rap about beyond his love of shopping and his art collection.
On Wednesday, though, he delivered "Tom Ford" and an unprintably titled track with refreshed swagger and gave "Drunk in Love," his recent duet with Beyoncé, a sweaty vitality that suggested privileged stability needn't be an enemy to inspiration.
Or maybe SXSW's spirit of one-upmanship had gotten to him after all.
ALSO:
SXSW 2014: Diddy and Blondie talk disruption and disco
SXSW 2014: Experts fret over future, Kelela lets music play on
SXSW 2014: Bruce Robison and Kelly Willis represent the locals
Twitter: @mikaelwood
---
Your essential guide to the arts in L.A.
Get Carolina A. Miranda's weekly newsletter for what's happening, plus openings, critics' picks and more.
You may occasionally receive promotional content from the Los Angeles Times.