Taylor Swift's 'musical crush' Justin Timberlake helps her end historic Staples Center run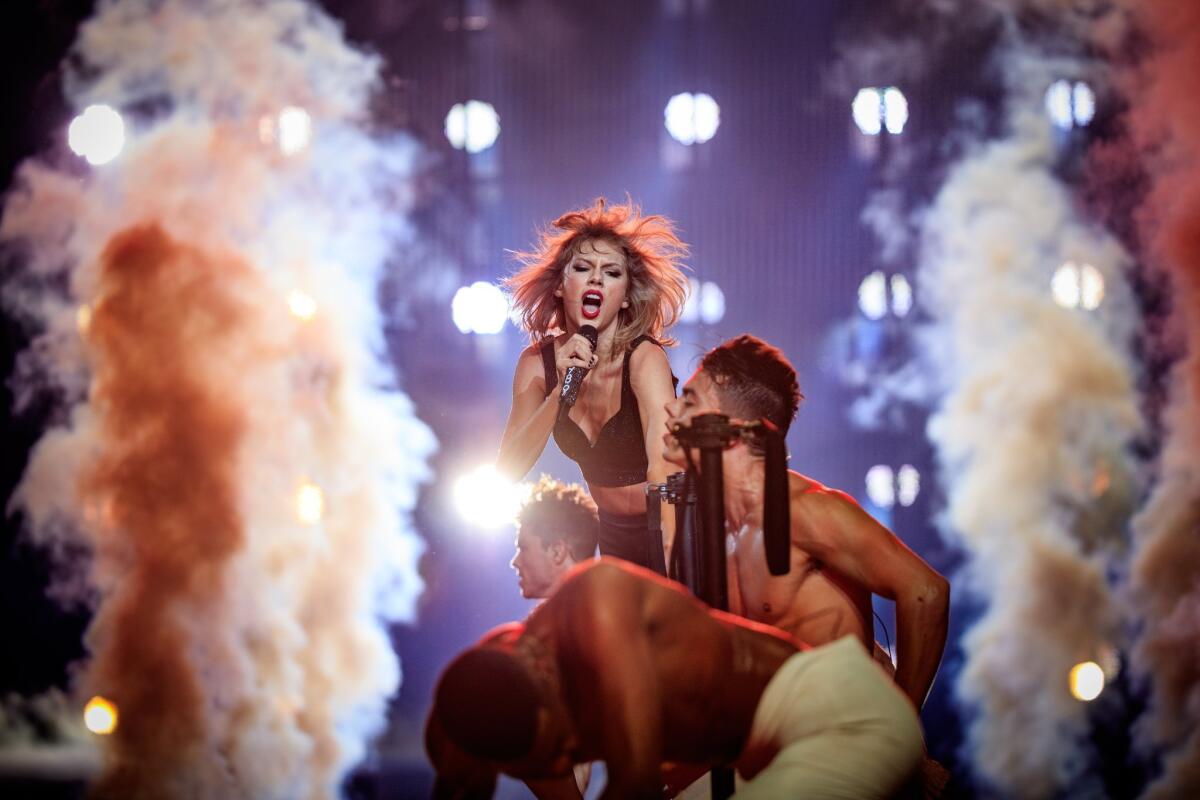 Early into the final night of a five-show run of sold-out concerts at Staples Center on Thursday, Taylor Swift made a promise to the nearly 15,000 fans.
"Since you've done so many crazy things for me ... I went and did something a little crazy," the superstar said amid a bevy of fans' flashing signs and deafening screams.
"[Tonight] could be some of the most epic surprises on the '1989' tour," she teased ahead of guest performances from actress Lisa Kudrow, best friend Selena Gomez and longtime "musical crush" Justin Timberlake.
See the most-read stories in Entertainment this hour >>
Swift's tour has proved to be as much about showcasing the singer's plunge into pop terrain with a splashy arena spectacle as it is about providing proof of her massive starpower – largely accomplished by the litany of surprise celebrity guests who have popped in during the show.
Lorde, Jason Derulo, Sam Hunt, Fifth Harmony, Fetty Wap, Little Mix, Nick Jonas, Little Big Town and the Weeknd have already joined her on dates throughout the show's run. So have Julia Roberts, Joan Baez, Ciara, Heidi Klum and the entire U.S. Women's Soccer Team.
Her L.A. appearances haven't been any different.
See the most-read Entertainment stories this hour >>
At the show's opening Friday, Swift brought out One Republic frontman and songwriter Ryan Tedder, whom she collaborated with on her massive "1989."
Lakers star Kobe Bryant surprised her by unveiling a banner that hangs alongside a handful of Lakers championship banners to mark the milestone of achieving the most sold-out performances by a single artist (she's got 16, an all-time record).
Swift also turned up with Mary J. Blige, strutted alongside comedian Chris Rock and actor Matt LeBlanc, emoted with actor-singer Uzo Aduba ("Orange Is the New Black") and dug into her country roots with Dixie Chicks singer and songwriter Natalie Maines.
She pranced with Ellen DeGeneres and tapped into her angst with confessional singer-songwriter Alanis Morissette. There was swooning with John Legend and left-field collaborations with Beck and St. Vincent.
For her final night at Staples, Swift went closer to her heart for the show's special guests.
Swift first ceded the stage to best friend Gomez, calling her a "multitalented performer who is good at pretty much everything does." Gomez performed her steamy single "Good For You" for the first time.
The pair vamped with shirtless male dancers, slinked down the catwalk and traded verses before a giddy embrace as they jumped up and down.
Swift's adoration of her cats is made clear in one of the show's interstitial clips, and she created the ultimate 90s moment as former "Friends" star Lisa Kudrow showed up to sing "Smelly Cat," a silly tune made famous by her sitcom character Phoebe.
"This has been so hard to keep a secret," Swift announced as she introduced Timberlake. "Anyone that knows me knows this is my favorite artist."
The pair tore through a duet of Timberlake's ballad "Mirrors," with Swift spending most of the performance in apparent disbelief and fans likely flashing back several years to when DeGeneres surprised a very young Swift with her "musical crush."
Wednesday night's Staples appearance with Swift was Timberlake's first time on stage since his wife, actress Jessica Biel, gave birth to their first child.
Swift, visibly overwhelmed, said, "I'm just honored that he chose this as his first performance."
For more music news follow me on Twitter: @gerrickkennedy
MORE ON TAYLOR SWIFT:
Here's who gave Taylor Swift 'all the feels' at her latest Staples Center gig
Andrea Swift, Taylor's mom, gets rock star welcome in L.A.
How five minutes with Taylor Swift turned a respected metro reporter into a Swiftie for life
Get our L.A. Goes Out newsletter, with the week's best events, to help you explore and experience our city.
You may occasionally receive promotional content from the Los Angeles Times.