That time Keith Richards pulled a knife to have Donald Trump fired: A very special Rolling Stones memory
A post from last year has been making its way around social media that involves the Rolling Stones, a 1989 pay-per-view gig during the band's Steel Wheels tour and an Atlantic City property owned by current Republican Party front-runner Donald Trump.
Published on concert ticketing site Pollstar, the yarn was delivered by concert promoter and Broadway producer Michael Cohl at the 2015 Pollstar Live! event, and offers what some might consider a telling anecdote about the 2016 presidential candidate during his rise in the 1980s.
See more of Entertainment's top stories on Facebook >>
Cohl is the former chairman of concert promoter Live Nation, and over the course of his career has worked on massive tours by Michael Jackson, U2 and Barbra Streisand. Which is to say, he's dealt with his share of divas.
The promoter began his long relationship with the Stones on their Steel Wheels tour, and as part of the planning he concocted an idea for a boxing-style pay-per-view event that, if marketed properly, would yield huge profits.
Recalled Cohl during the keynote:
"I realized that when they did a big boxing match they would separate the promotion and the fight. For the fight, you'd get a site fee from Las Vegas. You'd get a dollar, a million, a billion. Whatever. You'd get a 'site fee' and you'd get a worldwide closed-circuit. I thought, geez, if I can separate the Stones from their own gig, and just concentrate on the pay-per-view, then I might pull it off."
The problem? He couldn't find a taker in Vegas. "They didn't get it, they didn't like rock music yet."
The one person who got it was Trump, who had properties in Atlantic City. So Cohl pitched the idea. "I opened my big mouth in the meeting with the Rolling Stones where they go, 'This is all great, but we're not going to be affiliated with Donald Trump. At all. Screw you.' And I go, 'I will control Donald Trump! Don't you worry!'"
The solution, as presented in the final contract, was to make Trump invisible, said Cohl: "Donald agrees that he will not be in any of the promotion except in Atlantic City, and he will not show up at the gig!"
But just before 6 p.m. on concert night, Cohl was beckoned into the venue's press room.
"I run to the press room in the next building and what do you think is happening? There's Donald Trump giving a press conference, in our room!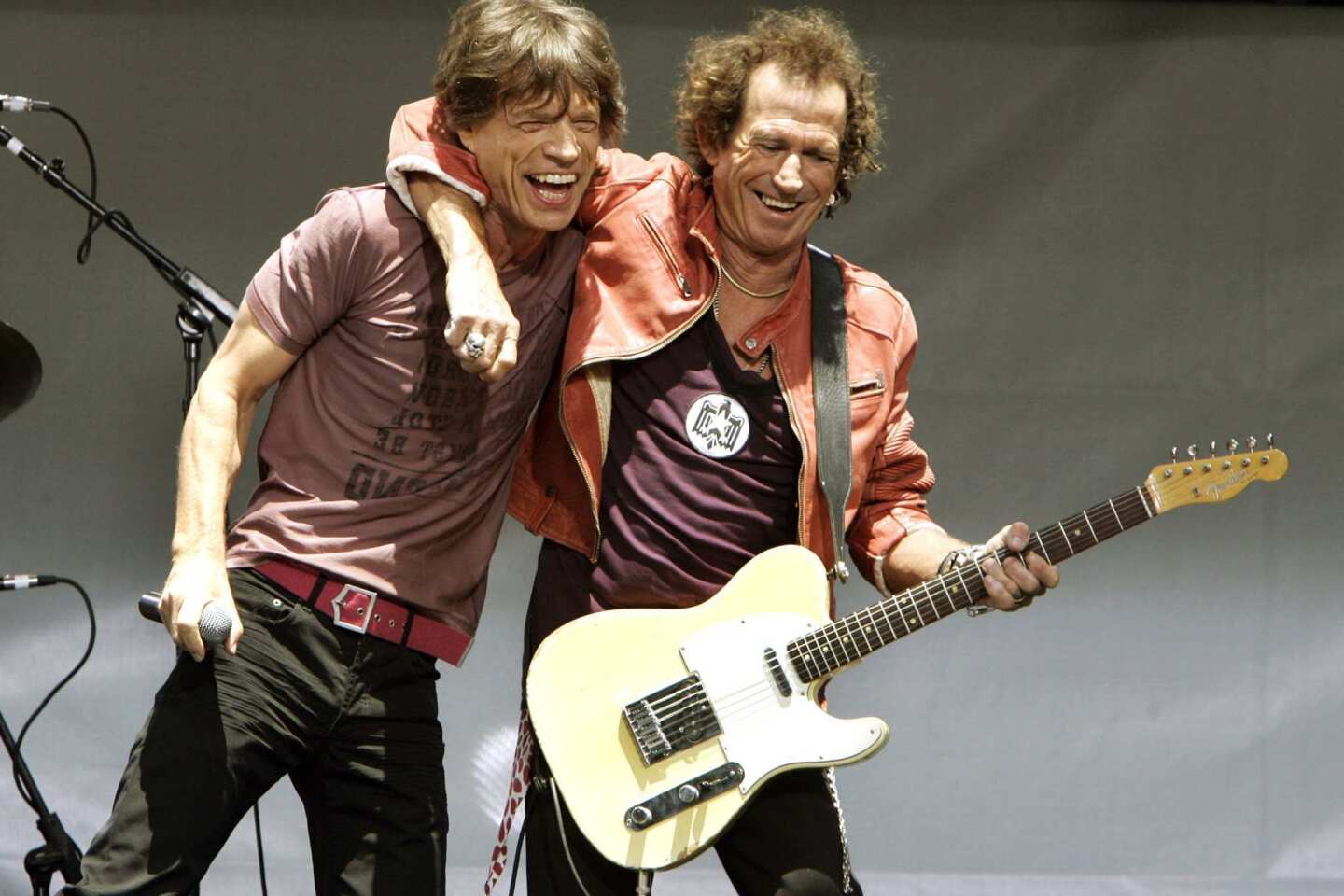 Mick Jagger and Keith Richards embrace in New York while announcing the band's 2005 tour.
(AFP/Getty Images)
"I give him the [come here gesture]. 'Come on, Donald, what are you doing? A) You promised us you wouldn't even be here and, B) you promised you would never do this.' He says, 'But they begged me to go up, Michael! They begged me to go up!' I say, 'Stop it. Stop it. This could be crazy. Do what you said you would. Don't make a liar of yourself.'
After Cohl left, Trump kept on with the news conference.
Finally, according to the promoter, the Stones' Keith Richards got involved. "They call me back, at which point Keith pulls out his knife and slams it on the table and says, 'What the hell do I have you for? Do I have to go over there and fire him myself? One of us is leaving the building – either him, or us.' I said, 'No. I'll go do it. Don't you worry.'
Words were exchanged, the upshot of which, recalls Cohl, "I'm trying to throw Donald Trump out of his own building."
The rest of the story, recalled by Cohl, is as follows:
"[Trump] looks at me and goes berserk.
"'You don't know anything! Your guys suck! I promote Mike Tyson! I promote heavyweight fights!' And I notice the three shtarkers he's with, in trench coats, two of them are putting on gloves and the other one is putting on brass knuckles. I go on the walkie-talkie and I call for Jim Callahan, who was head of our security, and I go, 'Jim, I think I'm in a bit of trouble.' And he says, 'Just turn around.'
"I turn around. He's got 40 of the crew with tire irons and hockey sticks and screwdrivers.
"'And now, are you gonna go, Donald?'
"And off he went.
"And that was the night I fired Donald Trump."
Read the entire Pollstar post here.
For tips on playlists, Los Angeles music news and video clips, follow @liledit
ALSO:
Bruce Springsteen's four-hour finale at the L.A. Sports Arena: A fitting ending to 'The Dump That Jumps'
George Clooney bashes Donald Trump in Hillary Clinton fundraising letter
Sony is betting on love for the Beatles lasting in a new $750 million deal
Iggy Pop needed to break free. Joshua Homme aided and abetted. The result: the collaborative 'Post Pop Depression'
Beyoncé and Bob Dylan lead new albums and tours, but will Frank Ocean reappear?
Here's Jimmy Fallon and Chris Martin doing David Bowie's 'Life on Mars?'
Get our L.A. Goes Out newsletter, with the week's best events, to help you explore and experience our city.
You may occasionally receive promotional content from the Los Angeles Times.