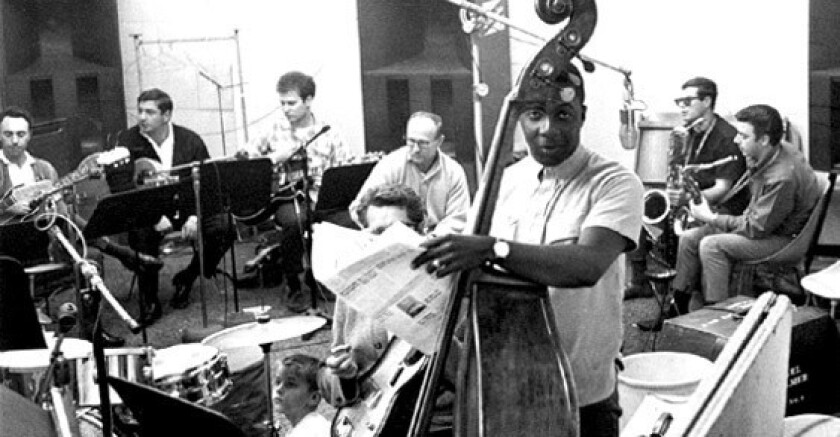 When he decided to put together a home movie about highlights of his dad's life and career, Denny Tedesco did what a lot of children do at some point in their lives.
What distinguished the product of his efforts from the thousands or millions of slide shows/home videos most of us would end up with is that his dad happened to be guitarist Tommy Tedesco, one of the busiest recording session players in pop music during the '60s.
On top of that, because the elder Tedesco was working in Los Angeles, he was at the epicenter of a flowering of pop, rock, R&B, soul, jazz and country that was a windfall for the core group of players who contributed to literally thousands of recording sessions in those days -- a West Coast counterpart to Motown's celebrated stable of studio players, known as the Funk Brothers.
"I started this project in 1995 when my father, Tommy Tedesco, was diagnosed with terminal cancer," Denny Tedesco says on the film's official website. "I guess it was a way of me dealing with what was going on in our lives and at the same time wanting to let the world know about what impact he and his friends made in musical history."
Tommy Tedesco and those friends became known -- long after the fact -- as "The Wrecking Crew," a sobriquet Denny Tedesco used as the title of his film documentary, which is to be screened Saturday at Chapman University in Orange.
Following the screening, Denny Tedesco is to be on hand to take part in a question-and-answer session about the film, along with several musicians who were part of the scene, including Righteous Brothers singer Bill Medley, Jennifer Warnes, drummer Hal Blaine and trumpeter Don Randi.
Tommy Tedesco, Blaine, Randi and the other instrumentalists were prized for their ability to knock out singles in a couple of hours, full albums often in just a day or two. The stories the musicians tell in "The Wrecking Crew" provide a fascinating glimpse into a time and place that most agree will never be repeated.
It was Blaine who came up with the name for that group of studio aces, explaining in the film that this group of young upstarts were ready and willing to take on sessions for the burgeoning batch of rock 'n' roll performers that older, more seasoned studio musicians weren't interested in. The younger musicians, in effect, "wrecked" the business for their older counterparts.
Blaine, perhaps the most recorded drummer in rock music outside of his mentor, New Orleans drummer Earl Palmer, has since been inducted into the Rock and Roll Hall of Fame, as was Palmer for his contributions to countless hits of the 1960s and '70s, from the Phil Spector-produced Ronettes, Crystals and Darlene Love to the Beach Boys, the Byrds, Frank Sinatra, the Monkees, Sonny and Cher, the Mamas and the Papas and myriad others.
Other members of that group include Glen Campbell before he became a pop star in his own right, bassist-guitarist Carole Kaye (who always bristled at "The Wrecking Crew" name), saxophonists Plas Johnson and Steve Douglas.
"You have to realize, these guys and Carol -- the only woman -- were at the top of their game at the right place and at the right time," Denny Tedesco says on the web site interview. "They really don't have much to complain about. My dad was thrilled to be able to make a living at guitar. To make a living at an instrument puts you in a small minority. But to record as many hits as they did, they were even part of a smaller minority."
One of the organizers of Saturday's scheduled screening and Q&A said that the event, getting under way at 7 p.m. in Chapman's in the Folino Theater at the Marion Knott Studios Film School, is officially sold out, but a few more seats may become available at the last minute. Information: (714) 875 8387.
twitter.com/@RandyLewis2
ALSO:
ABC's "Nashville" is serious about country music
Music publishers win $6.6 million in LiveUniverse lawsuit
Review: Madonna gets political and moons Los Angeles crowd
---