Tom Petty, Jeff Lynne added to credits of Sam Smith's 'Stay With Me'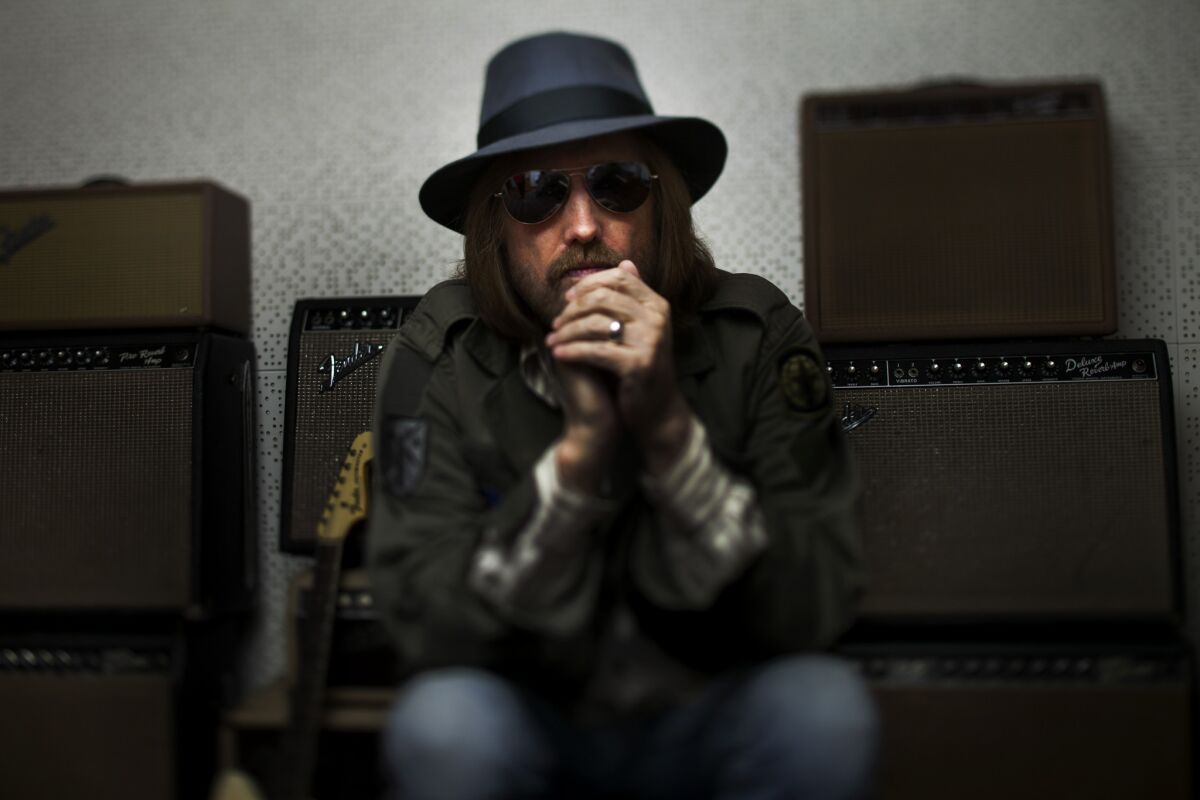 In a surprise backstage maneuver involving British crooner Sam Smith's Grammy-nominated breakout hit, "Stay with Me," both Tom Petty and Jeff Lynne's names have been added to the song's writing credits. Despite never having officially collaborated, Smith, Petty and Lynne now share credit with three others due to the similarities between "Stay with Me" and Petty and Lynne's 1989 hit "I Won't Back Down."
Nominated for 2015 Grammys in both the song of the year and the record of the year categories, "Stay with Me" has a grand, sing-along chorus that has echoed throughout the world. And, apparently by coincidence, it happens to follow the same chord progression as "I Won't Back Down." In a statement, Smith's representative confirmed the news.
"Recently the publishers for the song 'I Won't Back Down,' written by Tom Petty and Jeff Lynne, contacted the publishers for 'Stay With Me,' written by Sam Smith, James Napier and William Phillips, about similarities heard in the melodies of the choruses of the two compositions. Not previously familiar with the 1989 Petty/Lynne song, the writers of 'Stay With Me' listened to 'I Won't Back Down' and acknowledged the similarity.
Calling the resemblance "a complete coincidence," the rep added that the parties "came to an immediate and amicable agreement in which Tom Petty and Jeff Lynne are now credited as co-writers of 'Stay With Me' along with Sam Smith, James Napier and William Phillips."
One big question in advance of the Grammy Awards, which will occur on Feb. 8: If "Stay with Me" wins song of the year, will Petty and Lynne get to receive the award alongside Smith, Napier and Phillips? Here's hoping so.
Late Monday, however, the Recording Academy issued a statement saying Petty and Lynne would not receive Grammys should it win in either category in which songwriters would be recognized.
"Since Lynne and Petty didn't do any new writing for this work, we are considering their original work to have been interpolated by Napier, Phillips and Smith for 'Stay With Me'," Bill Freimuth, the academy's senior vice president for awards said. "Lynne and Petty will not be considered nominees nor will they be considered Grammy recipients, should the song win. Rather, they would be given certificates to honor their participation in the work, just as any other writers of sampled or interpolated work."
Better yet, though, would be for Grammy producer Ken Ehrlich to arrange a mash-up performance of both songs during the ceremony. Petty's fantastic album "Hypnotic Eye" is nominated for best rock album, after all. Why not have fun with the coincidence?
Looking for music tips? Follow Randall Roberts on Twitter @liledit.
Get our L.A. Goes Out newsletter, with the week's best events, to help you explore and experience our city.
You may occasionally receive promotional content from the Los Angeles Times.