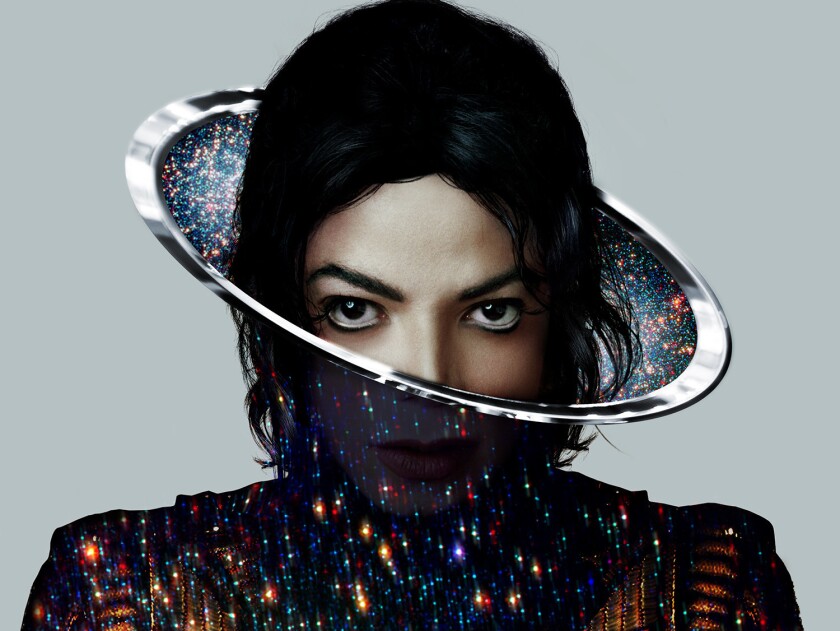 On a recent afternoon in Hollywood, Michael Jackson's voice could be heard throughout Marvin's Room, the famed studio founded by Marvin Gaye that hosted the recording of many indelible hits.
As the song played on and Jackson's signature falsetto -- with its syncopated hiccups, stutters and fiery growls -- grew louder, a chill fell over the room, aided in part by the presence of Jackson's face, courtesy of a detailed mural that stretched across a nearby wall.
The song, a smoky, brass-heavy banger called "Blue Gangsta," doesn't sound like what he recorded here 15 years ago as part of the sessions for 2001's "Invincible." A sequel of sorts to Jackson's hit "Smooth Criminal," the song was among a number of tracks that didn't make the album.
Now, "Blue Gangsta" is complete, with the help of platinum hitmaker Timbaland as one of eight songs on the new posthumous release "Xscape," which is set for release May 13.
The album isn't simply a collection of studio leftovers from a dusty archive. Instead, Epic Records' chairman and chief executive, L.A. Reid, had a different vision: new tracks built around decades-old, unreleased Jackson vocals.
"My guideline was Michael. It was a self-imposed rule that if Michael sang the song from beginning to end, many times, it was my indication that he loved the record," Reid said. "There was no electronically or digitally recreating the magic. There was none of that."
Jackson's estate began combing through the late singer's archives of unreleased material in 2012. The singer's penchant for recording and revisiting tracks proved beneficial, as he left a robust collection of music behind when he died in 2009.
After being presented with more than 20 tracks, Reid zeroed in on a few standouts. Material was pulled from sometimes decades-old sessions for Jackson's "Dangerous," "Bad" and "Invincible," the last album he released. But "Xscape" sounds entirely current.
"Michael knew how to make records like nobody's business," said Jon Nettlesbey, a composer-producer-engineer who frequently worked with Jackson.
"Today we have a lot of toys that can fix things. [Michael] didn't like to leave anything to chance. If something needed to be in tune, he would just sing it again. If he wanted a certain sound, he made sure it was in the DNA of the track. He made it foolproof."
Timbaland was Reid's first call -- "He's my favorite producer alive," Reid says -- and he worked on the bulk of the project with his longtime collaborator J-Roc. Rodney Jerkins, Stargate and John McClain (the former record executive who purchased and restored Marvin's Room in the '90s and is co-executive of the Jackson estate) were also tapped to "contemporize" the hand-picked tracks.
Jerkins was originally commissioned by Jackson for "Invincible" in 1999 (they recorded together for three years), and he's the sole producer to work with Jackson on both the source track and the new version. Jackson also was said to have had a strong desire to work with Norwegian hitmakers Stargate after hearing their work with Ne-Yo.
"Xscape" hopes to achieve what posthumous albums never can -- bring an artist back to life without tarnishing a legacy. "It was very tricky. I didn't know how hard it would be," Timbaland admitted.
"Love Never Felt So Good," one of the album's standouts, proves Jackson's timelessness with the shimmering, disco-soul flourishes from "Off the Wall" that Pharrell and Justin Timberlake are currently harnessing (Timberlake also appears on the remix).
In Timbaland's hands, "Loving You," which Jackson originally produced, revisits the singer's glorious Motown days. Stargate meshed their Europop textures with the New Jack Swing sound Jackson was exploring in the '90s on "A Place With No Name."
Timbaland also keeps Jackson on the dance floor with tracks such as "Chicago" and "Slave to the Rhythm," which was originally produced by Reid and partner Kenneth "Babyface" Edmunds in 1989. Reid recalls feeling "insecure" about the original track.
"It was a tough project. At that time, Michael was on fire. Babyface and I were having an amazing run. For some reason when we went into the studio to write ... we struggled. We kept overshooting it," Reid admitted. "We were so intimidated by it all. As a result, we weren't that happy with what we came up with."
"When you look up to somebody like Michael and he's gone, it brings back all the feelings," Timbaland added. "It was hard hearing the tracks and him not being there.
"I couldn't do it right away. I had to walk away. It's why I'll probably never work on Aaliyah, because it's too many memories. It's too much."
Since Jackson's death in 2009, the King of Pop has been in demand.
"This Is It," the concert film that documented the rehearsals of a planned farewell tour, broke box-office records when it was released months after Jackson's death. A Cirque du Soleil production, "The Immortal World Tour," became one of the top grossing tours of all time (the latest North American run launched in February).
Cirque revisited Jackson's discography for a second show, "One," which set up a permanent residency at Mandalay Bay in Las Vegas last year. The pop star even anchored a sleek video game in 2010 with "Michael Jackson: The Experience."
Selling his music, however, has proved to be a more complicated task.
In 2010, the Michael Jackson estate and Sony Music struck a deal reportedly worth $250 million to issue 10 projects of original and reissue collections over seven years. While Jackson's iconic catalog has sold 12.8 million albums since his death, according to Nielsen SoundScan, posthumous releases have yet to capture audiences.
"Michael," a collection of unreleased material cobbled from tracks the singer was crafting in his final years, was released in late 2010, but the album was marred by controversy as critics, fans and even family members questioned the project.
Critics were also unkind to the remix album for "Immortal" and the dance remixes packaged with the anniversary box set of "Bad 25," which was released in 2012. Reid and the Jackson estate hope the new album can remedy those past missteps.
"I honestly felt that while there were many records released and many projects attempted, they lacked taste," he said. "[This album] was all driven from the music. It wasn't a project designed to make money, or get attention."
So far, the response has been positive. During the recent iHeart Radio Music Awards, Reid introduced a flashy "performance" of "Love Never Felt So Good" that saw Usher and a crew of dancers perform to the song. It earned a standing ovation, and the song was streamed on YouTube more than 5.2 million times in its first week.
Timbaland believes the record will provide "closure" to fans ("We didn't get that tour, so I think this could show what he would have done," he says), and like Reid has no intention of spearheading a follow-up.
"Epic Records [is] the house that 'Thriller' built, so I have a responsibility to Michael and his legacy. That's what this project was," Timbaland said. "What I hope for in doing this project is that we defended his honor and remade the point that he was a great artist."
Back at Marvin's Room, Jackson is singing about the pressures of fame -- a topic he often visited -- on the powerful title track. It's the album at its darkest and most prophetic. "When I go, this world won't bother me no more," he sings.
"Wait until the world hears 'Xscape,' " Jackson told Jerkins as they worked on the track, a moment referenced in the record's liner notes.
Soon, the world will finally get a chance.
---