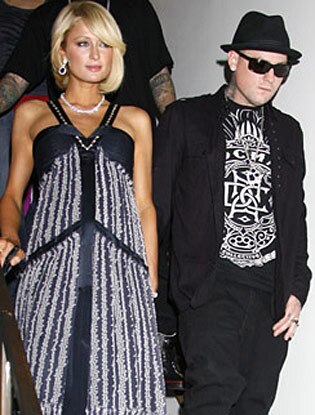 15 Images
Hollywood's hottest coordinating couples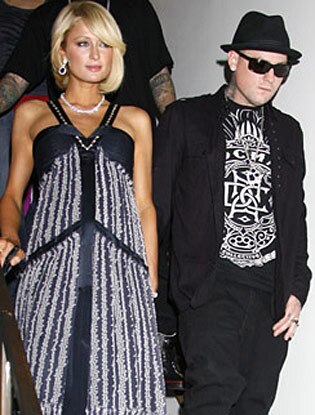 By Elizabeth Snead, Special to the Times
In the blazing klieg lights of
Hollywood
's red carpets, appearances count. Big time. Which is probably why so many celebrity couples try to match when they appear in public together. God forbid they might clash.
Paris Hilton
and Benji Madden began their carpet coordination early on in their relationship. Like so many celebrity pairs, Paris and Benji, who both just happen to have clothing lines, know that the true test of a successful relationship is not how long you last. It's how you look while you're together.
But coordination can be tricky. There are subtle secrets that work, like matching a "his" tie with a "her" gown, a la
Will Smith
and
Jada Pinkett
.
Here are some dual dressing examples -- good and bad -- of hot couples.
FYI: Brad Pitt is, hands down, the master of coordinating with his lady loves. Check out the Red Carpet Rewind Gallery to see his chameleon-like transformation with past loves
Gwyneth Paltrow
and
Jennifer Aniston
.
(WireImage.com)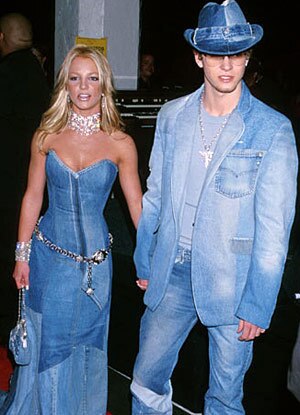 Rhinestone cowboys
Just call this the most embarrassing fashion moment of Justin Timberlake's life. Whose idea was his and Britney's matching denim duds and dueling bling at the 2001 American Music Awards?
Ironically, today Justin is partners in a cool denim line. And Britney, well, she's not coordinating with anyone right now. Thank god.
(WireImage.com)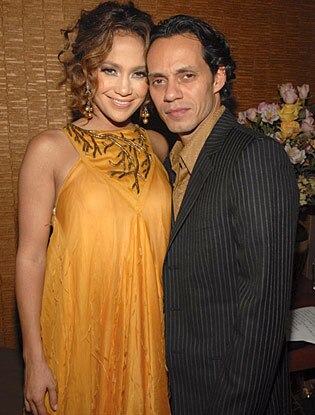 Hold the mustard
"Pardon me, but do you have any Grey Poupon?" I bet Jennifer Lopez had to cajole Marc Anthony into wearing this incredibly unflattering mustard-hued shirt so that he'd blend with her saffron-colored halter sack. Yellow is so not your color. It makes you look nauseated.
(WireImage.com)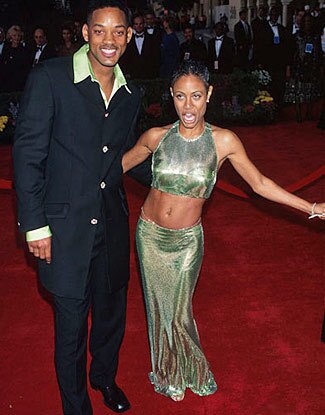 Send in the clowns
At the Oscars in 1997, Will Smith coordinates his colors -- if not his moves -- with wife Jada Pinkett-Smith's belly-baring circus acrobat outfit. Obviously, Jada worked out to prepare to show some stomach in this outfit. But you gotta wonder what an exercise it was to find Will's pistachio-ice-cream-colored shirt!
(WireImage.com)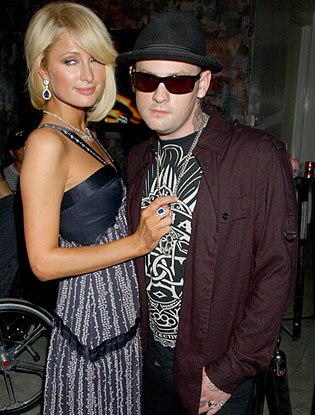 Getting graphic
Paris to Benji: "I know, I'll wear something black and white and then you can wear something black and white. We'll look so hot.'" But the big question is when Paris will notice that their skin doesn't match and shove Benji into a tanning booth. Soon, we hope. Bro' needs some color. He's starting to look like he sleeps in earth from his homeland.
(WireImage.com)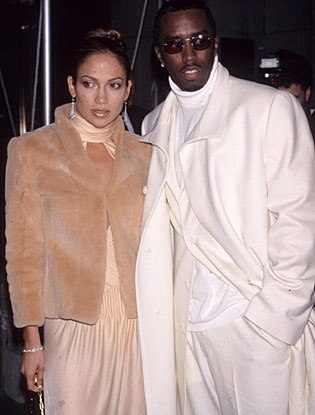 Soft spot
Jennifer Lopez can get her men to wear just about anything. But I bet it wasn't too difficult to persuade P. Diddy (aka Sean Combs, Puffy, whatever) to wear white cashmere that complimented her beige jersey gown and furry jacket at the1999 Costume Institute's N.Y. bash. No longer a couple, they'll always have this well-coordinated night to remember.
(WireImage.com)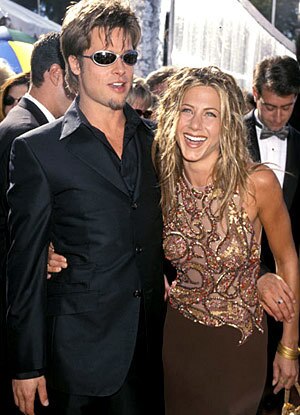 Dread again
When Brad Pitt accompanied Jennifer Aniston to the 1999 Emmys, his squiggly waxed bangs looked suspiciously similar to her twisted faux dreads. Could have been worse. He could have copied her flippy "Rachel 'do."
(WireImage.com)
To dye for
Is it just me, or does it look like Brad Pitt actually dyed his hair to match Angelina Jolie's auburn brown locks? OK, this is getting kinda creepy. And he really should have mixed up a double batch and gotten a 'stache to match.
(WireImage.com)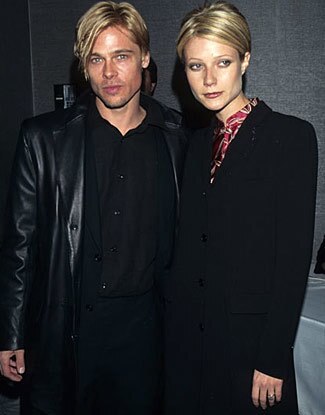 Blond like me
And now for the piece de resistance! Brad Pitt and then-steady Gwyneth Paltrow actually got their hair cut and colored to match. On purpose. Seriously. I would not kid about this. Then they both wore black and practiced twin zombie stares for "The Devil's Own" premiere in 1997. I shudder to think of the magenta mohawk Brad would have gotten if he'd ever dated the rock singer, Pink.
(WireImage.com)
Dressed to thrill
"You wear a white tux, Dahling. Then you'll match my white corset gown and we'll look majuh!" Of course, the white suit also matches the cast on his hand. But Victoria Beckham loves to dress her Ken doll, David Beckham, in matching threads. And the worst part? She also gets to undress him.
(WireImage.com)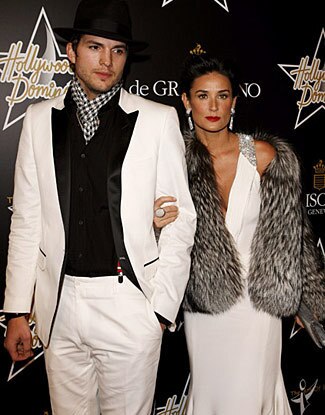 Age before beauty
Whether in coordinated colors or matching designers, Demi Moore and Ashton Kutcher always look very much in fashion. Ashton doesn't even seem to mind that she made him wear an ascot. That's love. But let's see how this matched set stands the test of time. Will they eventually resemble William Holden and Gloria Swanson in "Sunset Boulevard"? Only time will tell.
(WireImage.com)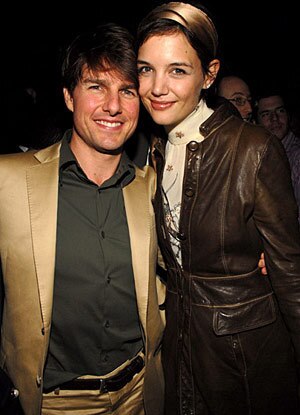 The match game
Tom Cruise and Katie Holmes have their fashion act together. Tom usually coordinates with Katie's chosen color palette. At a Super Bowl bash in 2007, his gold jacket and green shirt totally go with Katie's autumnal brown leather jacket, beige top and gold scarf. You gotta give the girl credit. It's hard enough to get yourself dressed without having to worry about making your man match. And then there's Suri's outfits. How does she do it all?
(WireImage.com)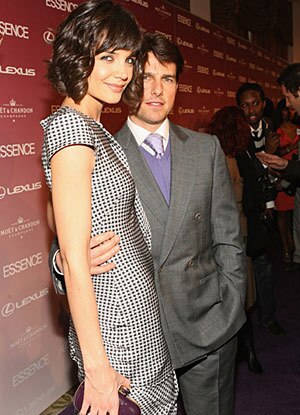 Color-coded
Once again, Katie Holmes demonstrates subtle, almost imperceptible couple coordination. At first glance, you may not see her discreet purple clutch purse. But when you finally do, you notice it's in the same color family as Tom's violet sweater and tie. Incredible, isn't it? This girl is good!
(WireImage.com)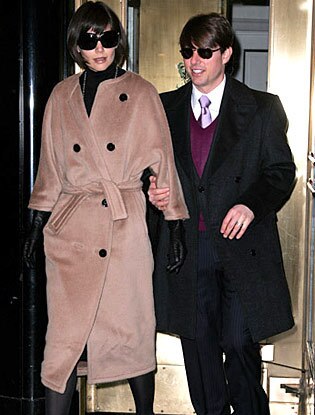 Deep purple
Katie Holmes is a mistress of matchmaking. Leaving a hotel in New York, Tom Cruise's plum sweater and purple tie coordinates with… Can't guess? Are you ready? Katie's magenta lipstick! Isn't it genius!
(WireImage.com)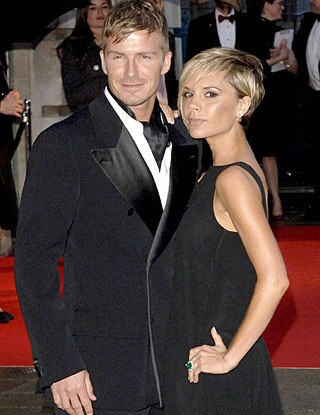 Twin bill
David and Victoria Beckham are both wearing black, their HOC (hue of choice). But notice that just like Brad and Gwyneth once did, the Beckhams have matching blond crops -- short on the sides, long-fringed bangs. Matching clothing is one thing. But matching hair?
That's just not normal.
(WireImage.com)