TV This Week, Jan. 14-20: 'Cocaine Godmother,' 'I Am Not Your Negro' and more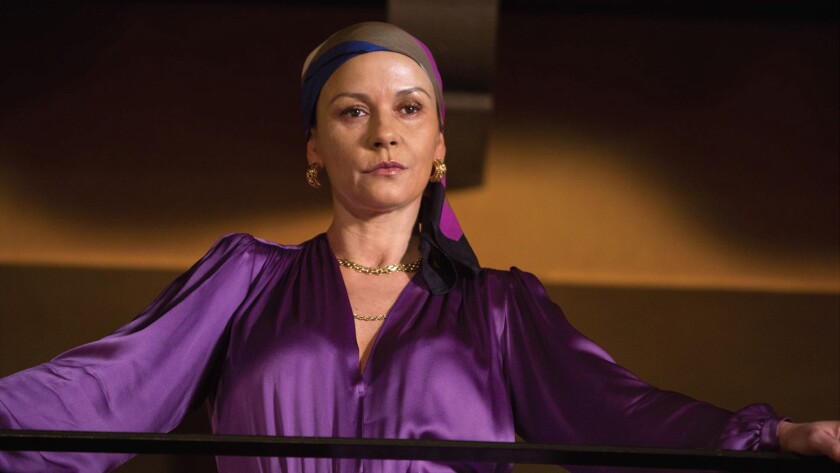 SUNDAY
The new documentary "Trophy" details a new twist in wildlife conservation: Big-game hunting. 6 and 9 p.m. CNN
No whammy! The new special "Cover Story: Press Your Luck Scandal" tells the tale of the contestant who won big bucks by gaming the hit game show in the 1980s. 7 and 10 p.m. GSN
Jenna Coleman rules Britannia and Tom Hughes is Prince Albert, not in a can, on the return of the historical drama "Victoria" on "Masterpiece." 9 p.m. KOCE
The irreverent animated sitcom "Family Guy" hits the 300-episode mark. Really? Only 300? It feels like more. 9 p.m. Fox
The new special "Air Force One: America's Flagship" checks out the super-custom aircraft that transports the POTUS. 9 p.m. National Geographic Channel
The comedies "Divorce" and "Crashing" are back with new episodes. Sarah Jessica Parker stars in the former, comic Pete Holmes in the latter. 10 and 10:30 p.m. HBO
They're looking for a little more spousal support in the new polygamy-themed unscripted series "Seeking Sister Wife." 10:08 p.m. TLC
MONDAY
A long-lost Rembrandt? A painting by the 17th-century Dutch master is the item in question on the Season Four premiere of "Strange Inheritance." 6 p.m. Fox Business Network; also Tue.
The successive dictatorships of Kims Il-sung, Jong-il and Jong-un are surveyed in the new special "Inside North Korea: The Kim Dynasty." 8 p.m. National Geographic Channel
The fearless words of the late activist-author James Baldwin ring out in filmmaker Raoul Peck's 2016 documentary "I Am Not Your Negro" airing on a new "Independent Lens." 9 p.m. KOCE
The eight-part docu-series "Chain of Command" looks at the U.S. military's never-ending war on terrorism. "Captain America's" Chris Evans narrates. 9 and 10 p.m. National Geographic Channel
Tom Green is your guide to oversized roadside attractions and the like in the new unscripted series "Giant America." 9:30 p.m. Travel Channel
Congressman and civil-rights icon John Lewis of Georgia discusses his life and career on a new edition of "Oprah's Master Class." 10 p.m. OWN
TUESDAY
Evildoers, beware! The masked vigilante "Black Lightning" is on the scene in this new superhero drama. Cress Williams stars. 9 p.m. KTLA
A moonlighting millionaire and his secret WWII-era R&D lab? "The Secret of Tuxedo Park" is revealed on this episode of "American Experience." 9 p.m. KOCE
Everyday folks look to make extraordinary changes in their lives by "This Time Next Year" in this new reality series. Cat Deeley ("So You Think You Can Dance") is the host. 10 p.m. Lifetime
The Tyler Perry sitcom "House of Payne" begets a spinoff, "The Paynes." 10 and 10:30 p.m. OWN
Veteran prosecutor Anna-Sigga Nicolazzi opens up her case files for the new true-crime series "True Conviction." 11 p.m. Investigation Discovery
WEDNESDAY
"The Path" is clear — or is it? — on the return of this drama about a mysterious spiritual movement. With Aaron Paul and Michelle Monaghan. Any time, Hulu
Howl! "Nature" tracks an "Arctic Wolf Pack" in the Canadian wilderness in this new episode. 8 p.m. KOCE
The new special "Understanding the Opioid Epidemic" looks at the scourge of painkiller addiction all across America. 10 p.m. KOCE
Tabatha Coffey ("Tabatha Takes Over") comes to the aid of struggling family-owned businesses in the new reality series "Relative Success With Tabatha." 10 p.m. Bravo
Didn't you get memo? The cutthroat "Corporate" world gets spoofed in this new dark comedy. With Fred Willard and Lance Reddick. 10 and 10:30 p.m. Comedy Central
Ryan Murphy's new fact-based drama "American Crime Story: The Assassination of Gianni Versace" stars Edgar Ramirez ("Carlos") as the ill-fated fashion-industry mogul. With Ricky Martin, Penélope Cruz and "Glee's" Darren Criss. 10 p.m. FX
THURSDAY
The "Shonda block" is back with the midseason premieres of the dramas "Grey's Anatomy," "Scandal" and "How to Get Away With Murder." 8, 9 and 10 p.m. ABC
The drama "Supernatural" is back with new episodes. Jared Padalecki and Jensen Ackles star. 8 p.m. KTLA
The supernatural drama "Beyond" returns for a new season with two new episodes. With Burkely Duffield and Dilan Gwyn. 8 and 9 p.m. Freeform
The home-makeover series "Flip or Flop" begets yet another spinoff, "Flip or Flop Nashville." 9 p.m. HGTV
Shamone! Hee hee! The new special "Lip Sync Battle Live: A Michael Jackson Celebration" is a star-studded salute to the King of Pop. With Neil Patrick Harris, Taraji P. Henson and Hailee Steinfeld. 9 p.m. Spike
African American culture is celebrated in the new quiz show "Black Card Revoked" and the new chat show "Mancave." 10 p.m. BET
Haven't they suffered enough? Portland, Ore., gets slapped around some more on another season of "Portlandia." With Fred Armisen and Carrie Brownstein. 10 p.m. IFC
FRIDAY
Gal pals: Jane Fonda and Lily Tomlin are back as "Grace and Frankie" in a fourth season of this comedy. Any time, Netflix
"A Raisin in the Sun" playwright and civil-rights activist Lorraine Hansberry is remembered on the season premiere of "American Masters." 9 p.m. KOCE
Got pot? Your friendly neighborhood weed guy (Ben Sinclair) is back in new episodes of the comedy "High Maintenance." 11 p.m. HBO
SATURDAY
Amy Schumer and Goldie Hawn play a mother-daughter duo who get abducted while on vacay in Ecuador in the 2017 comedy "Snatched." Wanda Sykes and Christopher Meloni also star. 8 and 11:05 p.m. HBO
Oscar winner Catherine Zeta-Jones ("Chicago") murders her way to top of the Miami drug trade in the fact-based TV movie "Cocaine Godmother: The Griselda Blanco Story." 8 p.m. Lifetime
The new nature series "Planet Earth: Blue Planet II" takes a deep dive into the world's oceans. 9 p.m. BBC America; also AMC, IFC, SundanceTV and WE
Bundle up! "My Summer Prince" costars Taylor Cole and Jack Taylor reunite "One Winter Weekend" in this made-for-cable romantic fable. 9 p.m. Hallmark Channel
Customized TV Listings are available here: www.latimes.com/tvtimes
Click here to download: TV listings for the week of Jan. 14 - 20, 2018, in PDF format
---
From the Emmys to the Oscars.
Get our revamped Envelope newsletter, sent twice a week, for exclusive awards season coverage, behind-the-scenes insights and columnist Glenn Whipp's commentary.
You may occasionally receive promotional content from the Los Angeles Times.