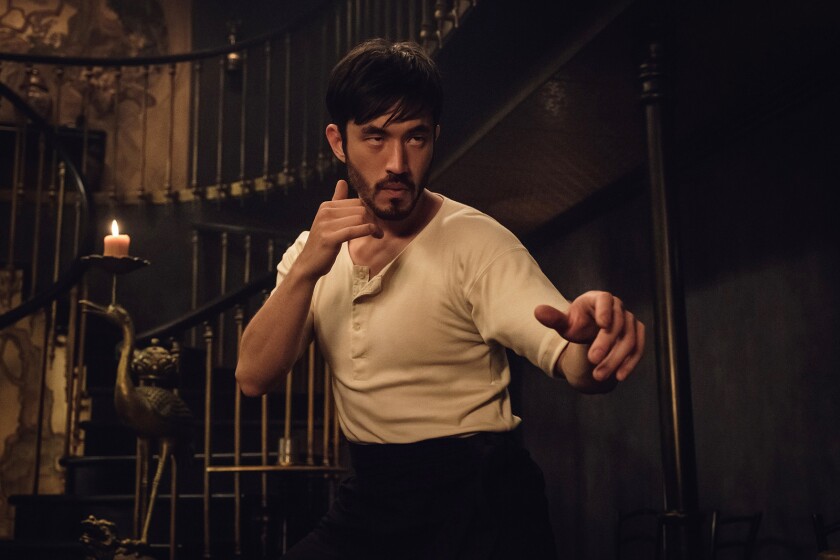 SUNDAY
Mission accomplished? The docu-series "The Bush Years: Family, Duty, Power" concludes with a look at the impact of the Iraq War on the legacy of President George W. Bush. 7 and 10 p.m. CNN
Two new nuns walk into Nonnatus House on the season premiere of the imported drama "Call the Midwife." 8 p.m. KOCE
"The Affair's" Ruth Wilson portrays her own grandmother, a British woman who uncovers shocking secrets about her late spy-novelist husband ("Downton Abbey's" Iain Glen), in the two-part drama "Mrs. Wilson" airing on "Masterpiece." 9 p.m. KOCE
There's a blizzard a-brewin' on the season finale of the horror drama "The Walking Dead." 9 p.m. AMC
Kim and kompany return in new episodes of their reality series "Keeping Up With the Kardashians." 9 p.m. E!
Bill Hader's "Barry" is a hit, man. The former "SNL" star is back for a second season of this dark comedy about an assassin gone Hollywood. 10 p.m. HBO
Hail to the "Veep." Julia Louis-Dreyfus returns for a seven-episode seventh and final season of this satirical series. 10:30 p.m. HBO
"SMILF," we hardly knew ye. This now-canceled comedy starring Frankie Shaw and Rosie O'Donnell ends its run after two seasons. 10:30 p.m. Showtime
MONDAY
Submitted for your approval: "Get Out" and "Us" director Jordan Peele takes over the Rod Serling role as host of a reboot of Serling's classic sci-fi anthology "The Twilight Zone." CBS All Access
Fool them once… Celebrities go undercover as substitute teachers to prank unsuspecting students in the new hidden-camera show "The Substitute." 2 p.m. Nickelodeon
Jordana Brewster reprises her role as Magnum's (Jay Hernandez) ex on the freshman-season finale of the "Magnum P.I." reboot. "90210's" Brian Austin Green also guest stars. 9 p.m. CBS
Fool them twice… Your favorite magic-and-comedy duo is back in a special April Fool's Day episode of "Penn & Teller: Fool Us." 9 p.m. KTLA
Bear Grylls is your guide to inhospitable environments where only the strongest animals survive in the new six-part nature series "Hostile Planet." 9 p.m. National Geographic Channel
Three young boys who each have a parent doing time in the prison system share their stories in the poignant documentary "Tre Maison Dasan" airing on a new "Independent Lens." 10 p.m. KOCE
It smells like Nirvana, and Bad Religion, Green Day and L7, etc., on the conclusion of the four-part docu-series "Punk." 10 p.m. Epix
TUESDAY
The new standup special "Kevin Hart: Irresponsible" finds the comic and nonhost of the Oscars taking his act across the Pond for a show at London's O2 Arena. Any time, Netflix
Performance artist Marina Abramović, painter Kehinde Wiley and Oscar-winning filmmaker Alejandro G. Iñárritu ("Birdman") learn about the respective family histories on a new "Finding Your Roots With Henry Louis Gates, Jr." 8 p.m. KOCE
The decades-spanning family drama "This Is Us" end its third season. With Milo Ventimiglia and Mandy Moore. 9 p.m. NBC
Should they stay or should they go? That is the question on the season finale of the reality series "Married at First Sight." 9 p.m. Lifetime
Tracy Morgan is still "The Last O.G." as this fish-out-of-prison sitcom returns for Season 2. Tiffany Haddish also stars. 10:30 p.m. TBS
The reality series "Chrisley Knows Best" spawns a spinoff, "Growing Up Chrisley." 10:30 p.m. USA
WEDNESDAY
The ever-elusive Sasquatch, a.k.a. Bigfoot, is sought in the series premiere of "In Search of Monsters." 9 p.m. Travel Channel
Remains to be seen: Archaeologists uncover a mass grave dating back to "Egypt's Darkest Hour" in this new installment of "Secrets of the Dead." 10 p.m. KOCE
Jimmy and Gretchen (Chris Geere, Aya Cash) are fixin' to get hitched on the series finale of the anti-romantic comedy "You're the Worst." Desmin Borges and Kether Donohue also star. 10 p.m. FXX
Hank Azaria is back in the booth for a new season of the baseball-themed comedy "Brockmire." Amanda Peet also stars. 10 p.m. IFC
THURSDAY
Cameo alert! Nobel laureates Kip Thorne, George Smoot and Frances Arnold play themselves on on a new episode of "The Big Bang Theory." Sean Astin and Kal Penn reprise their guest roles. 8 p.m. CBS
Super-powered teens Tandy and Tyrone (Olivia Holt, Aubrey Joseph) are back in action in a second season of "Marvel's Cloak & Dagger." 8 and 9 p.m. Freeform
Jack and Estefan (Sean Hayes, Brian Jordan Alvarez) are fixin' to get hitched on the season finale of the rebooted "Will & Grace." 9 p.m. NBC
A blind, cynical 20-something (Perry Mattfeld, "Shameless") sets out to solve the murder of a close friend in the comedic mystery drama "In the Dark." 9 p.m. The CW
They're trading spouses once again in a reboot of the reality series/social experiment "Wife Swap." 9 p.m. Paramount Network
The imported drama "Unspeakable" recalls a scandal surrounding blood supplies tainted with HIV and Hepatitis C in Canada in the early 1980s. "The Walking Dead's" Sarah Wayne Callies stars. Midnight SundanceTV; also Fri.
FRIDAY
Your favorite teenage witch (Kiernan Shipka) is back in new episodes of the supernatural drama "Chilling Adventures of Sabrina." Any time, Netflix
Motel guests are subjected to an escalating series of pranks and practical jokes in an April Fool's Day-themed episode of the horror anthology "Into the Dark." Any time, Hulu
Nature boy: The estimable Sir David Attenborough is your guide to all the natural wonders "Our Planet" has to offer in this new eight-part series. Any time, Netflix
"The Tick" returns in new episodes of this comedic superhero series. Peter Serafinowicz stars. Any time, Amazon Prime
"Captain Marvel's" Brie Larson directs and stars as an art-school reject who gets the chance to fulfill a wish from childhood in the whimsical 2017 comedy "Unicorn Store." With Samuel L. Jackson, Bradley Whitford, Hamish Linklater and Joan Cusack. Any time, Netflix
Becca, we hardly knew ye: After four seasons, Rachel Bloom's kooky musical comedy "Crazy Ex-Girlfriend" airs its series finale. Followed by "Yes, It's Really Us Singing: The Crazy Ex-Girlfriend Concert Special!" 8 and 9 p.m. The CW
The sitcom "Fresh Off the Boat" hits the 100-episode mark. With Randall Park, Constance Wu and Hudson Yang. 8 p.m. ABC
Conspicuous consumption: Soprano Diana Damrau sings the role of the ill-fated courtesan Violetta in Verdi's tragic opera "La Traviata" on the Season 13 premiere of "Great Performances at the Met." 9 p.m. KOCE
Everybody is kung-fu fighting in Chinatown in 1870s San Francisco in the new Bruce Lee-inspired martial-arts drama "Warrior." With Andrew Koji. 10 p.m. Cinemax
The current-events-and-comedy "Wyatt Cenac's Problem Areas" returns for a new season centered on education in America. 11 p.m. HBO
SATURDAY
The Final Four face off at the "2019 NCAA Basketball Tournament," with the winners of each matchup set to meet in the championship game on April 8. 3 and 5:30 p.m. CBS
"True Love Blooms" between a spunky community activist and a hunky real-estate developer in this new TV movie. With Sara Rue and Jordan Bridges. 8 p.m. Hallmark Channel
An aspiring stylist is beginning to wish she'd chosen a different career path in the new thriller "My Killer Client." With Tammin Sursok and Allison Paige. 8 p.m. Lifetime
A priest and a novitiate walk into a creepy convent in Romania in "The Nun," a 2018 spin-off of the 2016 terror tale "The Conjuring 2." With Demián Bichir and Taissa Farmiga. 8:15 p.m. HBO
He knows nothing: "Game of Thrones' " Kit Harington hosts an all-new "Saturday Night Live." With musical guest Sara Bareilles. 8:29 and 11:29 p.m. NBC
A young African American man in present-day Chicago see his fortunes rise and fall in an update of Richard Wright's classic novel "Native Son." With Ashton Sanders, KiKi Layne, David Alan Grier, Sanaa Lathan and "The Leftovers' " Margaret Qualley. 10 p.m. HBO
Customized TV listings are available here: www.latimes.com/tvtimes
Click here to download TV listings for the week of March 31 - April 6, 2019, in PDF format
---