What's on TV, April 28-May 4: 'Deep State,' 'Suspiria' and more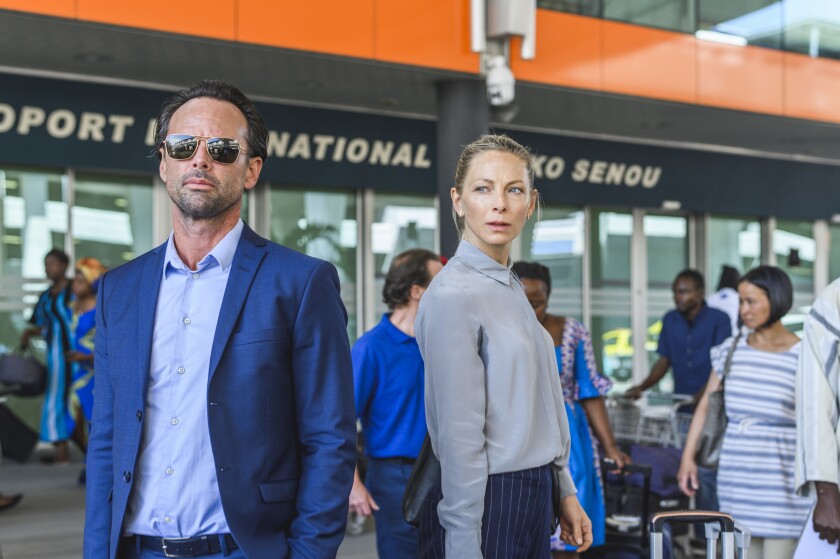 SUNDAY
Criminals, victims and/or victims' loved ones come together in the process known as restorative justice in the new docu-series "The Redemption Project with Van Jones." 6 and 9 p.m. CNN
"United Shades of America with W. Kamau Bell" returns with an in-depth look at the megachurch phenomenon. 7 and 10 p.m. CNN
A police shooting affects three different Chicago families in profound ways in the new drama series "The Red Line." With Aliyah Royale and "ER's" Noah Wyle. 8 p.m. CBS
A grieving mother forms an ill-advised bond with a new tenant in the new thriller "The Twisted Son." With Andrea Roth and Tygh Runyan. 8 p.m. Lifetime
The fantasy-drama "American Gods," based on the Neil Gaiman novel, concludes its second season. Ian McShane stars. 8 p.m. Starz
Heavy hitter: Walton Goggins ("The Shield," "Justified") joins the cast of "Deep State" in the espionage drama's Season 2 premiere. 9 p.m. Epix
MONDAY
It's murder most groovy in the 1960s-set spin-off series "Ms. Fisher's Modern Murder Mysteries." Geraldine Hakewill stars. Anytime, Acorn TV
See how a veteran British rock band came to join forces with an "American Idol" runner-up in the new special "The Show Must Go On: The Queen & Adam Lambert Story." 8 p.m. ABC
"Nature" celebrates the season with the new three-night special "American Spring Live." 8 p.m. KOCE; also Tue.-Wed.
The as-yet unresolved conflict between North and South Korea is surveyed in the new docu-special "Korea: The Never-Ending War." John Cho narrates. 9 p.m. KOCE
TUESDAY
The new standup special "Anthony Jeselnik: Fire in the Maternity Ward" finds the Comedy Central regular delivering his darkly comic quips before an audience in NYC. Anytime, Netflix
Felipe Lopez, the former pro basketball player once hyped as a "Spanish Michael Jordan," is profiled in the sports doc "The Dominican Dream" on a new "30 for 30." 6 p.m. ESPN; also Wed., 5:30 p.m. ESPN2
The six-part documentary series "On Tour With Asperger's Are Us" follows the comedy troupe comprising four friends on the autism spectrum. 8 and 8:30 p.m. HBO; also Wed.-Thu.
A whole new world awaits as the post-apocalyptic sci-fi drama "The 100" returns for its sixth season. With Eliza Taylor, Paige Turco and Bob Morley. 9 p.m. The CW
Some of "The Last Survivors" of the Holocaust shares their stories of tragedy and triumph, sorrow and survival in this new episode of "Frontline." 10 p.m. KOCE
The new docu-series "Kids Behind Bars: Life or Parole" offers case studies of children imprisoned for serious crimes who are now seeking to have their sentences reduced. 10 p.m. A&E
It's like the 1990s all over again as rap legends Salt-N-Pepa and vocal trio SWV hit the road together for a national tour in the new reality series "Ladies Night." 10 p.m. BET
WEDNESDAY
Rep. Alexandria Ocasio-Cortez, a.k.a. "AOC," is among the 2018 congressional candidates profiled in the new documentary "Knock Down the House." Anytime, Netflix
WWII veterans recount the horrors they saw while liberating concentration camps in Europe in the new docu-special "Liberation Heroes: The Last Eyewitnesses." 7 p.m. Discovery Channel
South Korean boy band BTS — pause for screaming — joins Madonna, Mariah Carey and the Jonas Brothers on the roster of performers slated for the "Billboard Music Awards." Kelly Clarkson hosts the festivities in Las Vegas. 8 p.m. NBC
Wither the Wendigo? The mysterious creature from Native American folklore is sought on a new episode of "In Search of Monsters." 9 p.m. Travel Channel
Ay, robots! A new installment of "Breakthrough: The Ideas That Changed the World" looks at the origins of the machines that will someday take our jobs before eventually enslaving all humanity. 10 p.m. KOCE
Two interior designers enter, one interior designer leaves victorious in the new home-makeover series "Best Room Wins." 10 p.m. Bravo
THURSDAY
"Rudy's" Sean Astin reprises his recurring role as Dr. Pemberton on a new episode of "The Big Bang Theory." 8 p.m. CBS
Your favorite undead detective (Rose McIver) is back in action as the supernatural mystery-drama "iZombie" kicks off its fifth and final season. 8 p.m. The CW
Crossover alert! A new episode of the Seattle-set hospital drama "Grey's Anatomy" launches a storyline that concludes on a new "Station 19." 8 and 9 p.m. ABC
What happens in Reno stays in Reno at the "2019 Miss USA" competition. Nick and Vanessa Lachey return as cohosts. 8 p.m. Fox
Rapper Snoop Dogg guest stars on a new episode of the procedural drama "Law & Order: Special Victims Unit." 10 p.m. NBC
Host Elizabeth Vargas details the hidden dangers of online hookups in "Dating App Horrors" on a new "The Untold Story." 10 p.m. A&E
"Weird Al" Yankovic and crime novelist Patricia Cornwell chat with host Neil deGrasse Tyson on back-to-back new episodes of "StarTalk." 11 p.m. and midnight National Geographic Channel
FRIDAY
Christina Applegate and "ER's" Linda Cardellini play two grieving women who meet in a support group in the darkly comic new series "Dead to Me." Anytime, Netflix
This charming man: Zac Efron portrays notorious serial killer Ted Bundy in the new bio-drama "Extremely Wicked, Shockingly Evil, and Vile." With Lily Collins and John Malkovich. Anytime, Netflix
Mum's the word in the new Mother's Day-themed episode "All that We Destroy" on the horror anthology "Into the Dark." With Samantha Mathis and Frank Whaley. Anytime, Hulu
It's time to hook up or shut up for four college-bound Chicago teens in the new romantic comedy "The Last Summer." With Jacob Latimore, Maia Mitchell, Halston Sage and "Riverdale's" KJ Apa. Anytime, Netflix
Which witch is witch? Find out in filmmaker Luca Guadagnino's 2018 update of Dario Argento's classic 1977 supernatural thriller "Suspiria." Dakota Johnson and Tilda Swinton star. Anytime, Amazon Prime
The 2019 documentary "At the Heart of Gold: Inside the USA Gymnastics Scandal" retells the shocking tale of the scores of young female athletes sexually abused by the organization's once-trusted team doctor. 8 p.m. HBO
His new bride has had enough cloning around in the 2018 sci-fi thriller "Elizabeth Harvest." With Abbey Lee, Ciarán Hinds, Carla Gugino and Dylan Baker. 8 p.m. Showtime
The dynamic musical duo behind "Conga" and other Latin-flavored pop hits is feted in the new special "Gloria and Emilio Estefan: Library of Congress Gershwin Prize for Popular Song." 9 p.m. KOCE
Craftsmen seek low-tech solutions to potential post-apocalyptic problems in the new unscripted series "Masters of Disaster." 10 p.m. Discovery Channel
SATURDAY
"The Predator" is back, bigger and badder than before, in director Shane Black's so-so 2018 reboot of the sci-fi/action franchise. With Boyd Holbrook, Olivia Munn and Sterling K. Brown. 8:05 p.m. HBO
Former cast member Adam Sandler returns to host — and hopefully, revisit his Opera Man character — on a new "Saturday Night Live." With musical guest Shawn Mendes. 8:29 and 11:29 p.m. NBC
A winemaker from Oregon hooks up with a hunky Frenchman in the new TV movie "A Paris Romance." With Jen Lilley and Dan Jeannotte. 9 p.m. Hallmark Channel
Customized TV listings are available here: www.latimes.com/tvtimes
Click here to download TV listings for the week of April 28 - May 4, 2019, in PDF format
---
The complete guide to home viewing
Get Screen Gab for weekly recommendations, analysis, interviews and irreverent discussion of the TV and streaming movies everyone's talking about.
You may occasionally receive promotional content from the Los Angeles Times.