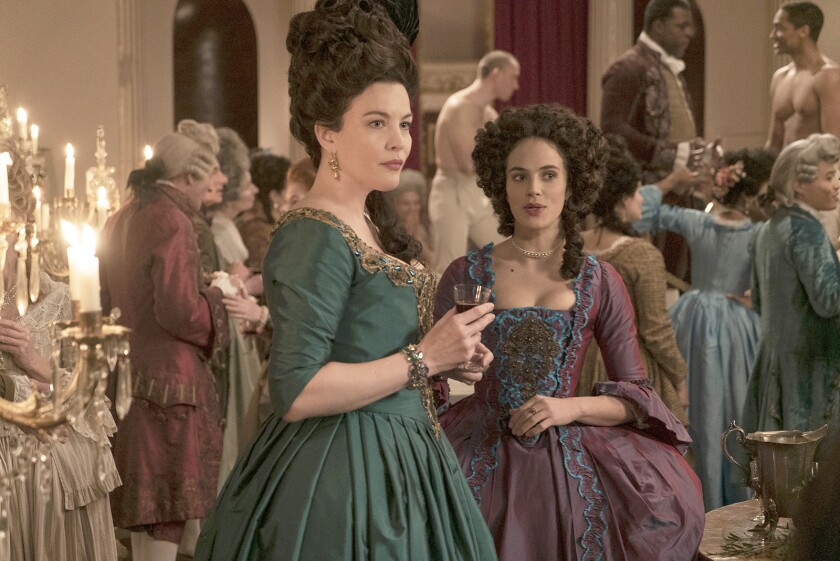 SUNDAY
The U.S. woman's soccer team will face the Netherlands in the final of the "2019 FIFA Women's World Cup." From Lyon, France. 8 a.m. Fox
A pair of modern-day daredevils will follow in the tread prints of legendary motorcycle stuntman Evel Knievel in the new special "Evel Live 2." 5 and 9 p.m. History Channel
Let's all go to "The Movies" with this new docu-series that offers a decade-by-decade survey of the films we know and love. First stop: The 1980s. 6 and 9 p.m. CNN
Feats of strength will be performed in the new series "The Strongest Man in History." 8 p.m. History Channel; also Wed., 10 p.m.
A woman discovers her support group's sinister side in the new thriller "Secrets of the Sisterhood." With Claire Coffee and Lisa Berry. 8 p.m. Lifetime
Shape up! The makeover series "Revenge Body With Khloé Kardashian" returns with new episodes. 9 p.m. E!
The new docu-special "Apollo: Missions to the Moon" marks the 50th anniversary of NASA's 1969 lunar landing. 9 p.m. National Geographic Channel
MONDAY
"American Experience" also recalls NASA's efforts to put a man on the lunar surface in the new three-night special "Chasing the Moon." 9 p.m. KOCE; also Tue.-Wed.
The season premiere of "Fast N' Loud" re-creates the famous chase scene from the 1968 Steve McQueen cop drama "Bullitt." 9 p.m. Discovery Channel
The former star of "Walker, Texas Ranger" reports for duty in the new special "Chuck Norris' Epic Guide to Military Vehicles." 9 p.m. History Channel
Astronaut Neil Armstrong, that first man on the moon, is saluted in the new biographical special "The Armstrong Tapes." 9 p.m. National Geographic Channel
"Scream," the TV series drama inspired by the hit horror-movie franchise, returns for a six-episode third season. 9 and 10 p.m. VH1; also Tue.-Wed.
An automotive enthusiast wonders what became of "The Lost Corvette" in this new special. 10 p.m. History Channel
The new special "Challenger Disaster: The Final Mission" tells of the tragic loss of the NASA space shuttle in January 1986. 10 p.m. National Geographic Channel
TUESDAY
Baseball's best lace up their cleats in Cleveland for the "2019 MLB All-Star Game." 5 p.m. Fox
"The Disappearance" of a 10-year-old boy sets events in motion in this new limited series. With Peter Coyote and "Rectify's" Aden Young. 7 p.m. WGN America
Error 404: The saga of a failed yet still-influential 1990s-era Silicon Valley startup is retold in the new documentary "General Magic." 7:30 p.m. Showtime
Sexy singles schlep on over to "Love Island" for a chance at romance in this new reality competition. Arielle Vandenberg hosts. 8 p.m. CBS; also Wed.-Fri.
The two-night documentary "I Love You, Now Die" reexamines the shocking case of a teen who committed suicide in 2014 after his girlfriend sent him text messages encouraging him to do so. 8 p.m. HBO; also Wed.
The new "Biography" special "Farrah Fawcett Forever" remembers the "Charlie's Angels" actress whose bestselling poster adorned the walls of many a teenage boy's bedroom in the 1970s. 9 p.m. A&E
The jokes are on them: Aspiring comics "Bring the Funny" in this new competition series. Jeff Foxworthy, Chrissy Teigen and "SNL's" Kenan Thompson are the judges and Amanda Seales hosts. 10 p.m. NBC
Would-be hip-hop and R&B stars vie to become "The Next Big Thing" in this new competition series. 10 p.m. BET
WEDNESDAY
"Sister, Sister's" Tia Mowry relocates her brood to small-town Georgia in the new sitcom "Family Reunion." With Loretta Devine. Anytime, Netflix
'ello, guv'nor! "Harlots" are back in business in a third season of this period drama set in 18th-century London. With Samantha Morton, Lesley Manville, Liv Tyler and "Downton Abbey's" Jessica Brown-Findlay. Anytime, Hulu
Athletes outstanding in their respective fields are honored at "The 2019 ESPYS." "30 Rock's" Tracy Morgan hosts the festivities in Los Angeles. 8 p.m. ABC
"Nova" explores what it would take to go "Back to the Moon" and perhaps stay a bit longer than we did last time in this new episode. 8 p.m. KOCE
The star of "Knight Rider" suits up for the special "Battle of the 80s Supercars with David Hasselhoff." 8 p.m. History Channel
Crack is still wack as "Snowfall," the crime drama set in South L.A. in the 1980s, kicks off Season 3. With Damson Idris and Marcus Henderson. 10 p.m. FX
Watch them go from rags to riches in the new unscripted series "Marrying Millions." 10 p.m. Lifetime
You can take the Florida girls out of the trailer park, but you can't take the trailer park out of the "Florida Girls" in this new off-color sitcom. 10 and 10:30 p.m. Pop
THURSDAY
They came to play in the season premiere of "Hollywood Game Night." Jane Lynch hosts. 9 p.m. NBC
Return to "The Outpost" for a second season of this fantasy drama. Jessica Green stars. 9 p.m. The CW
Timber! The docu-series "Ax Men" logs in for a 10th season. 9 p.m. History Channel
They'll explain the medical procedures but the hospital bills will remain a mystery in new episodes of "Untold Stories of the E.R." 10 p.m. TLC
FRIDAY
A murder suspect and a male nurse (Frank Grillo, Anthony Mackie) join forces to take down some corrupt cops in the new L.A.-set thriller "Point Blank." With Marcia Gay Harden. Anytime, Netflix
The new documentary "Taco Chronicles" pays tribute to many a foodie's favorite handheld treat. Anytime, Netflix
"SpongeBob SquarePants" marks two decades worth of undersea shenanigans with the hourlong animated/live-action special "SpongeBob's Big Birthday Blowout." The aforementioned David Hasselhoff guest stars. 7 and 8 p.m. Nickelodeon
Record producer Rick Rubin and other creative types discuss the music-making side of the music biz in the new four-part docu-series "Shangri-La." 9 p.m. Showtime
SATURDAY
Eddie Redmayne is Newt Scamander, Jude Law is a young Albus Dumbledore and Johnny Depp's the bad guy in "Fantastic Beasts: The Crimes of Grindelwald," the 2018 franchise entry set in the Harry Potter universe. With Katherine Waterston and Dan Fogler. 8 p.m. HBO
Eric Roberts' bedside manner shows no sign of improving in the new TV movie sequel "Stalked by My Doctor: A Sleepwalker's Nightmare." 8 p.m. Lifetime
The new special "JFK Jr. and Carolyn's Wedding: The Lost Tapes" revisits the nuptials of the ill-fated John F. Kennedy Jr. and Carolyn Bessette. 8 p.m. TLC
Customized TV listings are available here: www.latimes.com/tvtimes
Click here to download TV listings for the week of July 7 - July 13, 2019, in PDF format
---